« Cut chenille baby blanket | Main | Recently noted »
July 27, 2013
Finished: Temari Kimono Jacket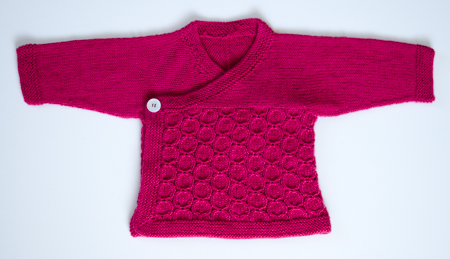 Pattern: Temari Kimono Jacket from the Scrumptious Baby Collection, published by Fyberspates Luxury Yarns, designed by Kyoko Nakayoshi. I poked around the web, and found that the cheapest and most convenient way to purchase this pattern for me was to buy the book on Amazon. I followed the pattern for the smallest size, meant to fit a 3 month old. My gauge was a little bit different, so the finished sweater's dimensions are closer to the 6 month old size.
What a lovely little sweater! I love how grown up the finished sweater looks, both in terms of style and color, and yet it's meant for a baby. I also loved knitting this pattern - the construction is very interesting, and definitely kept me on my toes, especially through the upper portion of the sweater. The lower portion, with its "medallions" formed by cables, was also fun to knit, and went by quickly when cabling without a cable needle.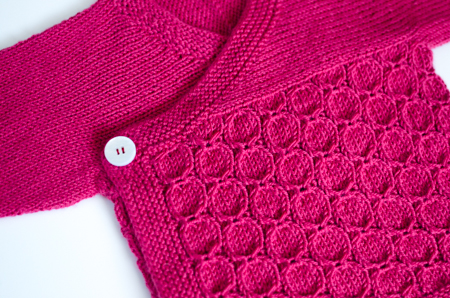 I purposefully chose a round button, to complement the "medallions." It's hard to see it here, but it's pearly and has some interest.
Yarn: Louet Gems sportweight in #26, crabapple. I've used this yarn tons before, and this particular color as an accent here and here. This sweater was knit using 2 100-gram skeins.
Needles and finished measurements: as recommended in the pattern, US 3 and 5 circs. The finished measurements are: 19" chest circumference, 6.5" sleeve length to underarm, 11.25" shoulder to hem.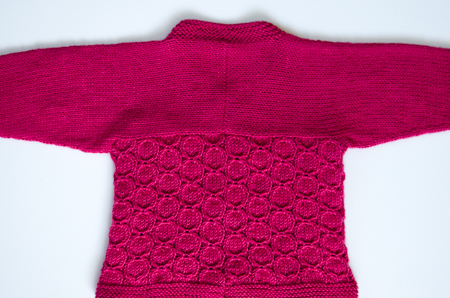 Here's the back of the sweater, subject of a previous blog post. I'm pretty happy with the three-needle bind-off. It's very smooth and non-bulky, and the stitches picked up for the lower portion of the sweater are nice and straight. Maybe I'd try grafting next time and sacrifice the evenness of the picked up stitches?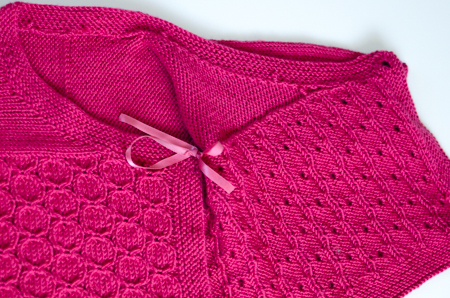 The pattern contains instructions for making some crocheted chains to keep the inside of the sweater closed. I chose to sew on bits of ribbon instead, and sealed the ends with some Fray Check
.
Posted by Kathy on July 27, 2013 08:51 PM
Comments
To cut down on spam, comments are moderated. You may not see your comment right away, but rest assured that it's been received and will appear shortly. Comments are closed a few days after posting.