« A two year old. A finished sweater. | Main | Quick post: Temari Kimono Jacket »
June 22, 2013
First pair of socks in, uhm, 2.5 years
Hey, I remembered how to knit these!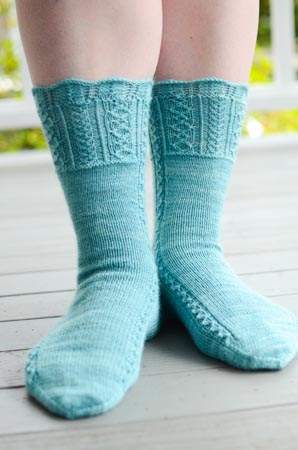 Pattern: Traveler's Stockings from Nancy Bush's Knitting on the Road
. Unlike the first time I knit this pattern, I made the cuff a little longer. As written, it ends in a really weird spot, in the middle of a pattern repeat. I just worked the pattern repeat to its natural end.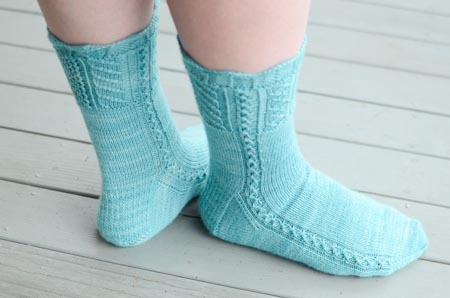 Yarn: Lorna's Laces Shepherd Sock, Turquoise (22ns), 2 skeins. The color is closer to a very gentle sea foam green/blue than a rich turquoise, but it's just right for my grandma, so who cares what it's called.
Needles: US 0 dpns, set of 5 (these ones
).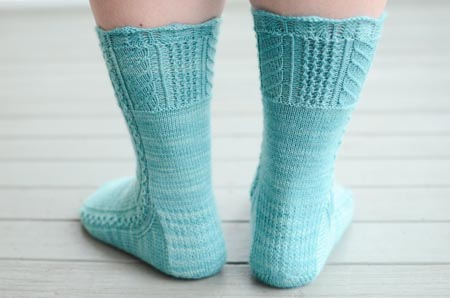 I enjoyed knitting this pattern immensely, and Knitting on the Road remains one of my favorite sock pattern books of all time (and it was first published in 2001 - there have been hundreds of sock pattern books since then!).
What's next? I've been feeling an urge to crochet. I've been thinking about this blanket, which I never finished because I couldn't find an edging that made me happy. And I've been thinking of taking it apart, and making a different blanket from it, perhaps one that's made of smaller pieces/squares. But this will take some investigating... Unless you have a suggestion or two?!?
Posted by Kathy on June 22, 2013 07:46 PM
Comments
To cut down on spam, comments are moderated. You may not see your comment right away, but rest assured that it's been received and will appear shortly. Comments are closed a few days after posting.