« I've been out of the loop | Main | Book review: 60 Quick Baby Blankets »
March 17, 2013
Potholder Swap, 2013
The potholders for the 2013 swap (on Ravelry, on Flickr) are done!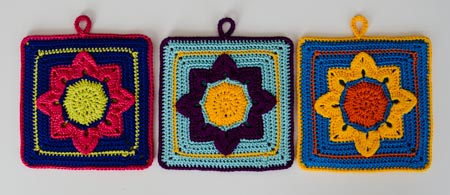 Pattern: Eight Pointed Flower by Julie Yeager. With the addition of a few more rounds, my potholders came out to be exactly 6" square.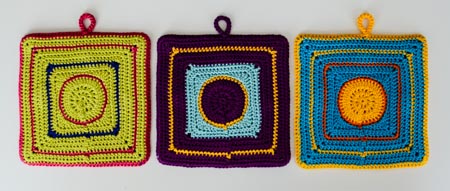 The back was an improvised pattern, crocheted with improvised colors (similar, but not the same, if I had run out). At first I was slightly bothered that the backs weren't all the same, but then realized that each potholder will go to a different recipient, so this picture is the only time the three of them will be seen as a group. So, I got over it.
Yarn: Tahki Cotton Classic, 100% mercerized cotton. I didn't keep track of the colors I used, sorry.
Crochet hook: size C (2.5 mm) from this set, which is still my favorite.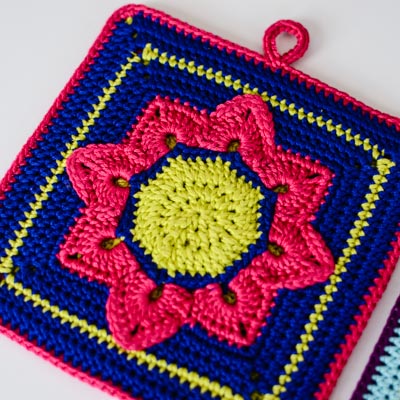 I loved this clever, clever pattern and look forward to exploring other patterns by Julie Yeager for future potholders/blanket squares.
P.S. If you're interested in a trip down memory lane, here are the potholders I crocheted in 2009, 2010, 2011, and the ones I received in 2009, 2010, 2011.
Posted by Kathy on March 17, 2013 03:27 PM
Comments
To cut down on spam, comments are moderated. You may not see your comment right away, but rest assured that it's been received and will appear shortly. Comments are closed a few days after posting.