« Sigh... disappointed | Main | An actual baby in an actual handknit »
October 06, 2012
Beyond Puerperium: now with more pep!
I found a way to liven up that muddy and dull Beyond Puerperium sweater - buttons!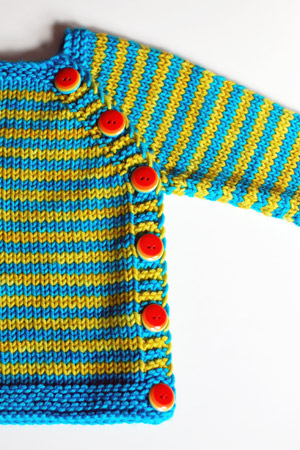 I originally thought that this sweater would look nice with bright yellow buttons, but when I actually went to the button shop (Windsor Button, FTW!), these mainly red buttons looked really great against the fabric, and were just the right size.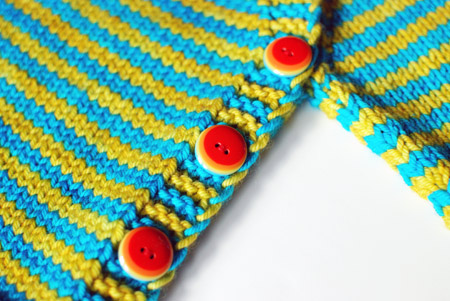 Pattern: Beyond Puerperium by Kelly Brooker, light worsted weight version, size 3-6 months, with the "long tapered" sleeves option. I didn't make any significant changes, other than to knit the sleeves flat and then seam, in order to avoid the color jog (same as in Budgie).
Yarn: Madelinetosh Tosh Vintage in oceana and chamomile, less than 1 skein of each. I'm still upset about how much the yarn bled.
Needles: US7 circs.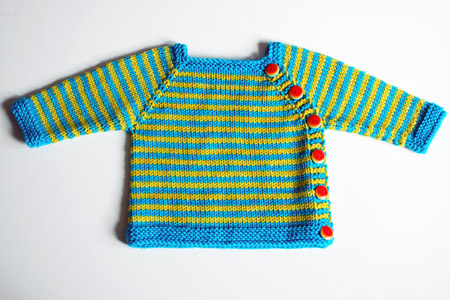 Gauge and finished dimensions: gauge is about 4.5 stitches and 7 rows per inch in stockinette. Sweater is about 19" across the chest, 10" shoulder to bottom hem, and 5" from armpit to sleeve cuff.
Overall, this is a great little sweater, despite the yarn foible. Now to wrap it up, and give it away!
P.S. A recent picture of my sweet boy, for the Gregory fans among my readers :).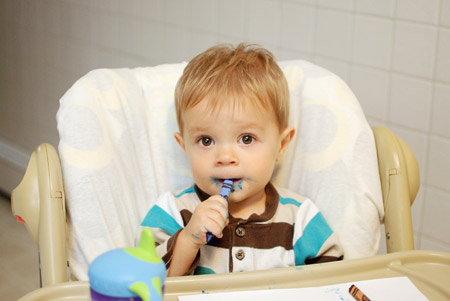 Posted by Kathy on October 6, 2012 02:04 PM
Comments
To cut down on spam, comments are moderated. You may not see your comment right away, but rest assured that it's been received and will appear shortly. Comments are closed a few days after posting.