« Another ridiculous(ly cute) hat | Main | Wool-clad baby says, "Hi!" »
November 22, 2011
Time for wool
It was close to freezing this morning, so I had to dress up Gregory appropriately: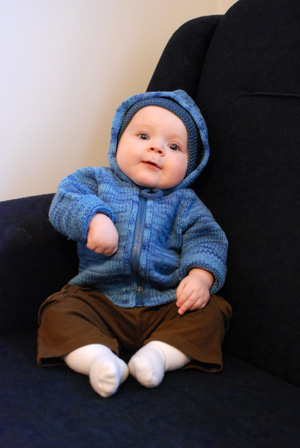 He's wearing his Knitting Pure & Simple Babies Neck Down Cardigan, and a hat that Danielle knit for him using the Top Down Bonnet with Anime Character pattern (I've used that pattern as well before).
The sweater is nice and roomy, and I agree that it should fit him well when he's about 12 months old. With rolled up sleeves, it fits nicely now, too. He's almost outgrown the hat, however. Fortunately the Anemone Hat should fit nicely through the rest of the season :).
Posted by Kathy on November 22, 2011 07:24 PM
Comments
To cut down on spam, comments are moderated. You may not see your comment right away, but rest assured that it's been received and will appear shortly. Comments are closed a few days after posting.