« Pumpkin hat | Main | Another ridiculous(ly cute) hat »
October 31, 2011
Happy Halloween!
Here's my little pumpkin wishing you a Happy Halloween!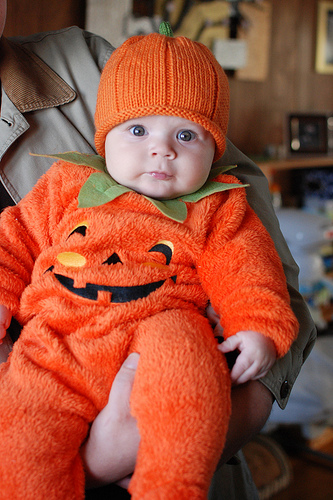 A few readers asked about the pattern I used. I actually followed the Little Pumpkin pattern from Itty-Bitty Hats
, more or less. I used the instructions for the 72 stitch version, but worked even for only 5" instead of 6". Also, I worked the decreases a little differently and omitted the leaf. But the basics are there, and you can certainly use the pattern in the book to make your own cute pumpkin hat!

Posted by Kathy on October 31, 2011 11:35 AM
Comments
To cut down on spam, comments are moderated. You may not see your comment right away, but rest assured that it's been received and will appear shortly. Comments are closed a few days after posting.