« The blanket that traveled to Europe and back | Main | Two little balls of Rowan Cotton Glace »
January 11, 2011
Starting Betty Lou
When looking for a new baby pattern to knit, I almost always first browse my copy of Kristen Rengren's Vintage Baby Knits
(my review/preview here). Even though I've knit a number of patterns from this book already (some as samples and others, later), I seem to find something new and interesting every time I flip through.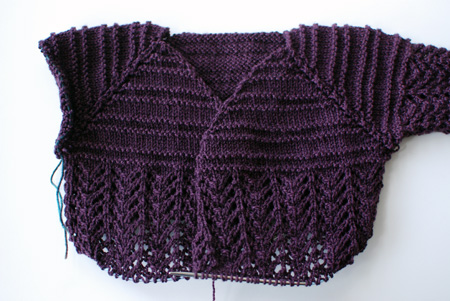 The latest little thing is the Betty Lou Lace Cardigan. Adorable! I'm knitting the smallest size and it's going by quickly. So far I've made one modification: substituted the original lace pattern with Gull Wings from BW #1
. The original stitch pattern from the book was a real pain in the butt to knit, and tended to bias, so I followed FlickaFish's lead on Ravelry and substituted something simpler. It seems I'm not the only one :).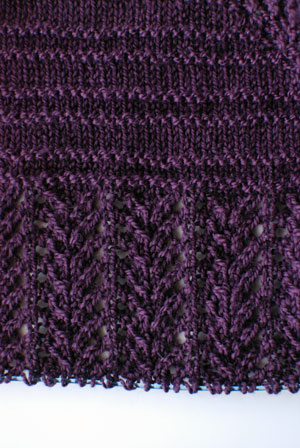 The yarn I'm using is fingering weight 100% merino from Louet in the eggplant colorway. A reader gave that to me many moons ago when she decided she didn't really like it. Well, I think it's working out fabulously in this project! The book states that 4 skeins will be needed, but I think I may get away with using only 3. Then again, I'm not sure how much yarn those pom-poms will eat up. I've never made a pom-pom before, actually, can you believe it? I think a pom-pom maker
is in my future ;).
Posted by Kathy on January 11, 2011 07:05 PM
Comments
To cut down on spam, comments are moderated. You may not see your comment right away, but rest assured that it's been received and will appear shortly. Comments are closed a few days after posting.