« I Rhinebecked | Main | Beautiful Noro »
October 20, 2010
Lion & Lamb winners
Thank you, everyone, for participating in the Yulie giveaway! The 3 winners of Lorna's Laces Lion & Lamb yarn are:
Abby! Abby, I haven't heard from you yet, so please check your yahoo e-mail and respond to me as soon as possible to claim your prize.
I also wanted to mention that there's an erratum for this pattern. In the BRIM section, the increase rnd should read:
*k-f/b, k-f/b, k1; rep from * 26 (28, 30) times total. 130 (140, 150) sts on ndl.
I uploaded a corrected version to Ravelry, and if you downloaded the original version, you should have been notified of the update.
Now it's time to get cookin' on my next pattern. Remember this?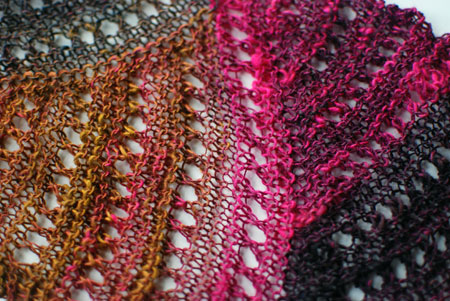 Oh, yes! I've got a pile of Noro and many Illustrator files calling my name!
Posted by Kathy on October 20, 2010 06:14 PM
Comments
To cut down on spam, comments are moderated. You may not see your comment right away, but rest assured that it's been received and will appear shortly. Comments are closed a few days after posting.