« Sheepy travels | Main | Two Tiny Tea Leaves »
June 02, 2010
Oh, yes, I did!
I did knit the fabulous Octopus Mittens!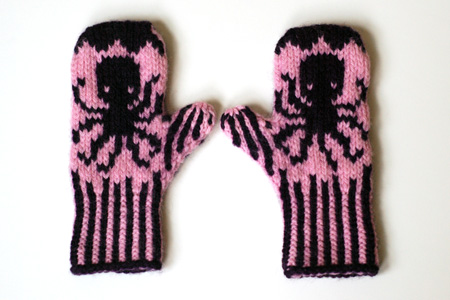 Pattern: Octopus Mittens by Elliphantom Elli from 60 Quick Knits: 20 Hats*20 Scarves*20 Mittens in Cascade 220
(read my review here).
Yarn: Cascade 220 (the one! the only! the original!) in tutu (9477) and regal (7807). Sub-skein amounts of each, though I'm not sure exactly how many yards.
Choosing a color combination for this pattern wasn't as complicated as I originally imagined. Many options were possible, but I think pink and dark purple are exactly right. First, there's pink, which I was warned by many readers is a "must" if the little girl is to actually wear the mittens. Second, the palms are dark - I know that's where my own mittens and gloves get dirty the quickest. Third, the octopus is dark purple! That makes the scientist in me very happy.
Needles: Bryspun dpns, US 5 and 6, as recommended.
Size and gauge: My gauge was 27 stitches and 25.3 rounds per 4" in the colorwork pattern. This is definitely tighter than the recommended 23 stitches/4" (as stated in the book - Ravelry quotes yet another gauge), and probably explains why my mittens look so long and narrow. The finished dimensions are 4.75" palm circumference, 4.375" long from the base of the palm to the top of the mitten, and 6.375" total length. I don't have any children to try this on for size, but I'm guessing this would fit a 4 or 5-year old.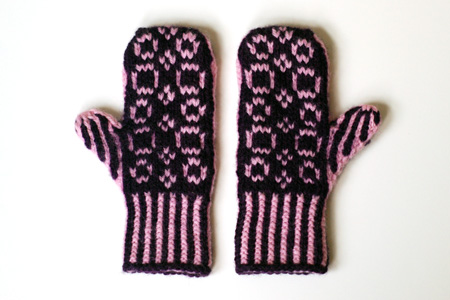 The pattern was very simple and quick to knit. Everything was charted, with a separate chart for left and right mittens. Since I wasn't making any yarn substitutions or size adjustments, I just used the cited needles and followed the instructions. Something went wrong with the thumbs, however - they seemed too narrow, and looked disproportionate compared to the rest of the mitten (see my differing gauge, above). I couldn't even stick my pinkie in them. So I frogged the original attempt, picked up an additional 4 stitches at the point where the thumb meets the hand, and I think they seem so much better now.
Another modification which I would recommend regardless of anything else is the following: after casting on and joining in the round, work 1 round of *k1 with B, k1 with A; rep from * around, before launching into the corrugated rib. This will prevent those contrasting purl bumps during the first round or ribbing.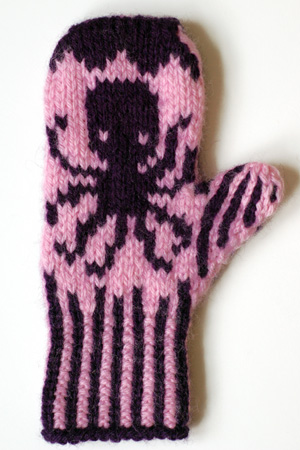 I must admit that these mittens tested my limits of "fiddly-ness". They are so tiny, and turning them inside and out multiple times to weave in the ends was hell. Did I mention that I decided to redo the thumbs after the mittens had been blocked? Undoing the ends of this extremely-felt-friendly wool was an exercise in patience. I also think in the process of all the knitting, handling, and un-knitting, etc., the whole thing felted a little. Sigh... Slightly felted is great for mittens, actually, but maybe I'll use superwash wool next time, just in case? I'm okay with it now because the mittens are so darn cute, but the finishing was trying.
Posted by Kathy on June 2, 2010 08:17 PM
Comments
To cut down on spam, comments are moderated. You may not see your comment right away, but rest assured that it's been received and will appear shortly. Comments are closed a few days after posting.