« Toe-up, with an exclamation point! | Main | Knitting furiously »
February 08, 2010
Toe-Up! winners!
Thank you, everyone, for your enthusiasm about Chrissy Gardiner's new book, Toe-Up!
I agree with you: there are so many things to love about knitting toe-up socks, and this book is an excellent guide and companion.
I know you are anxious to find out the two winners of the book copies! They are Heather from Ontario, Canada, and Rebecca from Andover, Massachusetts! Congratulations, ladies! Please enjoy!
I will leave you with a picture of beautiful, drool-worthy handspun: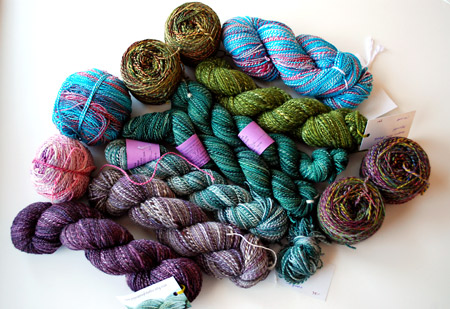 None of it spun by me, but the talented artists at Crown Mountain Farms, Pigeonroof Studios, and A Tree Hugger's Wife enable my handspun obsession just fine ;). I'm amassed quite the collection, right?!?
Posted by Kathy on February 8, 2010 06:01 PM
Comments
To cut down on spam, comments are moderated. You may not see your comment right away, but rest assured that it's been received and will appear shortly. Comments are closed a few days after posting.