« The Lillyfield-Anemoi Frankenmitten, part I | Main | Unexpectedly, a pair of socks for mom »
January 27, 2009
My swatch says keep right.
Well, I knit a swatch. Whoop dee doo.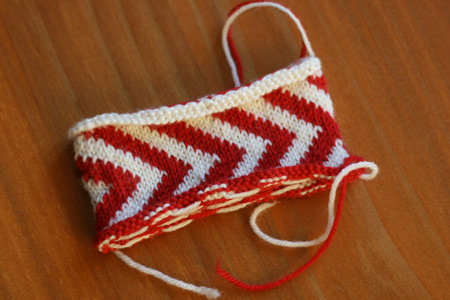 Nope, you are not going blind, and I have not changed my mind on you. This is not a swatch of either the Anemoi pattern, or the Lillyfield pattern. It's just some super basic stranded knitting done in the round so I can measure gauge. As you know, I seriously resisted knitting a swatch all together. So when I finally came to terms with the idea... no, with the fact that I had to swatch, I exercised whatever control I had remaining by refusing to knit the actual pattern. Bite me, stupid swatch! At least I didn't knit half of the mitten in the process, which was my objection to the whole thing in the first place!
I reasoned that whatever motif I choose, as long as the swatch is knit using (1) the yarns, (2) the needles, and (3) the techniques I intend to use for the actual project, I can get the information I need: gauge. For the record, it is about 9-9.3 spi.
Being seriously inexperienced in the whole mitten-wearing thing (I can't remember the last pair of mittens I owned, I must have been a child!), the question of sizing came up next. Both Eunny Jang and Jennifer Coleman advise the knitter to "allow some ease around the widest part of your hand." As far as wearing mittens is concerned, I'm not sure why that is (any ideas?). For aesthetic reasons, it makes sense to not over-stretch stranded knitting because it distorts the pattern.
My hand is 7.5" in circumference around the knuckles. After trying on my circularly-knit swatch, taking my gauge into consideration, and heeding the designers' advice, I decided to aim for a mitten worked over 72 stitches at its widest. Much of my rambling from last time stuck around - I still wanted the frame, I still wanted the delicate Lillyfield details.
But one thing changed: I decided against simply scaling down the motif and overlaying it onto a smaller number of stitches. Instead I carefully redrew the pattern, taking away stitches which didn't affect the overall look, and retaining those which did. It was a multi-step process - draw a little, change my mind, scan my work, use Photoshop to move elements, print the new version, draw some more, rinse and repeat.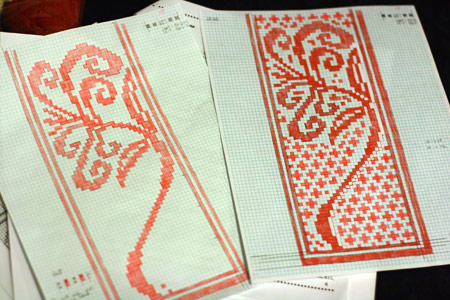 Having an electronic version of my doodles is additionally helpful because one day (ha!) I'll need to knit the other mitten (be it left or right), and to generate the chart I'll simply reflect the doodle through the vertical and call it a done deal.
I think I have a decent working model at the moment. It is 72 stitches wide, and has the same frame as the Anemoi mittens. I'm a little concerned that the mitten will be too long as written - there are 75 rounds, for a total length of 7.5", and my hand is only 7" long - so I might make one more revision before I start, squishing the stem in the vertical direction ever so slightly. That shouldn't be too complicated, I'm hoping.
Posted by Kathy on January 27, 2009 08:08 PM
Comments
To cut down on spam, comments are moderated. You may not see your comment right away, but rest assured that it's been received and will appear shortly. Comments are closed a few days after posting.