« Dangerous, part III | Main | Intermission »
December 14, 2008
Dangerous, part IV
7. Mittens: Anemoi and Lillyfield, SandnesGarn Lanett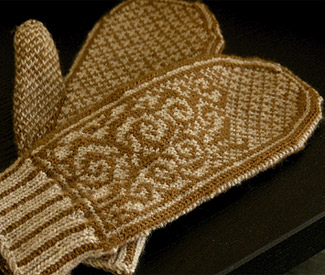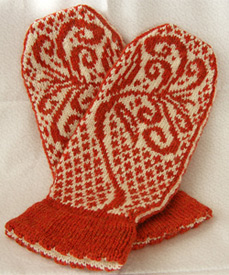 Two years ago (almost to the day!) I mentioned that I wanted to knit Eunny Jang's Anemoi Mittens to match my Kristen hat. Other projects have been louder and more demanding, so it hasn't happened yet.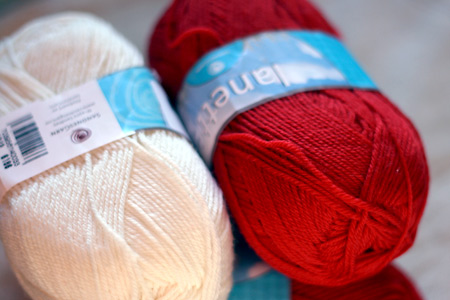 The yarn, SandnesGarn Lanett, is as gorgeous and soft as the day I blogged about it. I often get a little antsy when I've had a yarn for a long period of time like that but haven't used it. But not here - it's a keeper. I've never even contemplated using it for any other project.
That is until about a month ago when I saw the Lillyfield Mittens on Ravelry. I loved them, instantly. The fact that they're red and white only helped - yes, this is exactly what they would look like alongside my Kristen hat. And I thought, maybe I should use my Anemoi yarn for the Lillyfield? Would that be so wrong?
Isn't it like an even exchange? Both are stranded colorwork mitten patterns using fingering weight yarn. Even though the designs are completely different, they have a similar feel to me: obviously, curlicues and patterning in the background appeal to me! At a department store I wouldn't even need a receipt to make this exchange, even though it's been longer than 30, 60, or even 90 days :).
But also let's note the differences: ribbed cuff versus folded hem cuff, gusseted thumb versus afterthought thumb (or whatever that's called). Certainly these elements will make a difference in fit and wear, but I can't say I personally know which is preferable - thoughts?
8. Some socks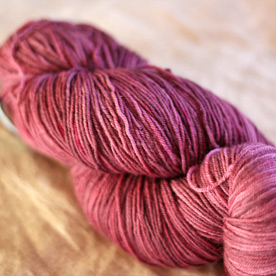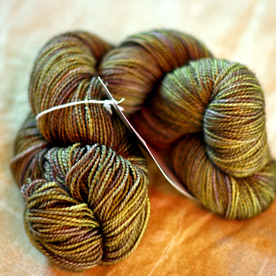 I want to show you some of the latest additions to the sock yarn inventory. On the left: Ellen's 1/2 Pint Farm 80% wool, 20% nylon, 500 yards. I got this at the NH Sheep & Wool Festinal. No colorway specified, but looks like "blackberry stain" to me (and feels like the same base yarn as Lorna's Laces!). On the right: Madeline Tosh 100% superwash merino wool, 395 yards. Colorway Lichen, which has shades of olive and hints of purple throughtout.
Nothing specific planned for these yarns yet (though both colorways were chosen to be grandma-appropriate), just something pretty to share :).
Posted by Kathy on December 14, 2008 10:54 AM
Comments
To cut down on spam, comments are moderated. You may not see your comment right away, but rest assured that it's been received and will appear shortly. Comments are closed a few days after posting.