« Eye Candy Friday: am I unpacked yet? | Main | The next thing. Or not. »
September 08, 2008
A non-saggy surprise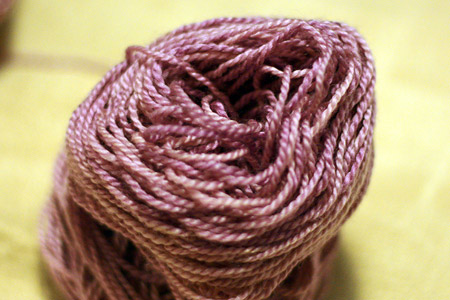 And as soon as I noticed that the lovely Fleece Artist Sea Wool was packaged into the Bordello sock kit, all while being composed of 70% merino and 30% Seacell, my brain went into planning mode.
You see, if I were to use this yarn for the recommended purpose - a pair of socks - I would need to worry about resilience and memory and, as they say, "springiness." Because 30% silky-anything, whether derived from the silk worm or seaweed, can lead to a marvelously drapey shawl, but a hideously saggy pair of socks.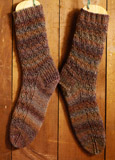 Not a problem! Careful planning to the rescue! I browsed through my pattern books, looking for something with the following properties: (1) a bit of ribbing to maintain the shape of the fabric, (2) not too complicated, to allow the carefully-engineered variegations of the yarn to shine through, and (3) pretty, since these are for grandma (of course). The Undulating Rib pattern from Favorite Socks
was simply perfect. It's nothing more than 3 x 1 ribbing, with a few decorative decreases and increases thrown in. I had an instant "a-ha!" reaction when I saw it ;).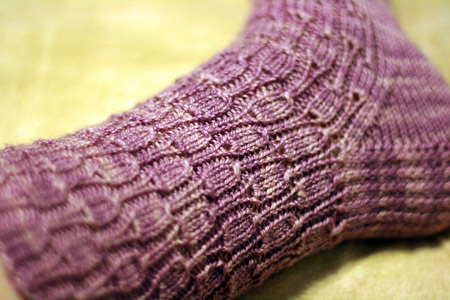 But here's the kicker: the yarn totally surprised me. I started knitting, and while the sheen and silkiness and drape were all present, as expected, so was the bounce! The ribbed fabric contracted marvelously, and I realized that the yarn would work well in a less extreme pattern, too.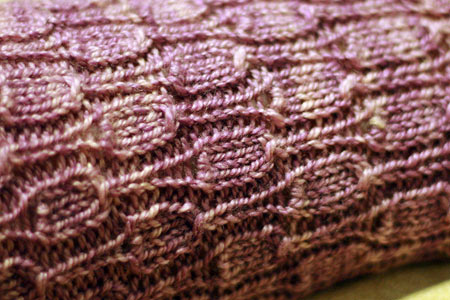 The socks are knitting up very quickly on US 1 needles
, and I'm happy to report that 380 yards may be just enough for a grandma-sized pair. Colinette, take note. The misshapen skein of yarn up-top needs to last me another 2.5" of the foot plus a wedge toe. I think it's totally doable, and, yes, this means I'm quite close to finishing.
Sidenote: Remember when my Lacey Lamb had faces? Am I the only one who sees a face in the skein of Fleece Artist at the top of the post? A rather angry face, I should add...
Posted by Kathy on September 8, 2008 08:52 PM
Comments
To cut down on spam, comments are moderated. You may not see your comment right away, but rest assured that it's been received and will appear shortly. Comments are closed a few days after posting.