July 18, 2008
Eye Candy Friday: relief edition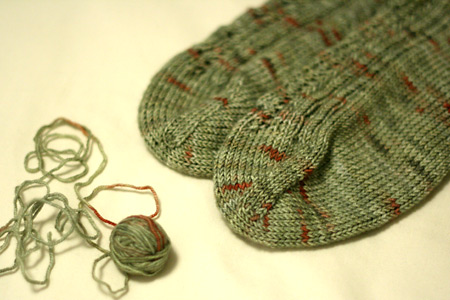 I don't think I've ever been as happy as I am right now to see two completed sock toes! Two sock toes which belong to two identical socks, I should add, with a little ball of leftover yarn to boot! I really couldn't stomach another frog-a-thon, so let's hear a big "whew!" for the finished Belle Époques!
As you know, the Maths and I are BFF, and once again I was not disappointed with their powers. Miraculously (or is it, predictably?) all the calculations worked out and I got as much fabric out of the JitterBug skein as I possibly could. The little ball of leftover yarn weighs in at 3.3 grams, and each repeat of the pattern takes 2.8 grams, so I couldn't have squeezed in another repeat (for both socks) even if I wanted to.
Not that I would want to! Currently the socks have 13 repeats each, which is an excellent number in my book. If I added one more, that would make 14, which, naturally, sucks. Not as much as 4 because it's tempered with the goodness of 1, but close. It's weird, I know.
I'll show you just how good 13 looks after the socks are blocked! The stitches are a bit wrinkled from all the frogging, so a long soak is in order. Until then, since it's an Eye Candy Friday post, here's the same photo as above, but with a bit of processing to highlight the gorgeous bursts of red in this colorway: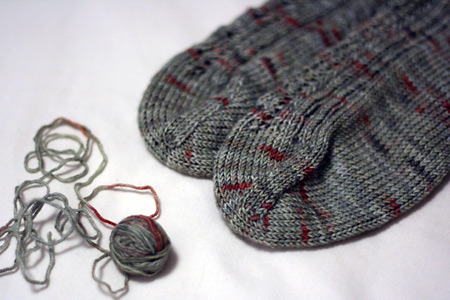 Posted by Kathy on July 18, 2008 12:57 AM
Comments
To cut down on spam, comments are moderated. You may not see your comment right away, but rest assured that it's been received and will appear shortly. Comments are closed a few days after posting.