« Carrot cake... no, sunshine! | Main | Helical stripe socks, in 8 simple steps »
June 07, 2008
When good knits go bad, and then become (really, really) good again
It was about a year ago to the day that I abandoned knitting Alpaca Twill, an undeniably gorgeous sweater coat designed by Norah Gaughan. The yarn I purchased for this project, Classic Elite Princess in Ladylike Leaf, languishes in my stash, but today we'll talk about what happened to the two sleeves I actually finished knitting.
At first I wanted to frog them, and holding two or three strands together, recycle the yarn into a little garter stitch blanket for our kitty. But when I showed the sleeves to Her Royal Furriness, she was interested in them just as they were!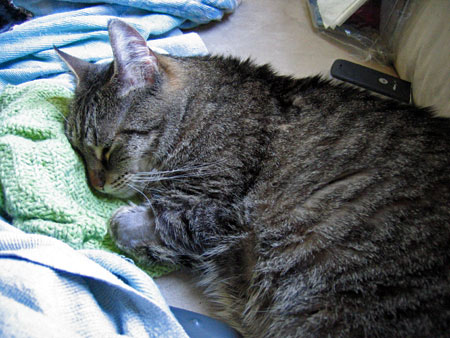 And... she doesn't just rest her furry little head on the sleeve or cuddle with it! She kneads it! I've never seen a cat do this before - she plants her little bum, grabs a corner of the sleeve, then digs her front paws into the fabric, all while generously purring. She usually kneads right before going to sleep or resting.
This "bad knit turned good" was especially important over the past few days - our furry baby had surgery on Tuesday, and the sleeve accompanied her during her stay at the vet. (You can see where they shaved her paw for the IV in the photo above.) Kitty is recovering wonderfully (knock on wood!) and this morning I was able to capture the sometimes elusive kneading on camera.
When Kitty is kneading, all is well :).
Posted by Kathy on June 7, 2008 12:28 PM
Comments
To cut down on spam, comments are moderated. You may not see your comment right away, but rest assured that it's been received and will appear shortly. Comments are closed a few days after posting.