« Eye Candy Friday: matchy-matchy edition | Main | Contradictions »
February 19, 2008
Oh my cuteness!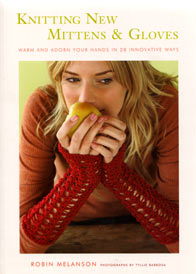 Ever since my unabashedly glowing review of Knitting New Scarves
, I've been stalking the next book in the "Knitting New" series like a bird of prey. Kntting New Mittens & Gloves
by Robin Melanson arrived at my doorstep just a few hours ago, and (wow wee!) I have to tell you all about it.
The book is organized just like Knitting New Scarves. Each pattern is comprised of the author's description of the design, a diagram illustrating the basic geometry, a fantastic photograph (or several), and well-spaced, unhurried knitting instructions. There are a few "traditional" patterns, but somehow, somewhere, by some mysterious force, Robin Melanson was able to whip up a bunch of truly innovative designs. Just take a look!

My favorites (click for bigger):
I'm envisioning the Glaistig fingerless gloves (left) in a rose-colored silk, for when I'm feeling lady-like. Rusalka fingerless gloves (middle) are adorned with bugle beads, and the word means "mermaid" in Russian. Need I say more? Ceangaltas mittens (right) have a fancy knot which is continuous with the edging!
Three favorites, all green. Hmmm... But, yes, there are other colors represented in this book! (click for bigger)
Lovely, aren't they? I checked Melanie Falick's blog, and she hasn't mentioned this book there yet. But I suspect a knitalong and gallery will be on their way shortly...
Posted by Kathy on February 19, 2008 05:40 PM
Comments
To cut down on spam, comments are moderated. You may not see your comment right away, but rest assured that it's been received and will appear shortly. Comments are closed a few days after posting.