« Contradictions | Main | Cabled »
February 28, 2008
A swooshing type of beast
Remember when blocking Mountainash took up my entire couch and then some?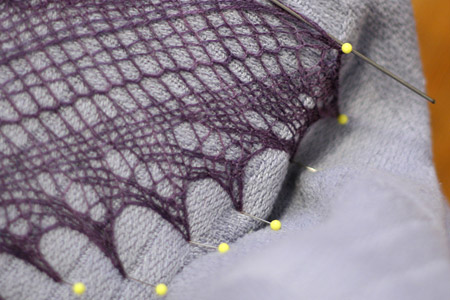 Yet another beast has taken over my space, mwahaha! This one isn't as large as Sir Mountain, but my off-center placement of the shawl caused it to spill over the edge of the couch nonetheless.
I know: it's true gorgeousness, and I'm happy to match this shawl any day of the week ;). During the time I was busy knitting it, I think I matchy-matched at least twice!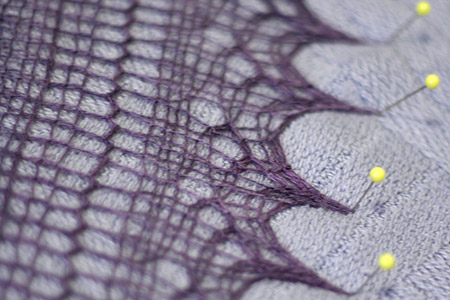 In my opinion, the "swooshing" border is the most beautiful part - that Chrissy Gardiner, she knows how to work it! Yup, it's through her website that you'll be able to find the pattern later in the year, and you can always check the blog for little sneak peeks, like the one I'm sharing today!
Posted by Kathy on February 28, 2008 10:28 AM
Comments
To cut down on spam, comments are moderated. You may not see your comment right away, but rest assured that it's been received and will appear shortly. Comments are closed a few days after posting.