« On second thought... | Main | Poppies »
October 04, 2007
Froggy ball
From a bunch of froggy pieces...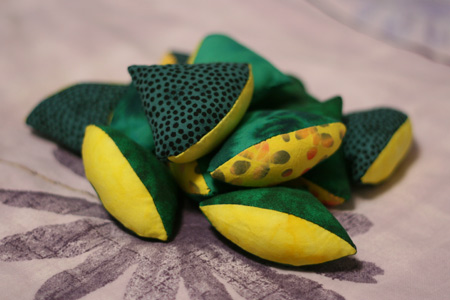 ...to a completed froggy ball!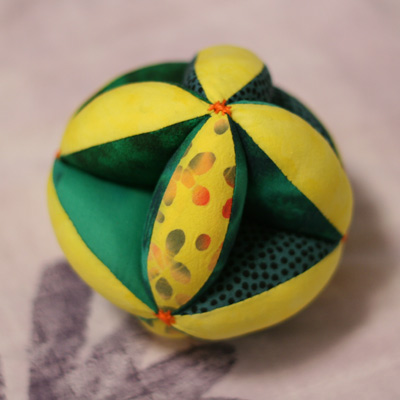 Pattern: puzzle ball from Joelle Hoverson's Last-minute Patchwork + Quilted Gifts
Fabric: a sweet cotton surprise from an eBay auction!
Finished dimensions: based on the ball's circumference - 13.25" - the diameter is approximately 4.25", and I'm an enormous dork.
The pattern is really quite simple. It's in the "4-8 hour gifts" section, and I think that's just about right! I had to wait for all my joann.com
stuffs, and that's the only reason one week passed between the project's introduction and the FO.
It was through joann.com that I purchased both my pearl cotton
and the poly stuffing
. What can I say? I was too lazy to get off my ass and walk two blocks to Pearl, where I'm certain both of these products are carried.
Plus I really wanted to try EQ Printables
(seems way more sophisticated than making labels using iron-on transfers!) and the Clover Hera Marker
. Because clearly I am a slave to the purl bee: I will get each and every little thing they recommend.
But I did go against the book's recommendation with the poly stuffing. Of course this was only after consulting with Maritza, softie-maker extraordinaire and birth-mom to Chuckie. She recommended poly for a more squeeeeeezable toy!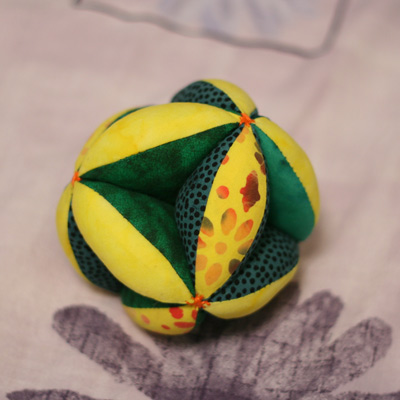 I wish you could hold this little project in your hands! There's something so satisfying in its construction and geometry. No matter how the puzzle ball plops down, it doesn't roll because every side has a facet. And there are all these little grooves, perfect for grasping by little hands... or paws ;)
Posted by Kathy on October 4, 2007 12:12 AM
Comments
To cut down on spam, comments are moderated. You may not see your comment right away, but rest assured that it's been received and will appear shortly. Comments are closed a few days after posting.