« Poppies | Main | Open season »
October 11, 2007
Finishing The Bag The Tote, part II - the sewing
Previously on: After laundering the wonderful Hempathy fabric, and knitting a rectangular bottom for my bag, I reconsidered, changed my mind, and decided that The Bag was really meant to be a tote. Some knitting corrections followed.
This episode: I sew a lining! And take many pictures detailing the process - hope you find them helpful! A three-ring binder from Staples may have been hurt during production. Huh?!? Click on the extended entry to read all about it!
Next time: I finish attaching the lining to my tote, and do an FO photo shoot. Stay tuned!
Click on pictures for bigger!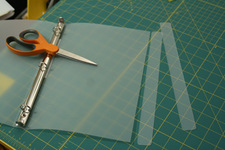 Knit fabric, especially the drapey Hempathy kind, has a way of sagging and stretching, unable to fight gravity on its own. Figuring that the top edge of my tote would not remain straight if I just attached the handles, I decided to stiffen things up... using a buck forty-nine Staples binder.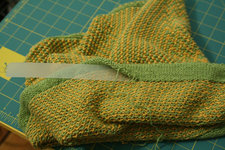 I cut 1" strips of the plastic, rounded the corners so that they don't snag, and enclosed them in the folded hem as I stitched it down. I used a total of 4 strips - two in the long sides, and two creased in half at the folds. Now the top holds its shape!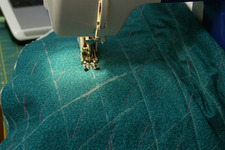 I quilted!!! Following the suggestion of my sewing teacher, I decided to line the bag with something more substantial than just a sheet of cotton. I made a quilt sandwich - some nice cotton batting
between two pieces of happy cotton fabric. Leaving the batting naked on one side would have been a bad idea - it would pill, roll, and bunch from the friction of the nubbly Hempathy. The layers were basted together (the pink thread), I chalked a diamond pattern using my favorite Clover chalk wheel
, and stitched everything together on my machine.
That gigantic growth emanating from my machine is an Even Feed Foot
(aka walking or quilting foot), which I love to pieces. It has its own feed dogs, so all the layers of fabric are fed through at the same rate. If my "$88 Targé special" Singer machine can learn to use such a sophisticated piece of equipment... almost anything is possible! Click here to see the finished lining fabric (yay!).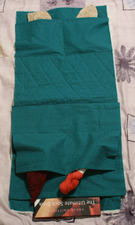 For me, totes are never about pockets. But I had some scraps of cotton left over, so I cut a few rectangles and stitched them to the lining. I placed a few important items into the half-finished pockets to show the size and depth ;). The edges of the pockets were conveniently sealed when I folded the lining in half and stitched it together - no extra work for me!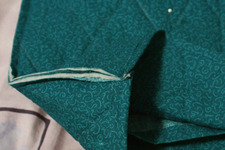 I trimmed the excess fabric at the seams of the lining, and made tiny little miters at the corners. I finished off the top edge by undoing some of my quilting and folding a flap of inner cotton fabric over the raw edge of the batting, then stitching it down, of course.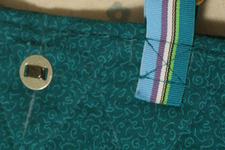 I attached the magnetic doodad
(confession: on the third try!) for keeping the tote closed. Following my sewing teacher's recommendation, I used grosgrain ribbon to attach the twisted bamboo handles - very sturdy stuff that doesn't stretch! I had quite a few options left over after finishing my Brilliant Retro, and fortunately one of them matched the lining fabric perfectly!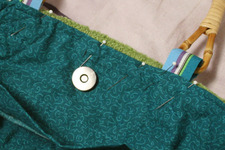 The last step is trivial! I placed the finished lining inside the bag, pinned, and handstitched! I'm pretty psyched to be done, and eager to bring you some fabulous FO shots... next time ;).

Posted by Kathy on October 11, 2007 10:29 AM
Comments
To cut down on spam, comments are moderated. You may not see your comment right away, but rest assured that it's been received and will appear shortly. Comments are closed a few days after posting.