« Dir-taaay! | Main | Loved. »
September 19, 2007
A delicate balance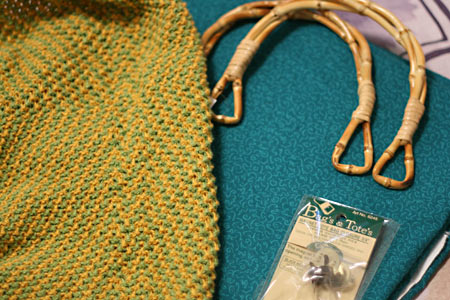 I'm not sure if this is a "happy" cotton fabric, but it seems to pick up the drab that had me concerned, no? I think more yellow and green would have been matchy-matchy overload, all jumbling before my eyes into a mustard green blur. But a teal lining... now that's something interesting ;).
The cotton has been washed and pre-shrunk, the twisted bamboo handles are here, as is a little magnetic doodad
for keeping the bag shut, so off I go, to finish the last bit of the knitting!
Off I... go?
I must admit I'm feeling a bit distracted at the moment. Knitter's ADD: a serious condition, striking when you least expect it. For me, it all has to do with project attributes, more than the absolute number of projects. In my ideal world, I would have exactly one from each of the following categories on my needles at any given time:

an easy portable project (e.g., sock, hat)

an easy stationary project (e.g., a big scarf, blanket)

a complicated stationary project (e.g., lace shawl, Fair Isle)
Three projects total, one of each. Anything less or more, any tipping of the scale in one category's direction, and I end up adjusting, prioritizing, and over-thinking about what I knit, and when, and how much.
It so happens that The Bag is competing with the Focus on Fringe scarf and Ene for "easy stationary project" du jour. Which makes me panic and pick up the "easy portable project" even if I can handle something bigger and/or more complicated.
Such a delicate balance, the knitter's project lineup.
So, until I get myself together and resume my focus on The Bag, let me show you what I've been working on instead: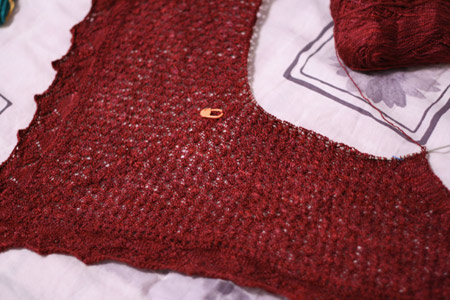 Realizing that Sundara has finished hers, I'm putting a move on knitting my Ene. I'm done with the fourth repeat of the third chart, meaning, I'm nearing the end!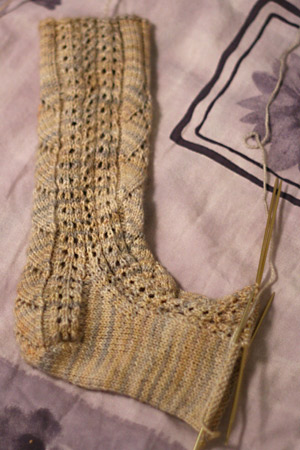 I'm more than a little curious to see how the stained yarn will work itself into the Merino Lace socks. So I've been paying a little extra attention to this project, working on it even when I could be knitting something more complicated. That and the fact that I'm starved for sock knitting! The moratorium hasn't been lifted, and a pair here or there for a sock exchange is simply not enough! With the weather getting more chilly every day, I'm saying, "Screw the moratorium!"
Posted by Kathy on September 19, 2007 12:19 AM
Comments
To cut down on spam, comments are moderated. You may not see your comment right away, but rest assured that it's been received and will appear shortly. Comments are closed a few days after posting.