« Inspiration strikes when you least expect it | Main | Zen zone »
July 11, 2007
Options
Alright, I guess we might as well call it the Underpants Blanket. Who am I to deny my readers a little good humored self-deprecation? :) :)
I was excited to begin with Emily Ocker's cast on - it's such a cool technique! But my excitement waned after knitting a few rounds: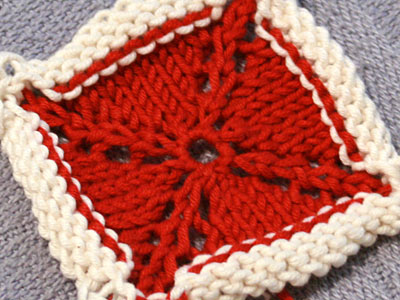 Gedifra Korfu, being a worsted weight cotton/acrylic blend, does not like to squish into a tiny little circle. The stitches maintained their shape and formed an obvious hole in the center, which I didn't like.
Fortunately, the designer offered a second option for casting on. Options, I like. She suggested using the provisional crochet cast-on, working a few rounds, then removing the waste yarn and snugging up the stitches with the yarn tail.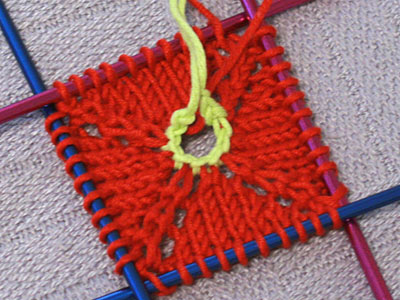 Well, it's not even stitches that get snugged up: it's the lower loops of the first round of knitting. This worked much better, in my opinion, and formed a much neater center - there are fewer strands of yarn to force into a circle.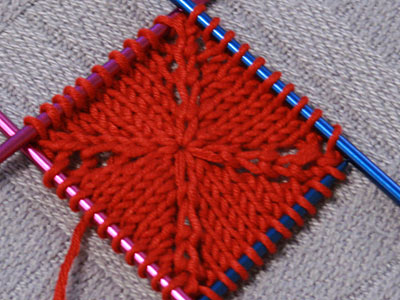 Someone mentioned the incompatibility of the Russian Join with cotton yarn. Well, I think it functions okay - the ends are secure and won't go anywhere. However, I'd be lying if I said I was pleased with the visual result: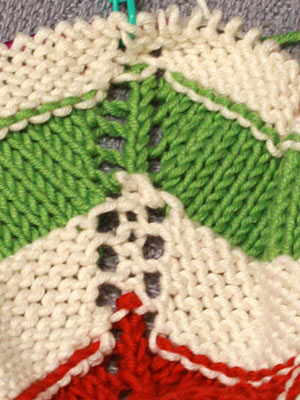 It looks a bit sloppy. For the perfectionists among us, a lot sloppy. I'm considering weaving in the ends instead. Do I have other options??
Posted by Kathy on July 11, 2007 12:23 AM
Comments
To cut down on spam, comments are moderated. You may not see your comment right away, but rest assured that it's been received and will appear shortly. Comments are closed a few days after posting.