« Zen zone | Main | Square root of two »
July 15, 2007
Oo-la-la knee highs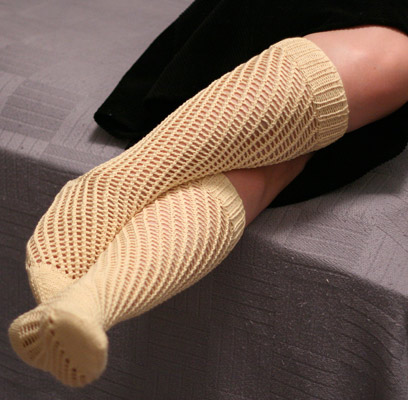 Is it so wrong to put on a flirty skirt and come-hither knee highs, sprawl on the bed, and imagine oneself to be utterly fabulous?!?
I think not.
Pattern: Fishnet Knee-Highs from Knitting Lingerie Style
by Joan McGowen-Michael. Love. this. book!
The pattern in my copy of the book appears to be incorrect, but fortunately Joan M-M e-mailed me the proper instructions. It's not clear why her original notes were so heavily edited, or why the errata have yet to appear on the HNA website.
Yarn: K1C2 Wick, 3 skeins of color #120, cream.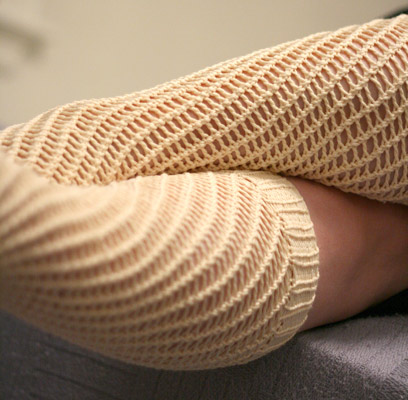 I'm very impressed with this yarn. Very. It was pleasurable to knit with it, and I'm amazed at how well the knee-highs stay on my legs! The fabric is so stetchy and comfortable, these handknit knee-highs stay up better than nylon ones! The yardarge in a skein is quite impressive, too.
Needles: US 4 (3.5 mm) and US 6 (4.0 mm) double-pointed needles. Nothing special - Susan Bates
or Boye
. My use of US 4 dpns is purely accidental - the pattern suggested US 3 for the lower portion of the leg, and I thought that's what I was using, until the Knit Chek
proved me wrong :).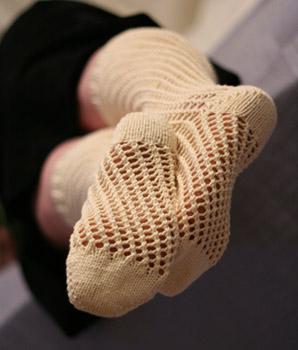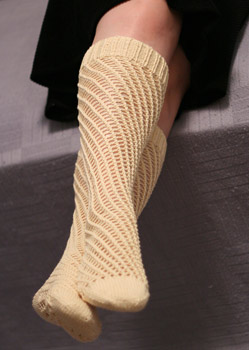 I used two noteworthy techniques in this project: Judy's magic cast on which I extolled here, and an invisible tubular bind-off for 1 X 1 rib, à la Montse Stanley
. Love 'em both!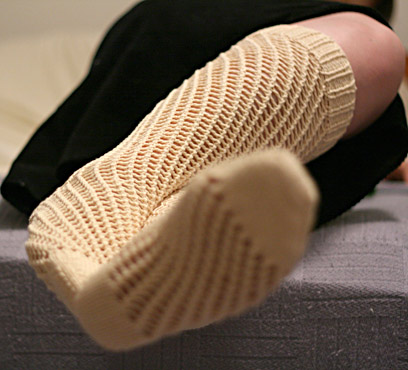 In conclusion, I adore these knee highs! I adored knitting them, I adore the way they fit, and the way they look. Concession of their apparent impracticability is therefore entirely irrelevant :).
Posted by Kathy on July 15, 2007 09:59 AM
Comments
To cut down on spam, comments are moderated. You may not see your comment right away, but rest assured that it's been received and will appear shortly. Comments are closed a few days after posting.