June 12, 2007
No problem
This is my humble collection of Earth shoes: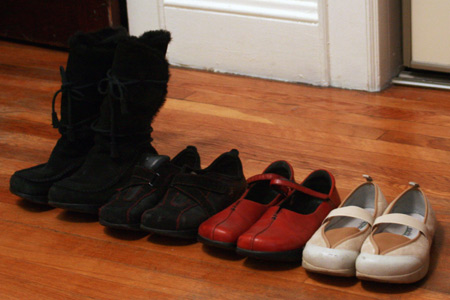 Why am I showing you my Earth shoes? Besides the fact that they are my favorites, each shoe comes in a very handy drawstring baggie when you buy them (so, two baggies per pair of shoes).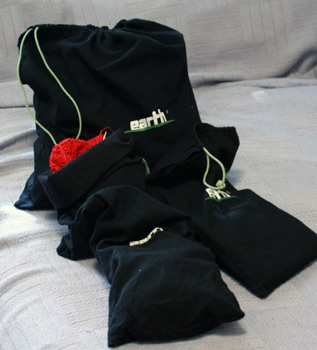 These baggies are perfect for storing and carrying knitting projects, and were the precise "packing mechanism" featured in my last post. They come in two colors - natural for sandals, and black for other shoes. I always put them through the wash before using them - just in case the dye is oversaturated, plus they get softer! (I think they're made out of hemp).
Do you know the best part about owning a pair of Earth boots? (Besides having kickass boots, naturally.) They come in extra-large Earth baggies, big enough for sweaters and other large projects.
The "one project, one baggie" system works very well for me. Before leaving the house, I toss the baggie du jour into my handbag, and off I go!
Actually, I usually also take my notions box (purchased at Walmart, given to me by Betsy):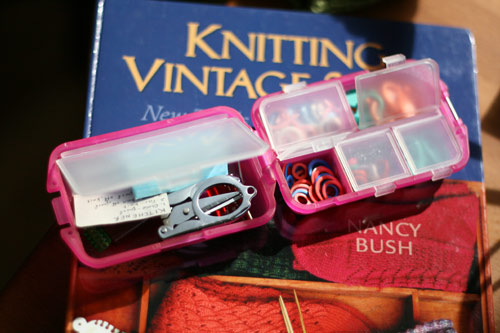 Contents: various stitch markers, yarn needles, little scissors, small post-its, a small ball of waste yarn, and kitchener stitch crib sheet. Unlike Stephanie, who has finally memorized grafting instructions, I still consult my little guide each and every time I kitchener. I'm serious.
With project and notions nicely organized and always on hand, I'm able to squeeze in moments of knitting almost everywhere I go! Long line at the Post Office? No problem! Whole Foods doesn't open for another 10 minutes? No problem! Ducking under an awning while the rain passes? No problem at all.
Long car rides while visiting my parents? Definitely no problem. In addition to lengthening my Fir Cone scarf several inches, I'm nearly done with my first Sidewinder. All that remains is the long graft. Maybe Nona's instructions will permanently imprint kitchener directions into my head :).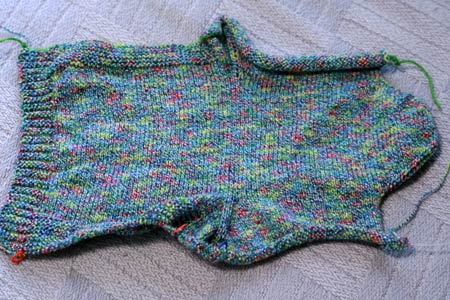 I have to tell you, honestly - this sock is riddled with errors (my knitting, NOT the pattern). I either lost a stitch or gained a stitch in every single part. Oops! If I was able to find the source of the error, I ripped back. However, often I couldn't figure where I went wrong and got "creative," increasing and decreasing at will. I'm going to try extra-hard to make the second one error-free.
Last, a happy picture: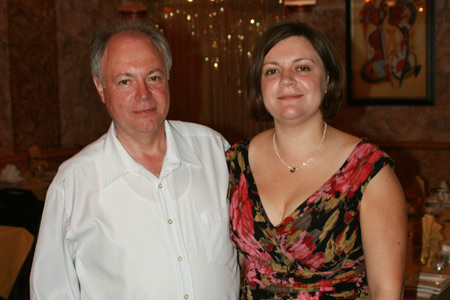 Grumpy-dad and Grumpy-self
(This dress and these shoes, since we're talking clothes in today's post :))
Posted by Kathy on June 12, 2007 10:18 AM
Comments
To cut down on spam, comments are moderated. You may not see your comment right away, but rest assured that it's been received and will appear shortly. Comments are closed a few days after posting.