« Eye Candy Friday: Yarn | Main | Numbers »
May 15, 2007
Working my way around "the ban"
What's the hallmark of a really good trip? One during which knitting hardly crosses your mind, and you return with miniscule progress to show (if any at all).
Because my Fir Cone scarf requires a lot of concentration, and my Alpaca Twill sweater stayed home, I started a new pair of socks. I'm only human!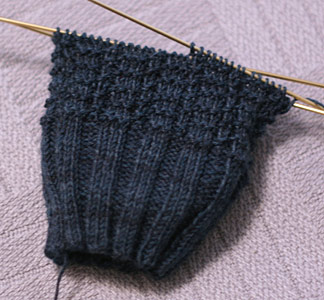 The pattern is Stansfield #10 from Charlene Schurch's Sensational Knitted Socks
(p.48). The yarn is (surprise!) Lorna's Laces Shepherd Sock in navy (from Linda, of course).
I'm adding generous calf shaping just as I did for the Railway Stitch socks. I hope you can see it developing in the picture below.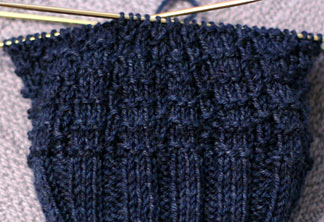 I've also started to seriously think about my Sockapalooza 4 pal - he/she will need socks, too! Very timely considering my grandma's ban. I've found a suitable pattern, I think, and now I'm mulling over the colorway of the yarn. I just need a few days to get my brain back in order...
Posted by Kathy on May 15, 2007 10:29 AM
Comments
To cut down on spam, comments are moderated. You may not see your comment right away, but rest assured that it's been received and will appear shortly. Comments are closed a few days after posting.