« Mysterious Ene | Main | Fifty-six dolphins »
May 04, 2007
Current titleholder
There's only one right way to block a Dolphin scarf: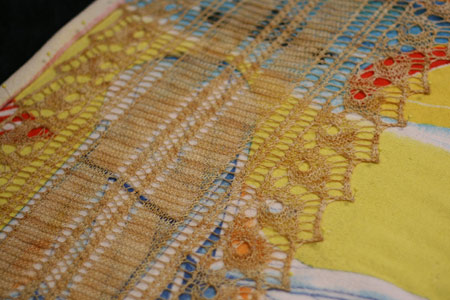 On a beach towel, of course! Maybe not as cool as June's foam mats (and definitely not as cool as June's shawl itself), but it's colorful and it works!
Although I wasn't able to find more matching Seasilk, the scarf is currently a healthy 58" long. That's something I can live with.
After blocking I'm instructed to add a simple crocheted edging along the narrow sides of the scarf. Now, you know I'm the current titleholder of World's #1 Crochet Dufus. I can make sense of knitting and sewing instructions, cooking recipes, wirework tutorials, (most) camera manuals, even plumbing! But give me a few 'dc' on top of some 'sc', and my eyes go blurry.
Damn it! I wand my dolphins to be perfect! I stared at the edging directions, consulted the tutorial in the back of VLT
and my only crochet book
, telepathically communicated with Maryse, practiced a bit and ripped out a whole lot... and I think I've finally got it!

Can't wait to prettify the dolphins :).
Posted by Kathy on May 4, 2007 04:30 PM
Comments
To cut down on spam, comments are moderated. You may not see your comment right away, but rest assured that it's been received and will appear shortly. Comments are closed a few days after posting.