« Measure twice, cut once? | Main | Fifth one »
April 21, 2007
Somebody, stop me!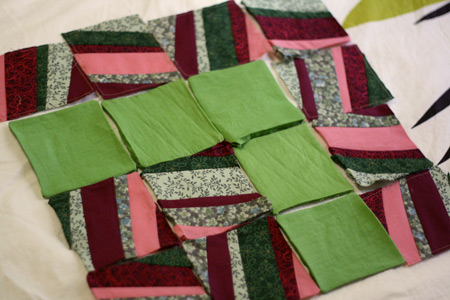 You didn't think I would let those practice little quilts go to waste, did you? A little pressing, a little seaming, and possibly two more green strips, and I've got myself a top for a toss pillow!
Good thing, too: this cover I knit eons ago doesn't have a partner, the bland pillow form stuffed somewhere in the back of my closet. I originally planned to knit Dale Damask #2007 to match, but I think a quilted pillow case would be nice, too!
Posted by Kathy on April 21, 2007 09:58 AM
Comments
To cut down on spam, comments are moderated. You may not see your comment right away, but rest assured that it's been received and will appear shortly. Comments are closed a few days after posting.