« Somebody, stop me! | Main | Hungry for texture »
April 22, 2007
Fifth one
The genius of Nancy Bush unfolds in another pair of socks.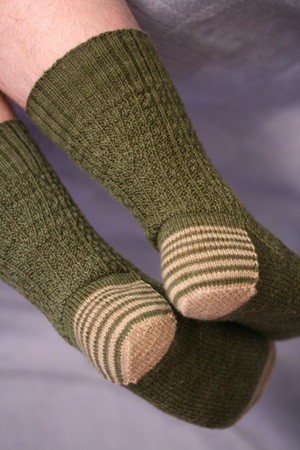 Stripy heels and toes, calf shaping, and a gentle texture.
Pattern: Gentleman's Sock in Railway Stitch from Nancy Bush's Knitting Vintage Socks
. I didn't change anything significant about the pattern - worked the foot over more stitches and knit a more blunt toe.
Yarn: Lorna's Laces Shepherd Sock in cedar, 2 skeins. For the contrast I used Lorna's Laces in chino, leftover from my dad's socks (as usual, I visited Linda to scratch that Lorna's itch).
Needles: Susan Bates
US 0 dpns, set of 5.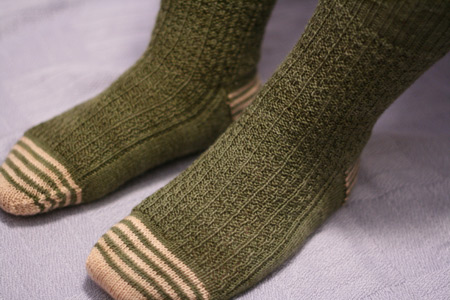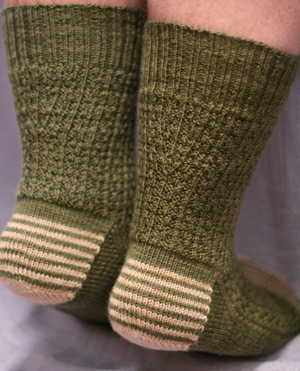 Nancy Bush does it for a fifth time: Gentleman's Socks in Railway Stitch join these other KVS beauties: Child's First Sock in Shell Pattern, Gentleman's Fancy Socks, Gentleman's Sock with Lozenge Pattern, and Yarrow Ribbed Sock. And Lorna's Laces never lets me down - watching the subtle variegation keeps me entertained each and every time.
Posted by Kathy on April 22, 2007 10:23 PM
Comments
To cut down on spam, comments are moderated. You may not see your comment right away, but rest assured that it's been received and will appear shortly. Comments are closed a few days after posting.