« Uber-swatch | Main | My pretties »
April 29, 2007
BFF
Have I ever told you about my BFF?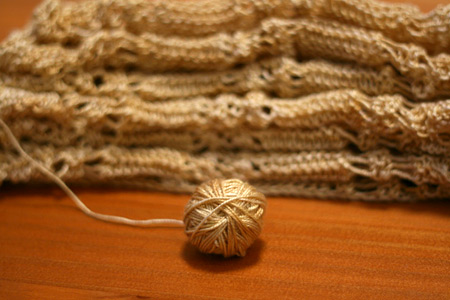 This little ball weighs about 5 grams, and should be just enough to add dainty picots to the short edges of my Dolphin scarf. It is what remains after knitting 28 repeats.
Hello?!? Twenty-eight repeats! Exactly what I calculated way back when!!!
Math + Grumperina = BFF
Fortuitously, the scarf is 52" long in its unblocked state, so one skein of Seasilk once again knits up to a respectable length! After double-checking one last stash for a matching dye lot (just in case: won't hurt for it to be a bit longer), I should be binding off later this week!
Posted by Kathy on April 29, 2007 07:21 PM
Comments
To cut down on spam, comments are moderated. You may not see your comment right away, but rest assured that it's been received and will appear shortly. Comments are closed a few days after posting.