« All zippered up | Main | Clandestine »
March 06, 2007
Periwinkle beret
Remember this periwinkle beret I knit for my grandma?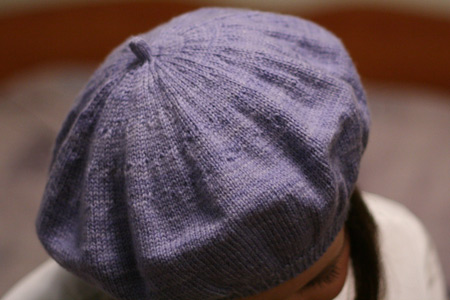 Now you can make your own!
About the beret This quintessential beret embodies all the classic features - ribbed brim, a body of medium fullness, subtle crown decreases, and a small nub at the top. Its finished size is 11" (28 cm) in diameter, laid flat. This will fit most adults.
About the pattern This one is as easy as they come! Techniques used: tubular cast-on (explicit directions included), knitting in the round, increases and decreases.
I think the Periwinkle Beret would be a great project for the first 'knitting in the round' experience. Simple construction is only enhanced by a light price tag - one skein of Lorna's Laces Shepherd Sport is all you need!
YARN
Lorna's Laces Shepherd Sport [100% superwash wool; 200 yd (183 m)/2.6 oz (74 g)]: 49 ns (periwinkle), 1 skein.
NEEDLES
Set of five US 1 (2.25 mm) dpns; set of five US 2 (2.75 mm) dpns; 24" US 2 (2.75 mm) circ.
NOTIONS
Stitch marker; tapestry needle; smooth waste yarn for tubular cast-on.
GAUGE
28 sts and 40 rnds = 4" (10 cm) in St st knit circularly on larger needles.
About the file
Two-page pdf file, 1.5 MB in size. Includes knitting instructions in 12-point font, and two full-color photographs. This file can be opened using Adobe Reader.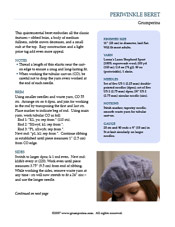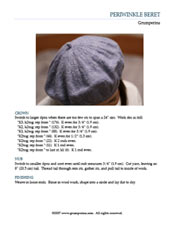 I always provide support for my patterns, but since you're paying for this one, I will not settle for anything less than your full happiness and satisfaction. I will contact you if there are any mistakes or updates, and you can always e-mail me for help.
To purchase through Ravelry, payment via PayPal Click on the button below to buy a copy of this pattern through Raverly, payment via PayPal. You will receive a link for an instant download. (I believe you do not need a Ravelry account or a PayPal account to complete this purchase - let me know if you have any trouble!)
Periwinkle Beret pattern, $2.50 USD

Posted by Kathy on March 6, 2007 09:02 PM
Comments
To cut down on spam, comments are moderated. You may not see your comment right away, but rest assured that it's been received and will appear shortly. Comments are closed a few days after posting.