« June Cleaver apron | Main | Violetta kicked my ass »
January 09, 2007
Surreal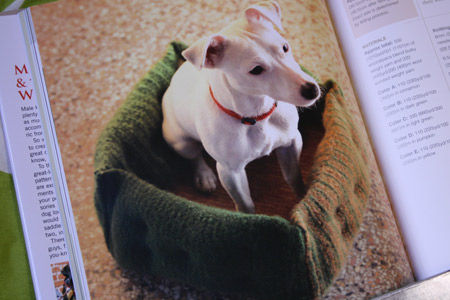 Surreal because... well, I knit that! I knit that very thing the doggie is sitting in!
Back in October 2005, I sample knit this fabulous dog bed for Annie Modesitt's newest book, Men Who Knit & The Dogs Who Love Them
. Shortly thereafter, I handed it over to Annie during her visit to the Boston area, and she did the felting and finishing herself. I pre-ordered the book in September, and here it is, finally!
Very satisfying to see my work in print :). And to be acknowledged as a sample knitter in the back of the book: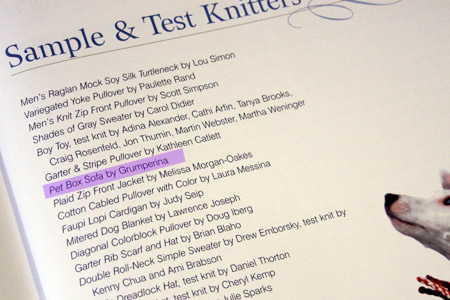 The book itself is filled with a ton of cute patterns for dog and man alike.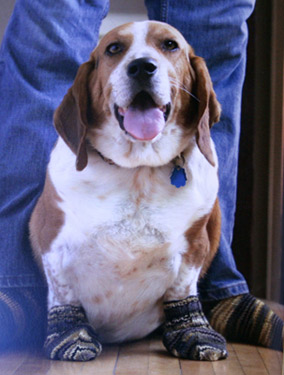 These little booties are too adorable for words (though I wonder if they'd make a doggie do a little jig).
In other news, I've got a mo-hairy situation on my hands: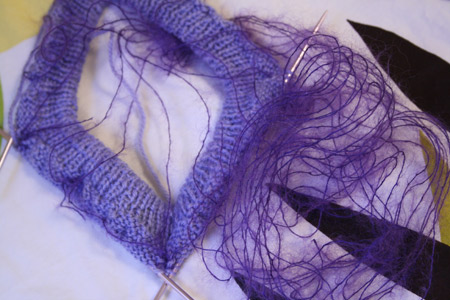 Pray for me.
Posted by Kathy on January 9, 2007 11:28 AM
Comments
To cut down on spam, comments are moderated. You may not see your comment right away, but rest assured that it's been received and will appear shortly. Comments are closed a few days after posting.