« Violetta kicked my ass | Main | Memory »
January 15, 2007
Overcautious
As I searched for the perfect beret pattern for my grandma, I came across every conceivable size and shape variety: snug at the base and puffy up top, slouchy all around, wide and flat... you name it! The possibilities didn't stump me - fortunately, I know my grandma, and I know exactly the type of head topper she has in mind. However, the web-searching and magazine-flipping made me keenly aware that my knitting would be able to produce a multitude of styles, and that I had to proceed with caution (grandma being as selective as her granddaughter).
It seemed to me that, if in doubt, I should err on the small side, since puffy and slouchy are definitely not grandma's cup'o'tea.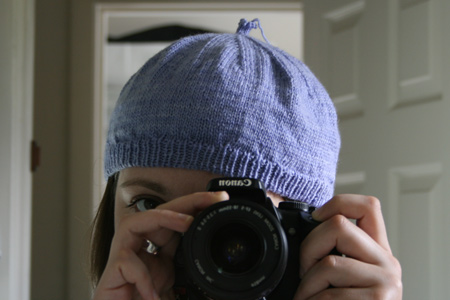 This is what you get for being overly cautious. Not so much a beret as a... Kufi. Gotta give that bad boy some oomph! Both horizontally and vertically! And this time, I'm using a circular needle - too many stitches for dpns at the widest point.
In other news, air travel was entirely uneventful, maybe even... bordering on comfortable! Look - courtesy slippers as you go through security! Nice!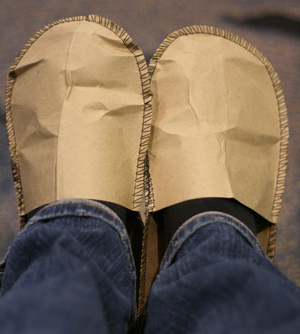 Posted by Kathy on January 15, 2007 05:10 PM
Comments
To cut down on spam, comments are moderated. You may not see your comment right away, but rest assured that it's been received and will appear shortly. Comments are closed a few days after posting.