« One-minded | Main | Fountain »
December 07, 2006
When life hands you melons...
I sure do love a good melon, honeydew in particular (my stomach doesn't cooperate with cantaloupe). I also love my new melon-y project: the Melon scarf from Victorian Lace Today
.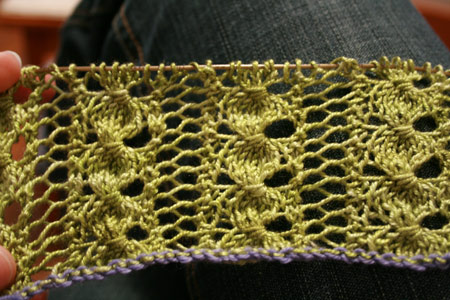 The pattern is proving to be exceptionally easy. The pattern's dinky little schematic masquerading as a chart? Long discarded and forgotten. The only mistake I seem to make on a regular basis is slipping the edge stitches incorrectly, and that's something even I can live with.
Many asked my opinion of Hand Maiden Sea Silk. So far I'm very pleased. The yarn is very soft and the knitted fabric is supremely drapey. In contrast to many other silks and silk blends I've used, Sea Silk is 3-ply, spun together very tightly. I don't think I could make it split even if I wanted to! The consistency is similar to Lorna's Laces Shepherd Sock, I'd say, though LLSSock is a wool blend and thinner.
As a result of its silk content and tight twist, I'm not sure how well it will block - I expect some resistance to being blocked severely. Good thing the chosen pattern is already visible, without any blocking.
Another quality of Sea Silk that was somewhat unexpected is its stickiness. It has a gentle halo, almost like wool, and those little fibers sure like to cling to each other, and the needles! It took me two hours to wind a single skein, partly because I don't have a swift (that will change soon
), and partly because the strands insisted on forming weird, complicated knots. It was pretty horrendous...
Knowing that there will be a lot of passing stitches over other stitches, I cast on using a pair of Bryspun straights (US 4) - nothing beats the Bryspun tip. However, I found that the yarn clung to the needles too much, and switched to Blunti Stumpos two rows later. Finally things started to move along more quickly. I can only imagine how nightmarish it would be to knit Sea Silk with bamboo needles...
Posted by Kathy on December 7, 2006 01:11 PM
Comments
To cut down on spam, comments are moderated. You may not see your comment right away, but rest assured that it's been received and will appear shortly. Comments are closed a few days after posting.