« Lounging | Main | One with the sheep »
December 17, 2006
Shapely calves
How many times have there been references to my shapely calves on this blog? Plenty :). Don't get me wrong - even if I have to cast on 108 stitches for knee highs, or try on 108 pairs of boots to find ones which zip up all the way
, my calves are not half bad. Especially when modeling fabulous socks: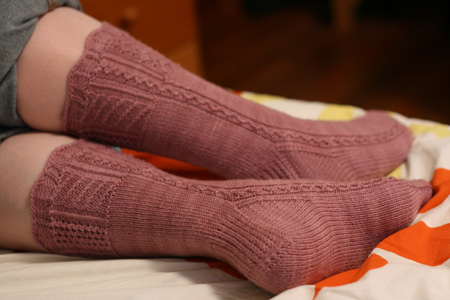 Pattern: Traveler's Stockings from Nancy Bush's Knitting on the Road
, with no noteworthy modifications.
Yarn: Lorna's Laces Shepherd Sock, Old Rose (44ns), 2 skeins.
Needles: US 0 dpns, set of 5 (these ones
).
This pattern is wonderful in many ways. It starts rather fancifully - scalloped edge and twisted stitch motifs make up the cuff, but the pattern is very easy to follow and memorize if time is taken to understand how one round of knitting evolves into the next.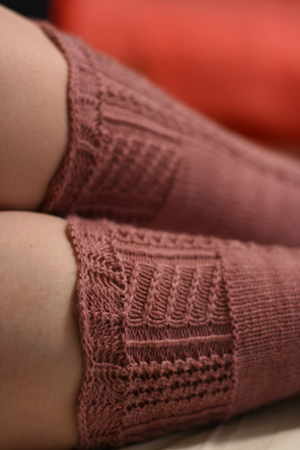 After the cuff, only one of the twisted stitch motifs is continued down the leg, making the rest of the sock beautiful and simple to knit at the same time.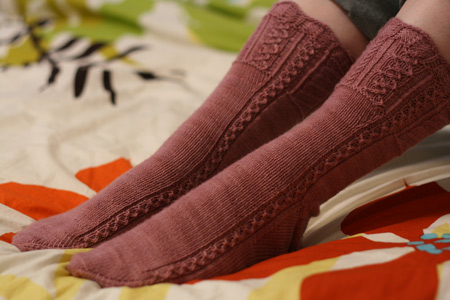 Lorna's Laces continues to be one of my favorites for socks - the slight variation in color, achieved only by hand painting the yarn, is as gorgeous as ever.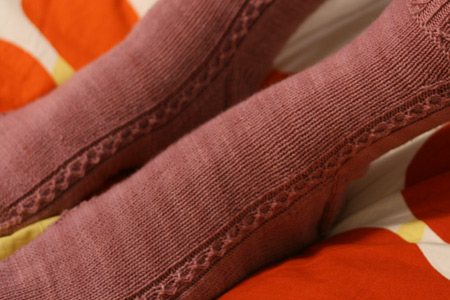 A timely Hannukah present for my grandma.
Posted by Kathy on December 17, 2006 04:57 PM
Comments
To cut down on spam, comments are moderated. You may not see your comment right away, but rest assured that it's been received and will appear shortly. Comments are closed a few days after posting.