« Non-committal | Main | Replacement: in my hot little hands. Scanner: fired up. »
November 14, 2006
Joyous socks
How lucky am I?!?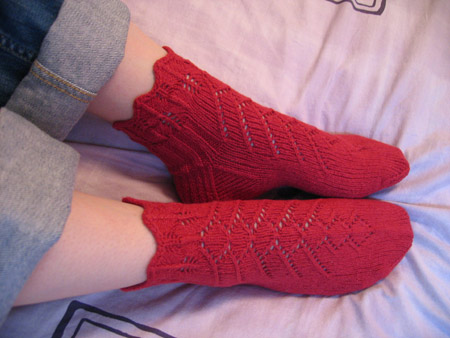 This gorgeous pair of socks was knit for me by Joy, and they are perfection embodied! The fit is superb, the yarn is one of my favorites (no wool!), and the color screams my name. If that wasn't enough, it's a Nancy Bush pattern - Friday Harbor from Knitting on the Road. Thank you, Joy!
Joy also included some very thoughtful goodies: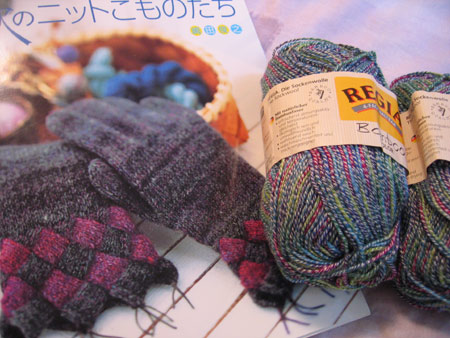 Hokuou no knit komonotachi, Japanese for, "Book with gorgeous winter accessories, give me yarn and needles now, I must make mittens," and 2 skeins of Regia Bamboo Color in 1066, which feels as soft and smooth as cotton to me. Can't wait to use it! I'm thinking I can squeeze a pair of anklets out of each ball. Thanks again, Joy!
Also, to follow up, my dad loved his new scarf. He said the length was perfect, and that he liked the pattern and color. Just to make sure, I asked my mom - did he really like it? To which she responded, "Kathy, stop being foolish. You knew it was a quality thing when you mailed it, why are you even asking?"
Woman deserves votive sleeves.
Posted by Kathy on November 14, 2006 04:45 PM
Comments
To cut down on spam, comments are moderated. You may not see your comment right away, but rest assured that it's been received and will appear shortly. Comments are closed a few days after posting.