« The dryer, ooof!!! | Main | I miss my pattern books :( »
October 12, 2006
Spring in Socktober
Fall has always been one of my favorite seasons. I feel that this year, more than years past, I've really taken the time to get out there and soak up the vibrant colors and changing landscape. And I've loved every minute of it.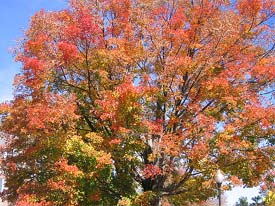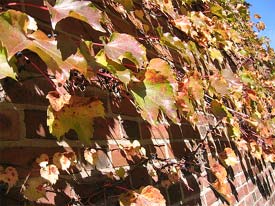 My knitting, however, is screaming spring.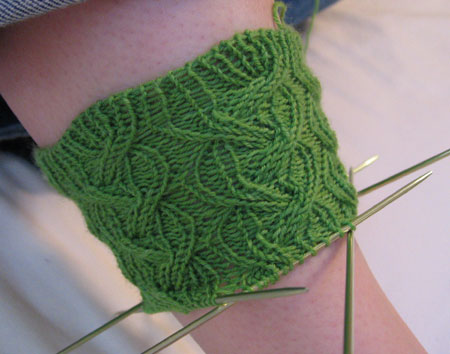 My Socktoberfest socks: Aran Braided Socks from KnitPicks, worked in Lorna's Laces Shepherd Sock, carol green.
You've seen this yarn before: some may remember a certain ink incident, where it first made its appearance. With one skein obliterated into dozens of Brussels sprouts, the other sat lonely and partner-less in my stashette for a very long time. When an opportunity presented itself to use the yarn, I contacted Linda who happily informed that she had more of the same dye lot. A replacement was in my hands within a few days, and a new sock on the needles shortly thereafter.
I'm very much enjoying this pattern, almost in spite of myself. Typically I'm not a fan of 1 X 1 ribbing (purely for aesthetic reasons), and cables aren't my favorites either. But in this pattern the ribbing adds a certain texture and interest to an otherwise simple design.
The fit is quite nice - stretchy and snug. It takes a little bit of effort to get it over my heel, but once it's on the leg, it's very comfortable. I'm pleased at my choice of a tubular cast-on, which assures a completely non-binding edge.
I'm relieved that this project is working out - I really didn't want to go on my trip without any knitting! Now it's just a matter of getting three sets of metal dpns through security, gulp! (US 000 for tubular cast-on, US 1 for cuff, US 0 for leg) (I know they're allowed... but even I would raise an eyebrow at 15 pointy sticks being carried onboard!)
Posted by Kathy on October 12, 2006 01:24 PM
Comments
To cut down on spam, comments are moderated. You may not see your comment right away, but rest assured that it's been received and will appear shortly. Comments are closed a few days after posting.