« Bummed out | Main | Off! »
August 29, 2006
Eat that!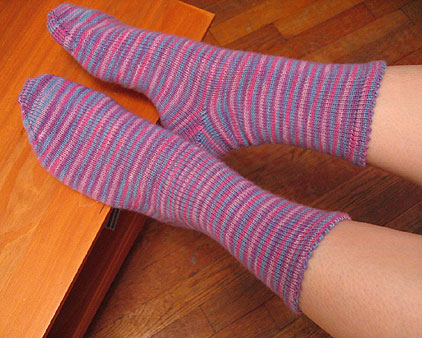 Pattern: simple stockinette sock worked over 68 sts, featuring a picot edge, short-row heels, and standard toes.
Needles: Susan Bates
5 dpns, US 0 (these are my #1 choice for sock knitting).
Yarn: Lorna's Laces Shepherd Sock in #26, wisteria, 1.5 skeins.
I see that Linda currently has some of this yarn in stock! And I believe you can special order if she runs out (also in wisteria: Shepherd Worsted and Helen's Lace!)
Some laughed their wicked little laughs when I started knitting this pair of socks, knowing that Lorna's Laces handpainted colorways pool terribly. But I never worried or paused, somehow secure (for no good reason) that the yarn would do the right thing. If it didn't, I figured, I wouldn't fight; I'd simply put it down and knit with a different yarn. Why complain and waste my time coercing it into something pretty when I've got an entire stashette of solid-colored yarns?!?
And the yarn behaved. And I was gleefully, smugly satisfied :-D.
But what about the second skein? Handpainted yarn is an interesting animal - change the length of the different color sections by only an inch, and all the beautiful patterning can collapse on itself. One friend in particular warned me with her signature, "I'm just sayin'!"
I entertaining this threat for a mere second, shrugged my shoulders, and (for no good reason) convinced myself that it would be fine. I said, jokingly, "I'll will it to stripe."
And so it did. Miracle? Coincidence? Luck? Knitting gods smiling down on my grandma's wisteria-clad feet?
Yarn manufacturers throwing a bone my way so that I'd add variegated yarns to my repertoire? This one may be the real reason. The whole thing caught me by surprise! Who knew I'd enjoy working with this colorful yarn so much?!? Watching the colors change, stitch by stitch, round by round... And now my checkbook is suffering ;) (all purchased in the very recent past).
Posted by Kathy on August 29, 2006 10:35 AM
Comments
To cut down on spam, comments are moderated. You may not see your comment right away, but rest assured that it's been received and will appear shortly. Comments are closed a few days after posting.