« July 2006 | Main | September 2006 »
August 30, 2006
Off!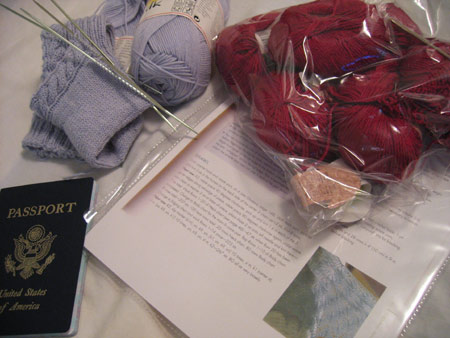 Looks like I'm all ready to go - other than a passport and my knitting, what else could I possibly need on my trip? :)
Coming with me: grandma's Whitby socks, which, between this and that, somehow got almost halfway done: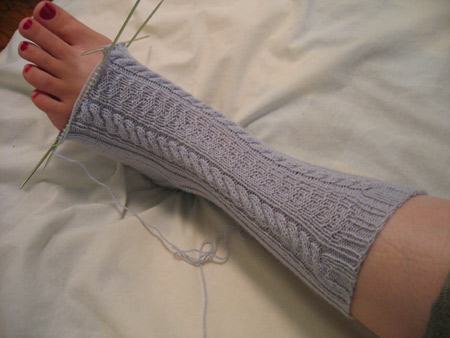 However, I intend to focus on the Shetland Triangle. As you remember, I started it ever so cautiously well before my trip, just to make sure yarn, needles and pattern were all in order.
I'm glad I did! Remember how something about the US 3 KnitPicks Classic Circulars kept bugging me? It seemed that the needles were too thin, even for 3s, and my hands kept itching for something slightly more substantial. Then, as I was passing the needle through the US 3 hole in my needle gauge with much ease, it came back to me: KnitPicks has somewhat unorthodox needle sizing! I've been using the 3.0 mm needles, which KnitPicks calls US 2 (and I'd call US 2.5, because it ain't fittin' through the US 2 hole in the needle gauge). No wonder my brain couldn't make sense of what my hands were feeling!
Anyway, 3.0 mm is definitely a stretch for this yarn, so I whipped out my tried and true INOX Express in a US 4 (3.5 mm), much better for this yarn, both in terms of size and feel. I reworked the first chart with the replacement needles... and I know I was supposed to supervise myself and not go any further, but I couldn't help it and worked one additional chart repeat. Oops! :)
One last thought before I must go (and bounce up and down on my suitcase to close it) - I'm delighted to announce the 450th Jaywalker submitted into the gallery - Marlena! Marlena says she's the unlucky-ish sort, rarely winning anything, but her Tiger Jaywalkers changed that in a jiffy: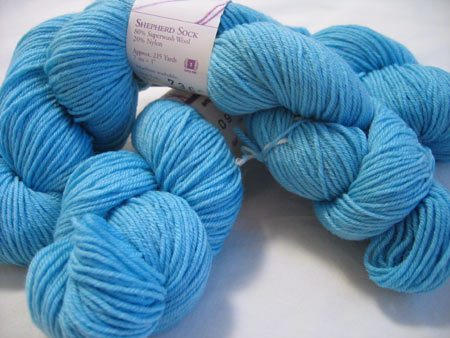 Congratulations, Marlena!
And now I'm off! See you in about a week!
Posted by Kathy at 11:40 AM | Comments (35)
August 29, 2006
Eat that!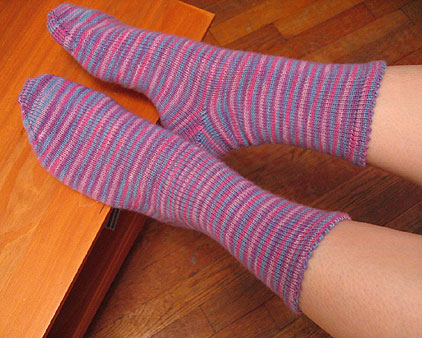 Pattern: simple stockinette sock worked over 68 sts, featuring a picot edge, short-row heels, and standard toes.
Needles: Susan Bates
5 dpns, US 0 (these are my #1 choice for sock knitting).
Yarn: Lorna's Laces Shepherd Sock in #26, wisteria, 1.5 skeins.
I see that Linda currently has some of this yarn in stock! And I believe you can special order if she runs out (also in wisteria: Shepherd Worsted and Helen's Lace!)
Some laughed their wicked little laughs when I started knitting this pair of socks, knowing that Lorna's Laces handpainted colorways pool terribly. But I never worried or paused, somehow secure (for no good reason) that the yarn would do the right thing. If it didn't, I figured, I wouldn't fight; I'd simply put it down and knit with a different yarn. Why complain and waste my time coercing it into something pretty when I've got an entire stashette of solid-colored yarns?!?
And the yarn behaved. And I was gleefully, smugly satisfied :-D.
But what about the second skein? Handpainted yarn is an interesting animal - change the length of the different color sections by only an inch, and all the beautiful patterning can collapse on itself. One friend in particular warned me with her signature, "I'm just sayin'!"
I entertaining this threat for a mere second, shrugged my shoulders, and (for no good reason) convinced myself that it would be fine. I said, jokingly, "I'll will it to stripe."
And so it did. Miracle? Coincidence? Luck? Knitting gods smiling down on my grandma's wisteria-clad feet?
Yarn manufacturers throwing a bone my way so that I'd add variegated yarns to my repertoire? This one may be the real reason. The whole thing caught me by surprise! Who knew I'd enjoy working with this colorful yarn so much?!? Watching the colors change, stitch by stitch, round by round... And now my checkbook is suffering ;) (all purchased in the very recent past).
Posted by Kathy at 10:35 AM | Comments (42)
August 27, 2006
Bummed out
Update on kitty/bum mat interaction: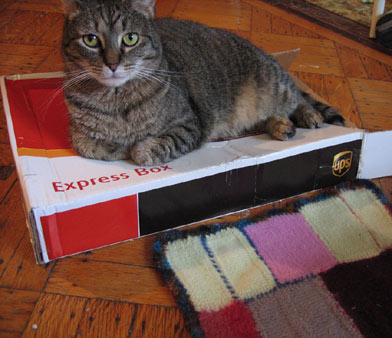 I am Kitty, and no one tells me where to put my bum.
Kitty prefers the empty UPS box to felted bum mat 100% of the time. No sweat, little kitty, not everyone likes felted wool. I will show my affection in other ways ;).
-------
Have you ever been curious about the voice behind this writing? Want to know what I sound like when I speak, in real life? I recorded an audio book review of Norah Gaughan's Knitting Nature for my friend Guido's podcast, It's a Purl, Man. You can listen to the entire podcast by clicking the show link, or subscribing to the iTunes feed. A mini-review of the book and some project photos can be found here.
Posted by Kathy at 08:20 PM | Comments (49)
August 24, 2006
Knitting mojo
My knitting seems to be picking up again. Several of you mentioned the "late summer knitting blahs," but I don't think my recent ramblings are indicative of malaise. Rather, it's simple indecision and feeling torn about what to start, complicated by some travel plans, a rather hectic September, and a stubborn commitment to Classic Silk :).
In fact, I find myself more interested in knitting now than I have in a while. I whipped out that Estonian stocking in only three weeks, for example. By the way, thank you for all your compliments! Several of you commented on the arch shaping - it is quite ingenious, I agree! This entry has more pictures and summarizes my thoughts about it.
Continuing with my current knitting happiness, I'm even toying with the idea of writing up the pattern for this beaded hat. Also, some audio knitting content will be coming up in the near future; I'll tell you more soon.
What else? Following the lead of no fewer than five of my readers, I finally purchased some Classic Silk! Thanks, guys, for letting me know that Herrschners had it on sale ("had" rather than "has" because it's now sold out :( ). I had a code for free shipping, too, so I was pretty thrilled! I got a sweater's worth in Cobalt, which is perhaps a weird choice for me (I'm not a huge fan of blue), but having seen it in person, it's a really lovely color that I think will work for me.
I'm not sure I'll be starting the sweater right away. Actually, I'm still not decided which sweater it will be, though one in particular is a top contender :). I'll think about it more seriously when the yarn arrives.
In the meantime, I've started another sock to pass the time. I don't want the wisteria socks to end, but that will be the case shortly, sniff, sniff.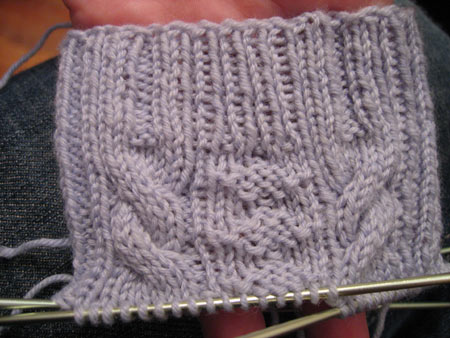 The last time I saw my grandma, I showed her some of my favorite sock pattern books to see if she liked any in particular. She was, of course, adorable, sliding her finger over the photos in Knitting Vintage Socks and exclaiming how they looked so real, she couldn't believe they were only photographs (oh, grandma!). Anyway, she seemed to have a particular affection for cabled socks, so I put that on my "to knit" list in addition to a picot edge.
I sized up the pattern to 67 stitches to fit her foot (it's written for only 51!), and I'm finally using the long coveted Regia Silk. It is a very nice yarn, soft and fluffy and slightly shiny... but my spoiled self still prefers Lorna's Laces. I feel nearly embarrassed to be so choosy, to prefer Lorna's to Regia. What silliness! I know I'm extremely fortunate to have access to every yarn under the sun, to be able to afford these yarns, and to knit as a hobby, rather than as a necessity.
Posted by Kathy at 12:40 PM | Comments (28)
August 23, 2006
Friends
It's good to have a best friend, don't you think? Maybe you appear different on the outside, have different personalities, likes and dislikes... But when push comes to shove, you have the same morals and values; you're made of the same stuff, so to say.
And so with these socks.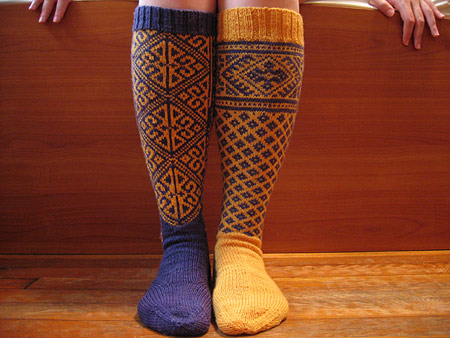 The one on the left is of course the Blue and Cream Stocking from Meg Swansen's Knitting. The one on the right is its newly found friend, the Estonian Stocking.
Pattern: The Estonian Stocking is a true chimera:

the basic shape mimics the Blue and Cream Stocking, including the oh-so-snug arch shaping (check out the Fall 2006 Vogue for more inspiration!)

as before, the French Toe is from Nancy Bush's Knitting Vintage Socks (p.21)

the pattern motifs are from Nancy Bush's Folk Knitting in Estonia, including those from Marko's Mittens (p. 100) and the whorl (p. 29).
Needles: size US 1 Susan Bates, 2 circulars
and 5 dpns
.
Yarn: Sundara Yarn sock yarn, in 006 and 024. I think I used about half a skein of blue, and 1.5 skeins of orange.
Gauge and size: gauge in stranded section: 8.3 spi, 9 rpi. I think the gauge is different for this stocking than the first because the orange is just a little fluffier, and more of it is used here. The stocking is 13" in circumference at the calf, 7" in circumference at the ankle, and 17" long from cuff to bottom of heel.
If you compare, you'll notice that this stocking is a little wider. Indeed, it ended up being worked over more stitches to fit the pattern repeats - I started with 108 sts and narrowed my stranded work to 68, then to 64 for the foot (versus 106 to 54 for the Blue and Cream Stocking).
Another improvement - I knit the ribbing at the top over fewer stitches (92) and on smaller needles (US 0), then increased for the colorwork. This is to accommodate the difference in gauge between stranded and regular knitting. If I were even more obsessive/compulsive than I already am (God help us all if that ever becomes the case), I would make a similar adjustment for the few rounds of regular knitting separating the different sock sections.
I also modified the shape slightly, decreasing more rapidly where the calf tapers, thus accommodating my bulbous calves and tiny ankles better. I think you can see the difference in this photo: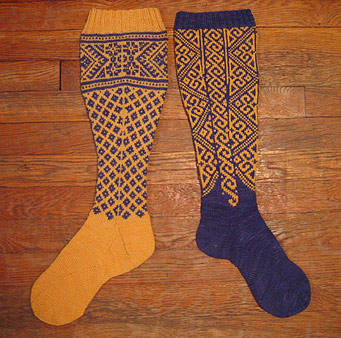 Seriously, my legs are shaped like that. Otherwise I wouldn't have done it!
The verdict is that I love this one as much as the first. I heart you, little huge stocking! I think it was smart to make the second different - even though this pattern motif was much simpler and slightly more boring, it was more interesting than knitting a second one of the same thing. So I chugged through it without too much complaining.
I have more Fair Isle knitting planned for the future. This time, the socks will be knit from the toe to the cuff, because I find myself somewhat bothered by the V's of the colorwork stitches being upside down. But before I get to that, here are a few more shots of this glorious Estonian stocking (click for bigger):
simply fabulous arch shaping; view from the side; inside-out
Posted by Kathy at 10:35 AM | Comments (101)
August 22, 2006
Supervision
Indeed, the Estonian stocking is still totally wet. The double thickness of yarn is a godsend during the colder months, but it sure takes a while to dry. When I knit the counterpart, I remember it drying quickly because my apartment is very dry and hot during the winter. This one is taking its time, moping around, water evaporating slowly.
But I, myself, am not moping, that's for sure. While it's blocking, I finally started something with the yarn Siow Chin gave me! It is Honfleur yarn by Puppy, a Japanese yarn manufacturer, and its composition is 50% extrafine merino, 30% silk, and 20% cashmere (100% delicious). I used the needle chart found here to determine that using US 4 needles, the proposed gauge is 23-24 sts and 32-33 rows.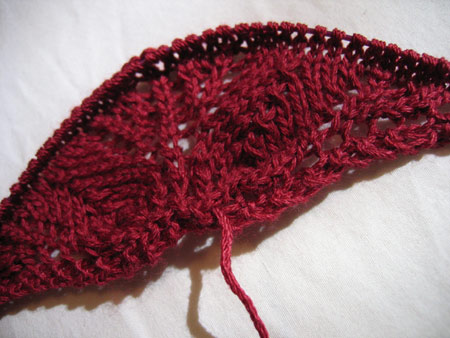 As you've probably guessed, it is the Shetland Triangle from Wrap Style. I'm using KnitPicks Classic Circulars in a US 3. I really like the sharp points, especially since this yarn is somewhat loosely plied.
For some reason I keep getting the urge to move up a needle size to a US 4. The fabric is not dense, and it will be thinner still with severe blocking. I definitely want it less holey than the book sample, which is knit on US 6. I'm not sure what my issue is.
So far the pattern is transparently clear. In a flash, just like that, I worked my way through the first chart, increasing from 2 stitches to 47 in a matter of 20 rows. Sadly, I have to put this project down for now. It's my reserved travel project, and I don't want to get carried away the same way I did with grandma's socks. Because if I don't supervise myself, it will be done before I even leave.
I'm once again in a pickle - what to knit next? Other than the Shetland Triangle, the only thing on the needles is grandma's wisteria socks.
I'm contemplating starting a sweater using Classic Elite's Classic Silk. I've wanted a Classic Silk sweater for myself ever since I knit one for LL. That stuff is just fabulous. But why is it not on sale anywhere?!? Shouldn't the spring yarns be on clearance by now? (in my wildest dreams). Would it be so bad if I got it at WEBS using the discount? Jaeger Trinity was briefly considered as a (cheaper) Classic Silk substitute, but based on your descriptions, it won't work for the type of sweater I have in mind.
I'm rambling again. It's time to start a sock or something before I do anything stupid.
Posted by Kathy at 10:16 AM | Comments (18)
Random
If all goes according to plan, there will be a juicy post here some time later this morning. It may not be the Estonian sock, which is done but definitely not dry. But it will be something :).
In the meantime, you might ask, "What is keeping you up past 2 a.m., Grumperina?"
Two things - first, and most important, what is the public's opinion on Jaeger Trinity? For the purposes of a sweater, that is.
Second, I'm sick and tired of "tagless" t-shirts, underwear, onesies, etc. Just because there isn't a tag hanging in the back of my neck doesn't make the thing "tagless." That thing poking me at my side, easily the most delicate part of my body, that's called a tag! And then I spend hours cutting out the stupid things from the sides of my shirts because they overlocked the damned things right into the seam. Seriously. I spent 1 hour tonight getting rid of one tag, sweat and blood and tears and all. And that's why I'm up at 2 in the morning. Grrrr....
Posted by Kathy at 02:18 AM | Comments (26)
August 21, 2006
Ugly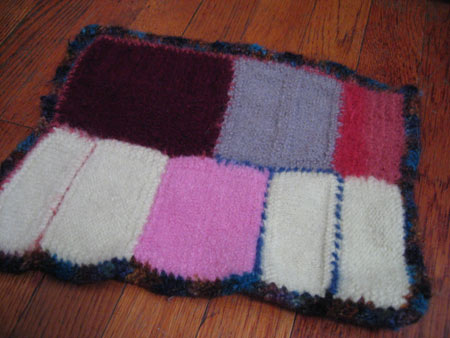 Not ugly in a cute sort of way. Ugly in an ugly sort of way.
Did you ever in your wildest dream imagine that hot off my needles you'd see that?
This warrants an explanation. You see, I'm trying to decide if a certain furry friend would like a felted cat bed.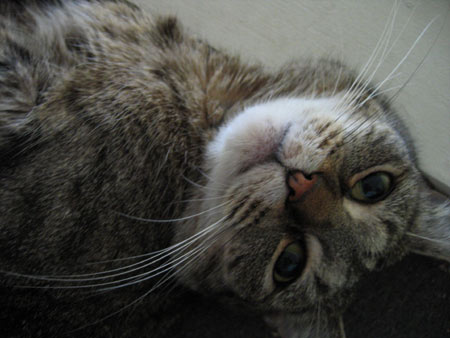 Hello, I'm Kitty, and I'm fabulous. Contrary to popular belief, my insides are made of chocolate.
Kitty is a kitty, and her name is Kitty. She's not my kitty, but I visit often.
I decided to make a felted kitty "bum mat" to see if it's something she likes, and to experiment with felting (baby's first felting right there, aren't you all proud?). To make it, I rummaged through my stash and fished out any swatch that I believed would felt. I stitched them together, then used single crochet (hi, Maryse! Look what crochet can do!) to fill in one corner and make a border.
Before it went into the machine, the bum mat measured 11" x 13.5", and after one "whites" cycle, it's like 10" x 13". I'm sure it could be felted more, but the machine costs a buck and a quarter, so I'm saving the money in case I get to make an actual kitty bed.
Quick observation: the yarn that felted the most is the brilliant pink in the center, which is KnitPicks Merino Style. Second best was the pink mess in the corner, which is 100% alpaca from elann. Least feltable was the burgundy - Katmandu Aran Tweed.
I'll report back on the Kitty/bum mat interaction.
P.S. My apologies for the sparse blogging this past week. I've been diligently working on the Estonian stocking, and I'm this close to finishing. Every time I get the urge to snap a picture and share it with you, I decide to wait just a bit longer until I'm done. I expect the FO to be the next entry.
Posted by Kathy at 12:17 AM | Comments (40)
August 16, 2006
I am obsessed with Carolyn
Carolyn, you may wish to close your web browser and step away from your computer right now. Because I don't want to scare you away, I want you to continue to be my Internets friend, okay? :)
Seriously. Name one knitter who's more prolific than Carolyn. No one, my friends, no one. Maybe if I had a dozen nieces and nephews I'd be cranking out projects all the time, too. Whatever the reasons, I find that Carolyn's FOs always come to mind when I'm considering one project or another.
I'm going to be taking a trip in a few weeks, one which will provide me with 14 hours of knitting time. Don't "Get out!" me, I'm not joking.
Originally I had planned to take grandma's wisteria socks with me, but I think I'm going to finish them before I leave. The Estonian sock will be done shortly, too (besides, I don't consider it a good trip project). I could cast on for another pair of socks, and I still might, but as of today, right this very moment, I'm feeling very socked out. Ug. I need a little break from socks.
Alright. Next idea - sweater. I have two that I want to knit, both from Knitting Nature. I even know what yarns I want to use! But I'm sitting and patiently waiting for the yarns to go on sale, somewhere, anywhere, because I just can't swing the expense of a sweater's worth of yarn right now.
Moving right along - scarf or shawl. Despite the hit that was Sharfik, my dad needs a new scarf (it's a long and gory story that I must tell you one day). I'm being choosy with the yarn for Sharfik 2.0 because Karabella Aurora 8 was a little too thick for something so heavily cabled, and because it pilled like a mofo. Until I work out a yarn solution, it will have to wait.
Then I promised a shawl for a friend (you know who you are), but it will be worked on US 0 needles with thin laceweight silk, and starts out by casting on hundreds of stitches. I'm already having a hard time envisioning such careful knitting while looking out at the scenery, chatting, contemplating lunch options, trying to avoid carsickness, etc.
Oh my God, this is so long-winded. Are you still with me?
While rummaging through my stash the other day, I came across some luscious silk blend yarn that Siow Chin sent me when we had a little exchange back in the spring. I had immediately pegged it to be a scarf or small shawl for myself, since the color is a perfect match for me.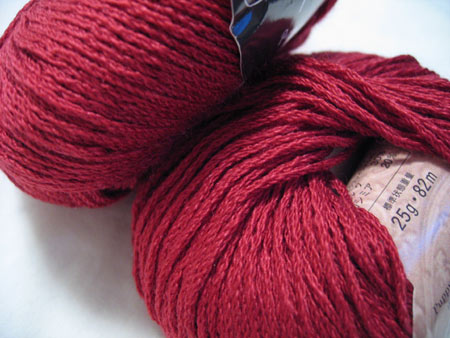 Everyone has their vision of hell. Mine is accurately photographing red.
Wouldn't it be great to knit that up on my trip? I can use some new knitted accessories just in time for fall.
I'd want a very simple pattern - no more than a few lines of instruction, and a small chart or two. I want the final product to be on the petite side so it can fit under my jackets. Conveniently, I have 538 yards of sportweight yarn, which should be enough for a project that size. A project like, like...
Enter Carolyn. I have wanted a Shetland Lace Shawl from Wrap Style just like hers forever. That same size, that same consistency... I think the pattern is exactly the type of thing I can handle on a trip.
But wait! I've also admired Carolyn's Diamond Lace Fantasy shawls (here and here). Again, they came out the perfect size - enough to warm the neck but not trip you. That pattern should be pretty easy, too. So many choices!
I also don't exclude making a Leaf Lace Shawl (again) because I already have the pattern and know the ins and outs. I really do love it - there's a reason so many of these puppies have been knit up all over knitting blogs.
Or should I just cast on for a sock? Tried and true, perfect trip knitting. I bought some Regia Silk after Carolyn raved about it all over her blog and I know grandma would love that on her feets...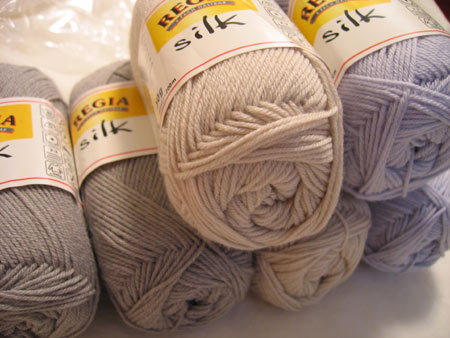 What will Carolyn put into my head next? I'm already lusting after most of the stuff on her blog!
Posted by Kathy at 05:39 PM | Comments (40)
August 13, 2006
The wonderment that is variegated yarn
I never thought I'd have anything positive to say about variegated yarn, but I find myself engrossed in the ever-changing color of the stitches. A pink, a few more pink, then some blue, lilac, purple, light lilac... Some colors match up on top of each other, and some don't. Rinse and repeat.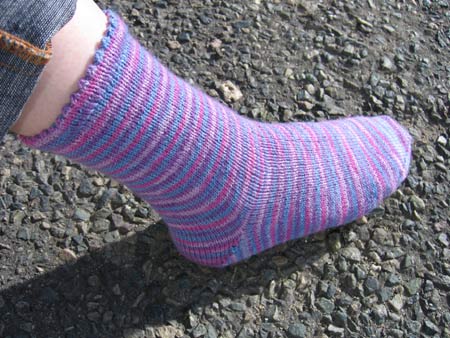 I could hardly stop myself from finishing this sock in only a few days. I was surprised to find myself watching each and every stitch just for the color changes. With simple stockinette in the round, I can potentially knit blindfolded! Yet I couldn't take my eyes off...
You're just too good to be true,
Can't take my eyes off of you.
You'd be like heaven to touch
I wanna hold you so much...
Pardon the way that I stare,
There's nothing else to compare,
The sight of you leaves me weak;
There are no words left to speak...
I know I'd be much less nostalgic if the colors pooled in an awful way. If they pooled, in fact, I would knowingly shake my head and remind myself that I have a drawer full of solid-colored sock yarn.
But, alas, that wasn't the case. For the record, I knit the short-row heel using the other end of the skein to preserve the color patterning. I don't think it'd be that bad to knit it all in one piece, but why risk it? Such a simple solution to potentially unsightly pooling at the bend of the foot.
The only place where the colors pooled ever so slightly is in the toe area.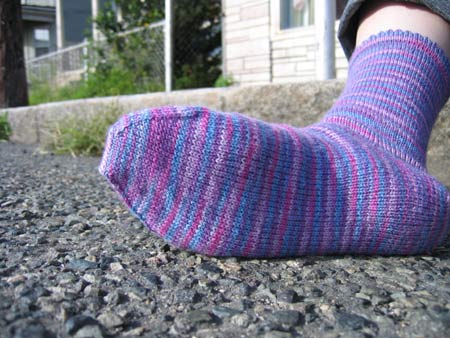 I don't think it's worth discussing, and I should consider myself lucky that the yarn didn't do something more atrocious. (Also, do you see why I have such an interest in socks with arch shaping?)
The second sock is already on the needles, and I'm predicting a speedy sprint to the finish line.
Even more unthinkable, I bought more variegated sock yarn. I'm really testing the heavens, right? I got some Claudia Hand Painted Yarn in butter pecan (as recently seen on Fidget's blog). It, too, spoke to me, telling me that it'd be perfect for grandma. I think it might be another stockinette with picot edge sock, though I'm not sure yet.
Posted by Kathy at 11:01 PM | Comments (45)
August 10, 2006
I'm not caffeinated. Really.
You came, you saw, you commented...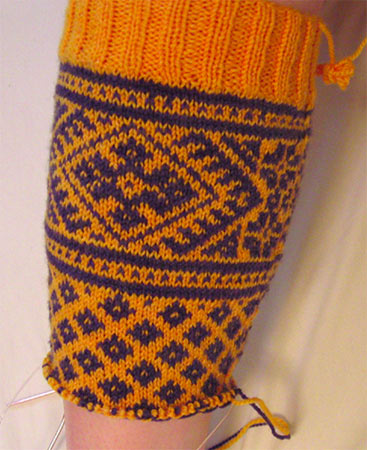 (sorry for the sub par photo) ... and I did whatever the hell I wanted anyway. Mwahaha! (it's my blog and I'll knit what I want to, knit what I want to, knit what I want to, you would knit too if it happened to you) (now, please, do go ahead and imagine me singing that out loud, as I tap my feet and sway my booty. Because I do do that ;)).
Seriously. The comments were eye opening.
Example: someone said the stripes would be too simple. I thought about it and agreed. Someone said the faux plaid would be too dark. I thought about it and agreed (this, by the way, was my original favorite. I'm tucking away the pattern in my memory, because it's quite eye-catching, even if it's not right for this project). The snowflakes, too whimsical. Agreed. The specks would be too simple. Indeed.
But what I've got now, it makes me happy.
This is baby's second Fair Isle, so tell me if I'm completely off mark.
You know how I chose the new pattern? I looked (about 40 times, from every angle) at the photo of the sock in progress, and asked myself, "What element of the top band was most pronounced?" To me, it was the rhombus nature of the whole thing. Rhombus connected to another rhombus, encapsulated in another rhombus, bordered by more rhombuses...
And that was that. I took one of the little rhombus elements, put it next to another, made sure that the spacing wasn't too close (otherwise, too much blue, as someone appropriately warned me), and started knitting. I'm finding that with Fair Isle patterns in particular, you have to actually swatch/knit to see if it's right - all the fiddling around with charts is only half a step in the right direction.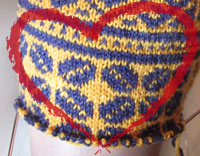 But there's a problem. I'm already bored to tears by the thing. I consulted the chart (more like chart-ette, it is so tiny) for the first half of the first round, and then didn't need to any longer. Yawn! Too simple. On top of that, something new has captivated my attention...
I love the rejected motif. Someone finally pinpointed what it looks like - coffee beans! I couldn't put my finger on it, and it doesn't help that I'm not a coffee drinker, but that's precisely right. Isn't it dreamy? Mmmm... I have a plan for that motif, but it first requires me to rummage through my stashette and possibly purchase some Koigu. But no time right now - busy weekend. See you soon!

Posted by Kathy at 10:20 AM | Comments (35)
August 09, 2006
Color fascination
Well, it's definitely pooling something: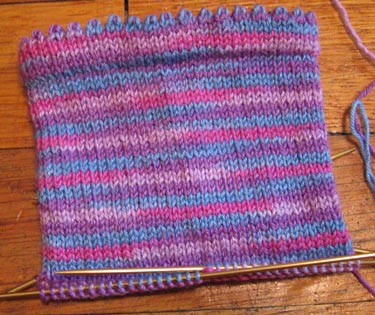 ...but I don't know if I'd call it "terrible." What is this? Pooling, striping, pooling and striping at the same time? Should I just shut up and count my lucky stars that it's not doing something more obnoxious? Hehe :).
I do like watching the stitches change color. It's rather mesmerizing!
In case you want to reproduce this effect on your own needles, I'm knitting the sock on US 0 needles, over 68 sts, at a gauge of 8.5 spi.
Here's something that's giving me more of a headache, however: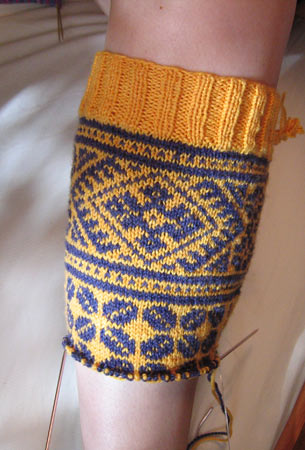 I'm not digging it. The scale of the pattern I chose for the lower portion of the leg is all wrong, I think. Compared to the delicate intricacy of the top band, the chunkiness of the lower half is way too much. Unbalanced, in more scientific terms.
Solutions? Gotta use something smaller in the lower portion. Contenders? A few.
(1) Simple stripes like Ilmar's Socks, (2) pseudo-plaid from Avo's Mittens, (3) little snowflakes from Anv's Mittens, (4) little specks all over, like the Lithuanian Amber Socks (Folk Socks, p. 104) (I hope the Estonians forgive me for shoving another Baltic nation into their sock).
What do you think? I started out having a favorite, but now that I look at all four choices side by side, I'm not sure anymore. I urge the Fair Isle gurus to come out of hiding with advice for this one ;).
Posted by Kathy at 09:19 AM | Comments (71)
August 07, 2006
Feets. They need socks.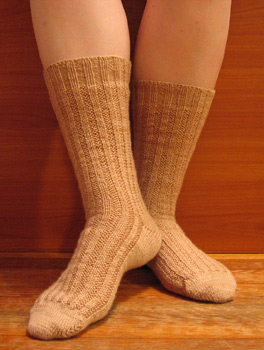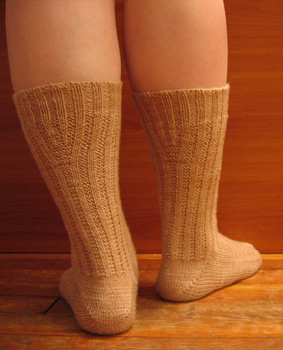 Pattern: Garter Rib from Sensational Knitted Socks. Worked toe-up over 60 sts, with a short-row toe and heel (I use Wendy's method), topped with a little 2 x 2 ribbing.
I previously posted various details of this pair of socks - how I did the calf shaping and the bind-off, and even how I cheated a little on the whole short-row business to make prettier toes and heels.
Yarn: Lorna's Laces Shepherd Sock in chino, 2 skeins (at one point, I may have called this colorway "khaki" - I stand corrected).
Needles: Susan Bates Silvalume US 0, set of 5. These needles are my choice for sock knitting, and they can be purchased here
.
You may be thinking, "Yeah, yeah, it's another pair of socks." But, oh! It is so much more! I'm hoping this pair of socks is exactly what my dad wants, from color to fit to pattern. I have reasons to believe that they'll be a very special addition to his sock drawer.
No sooner were these socks off the needles and tumbling in the washing machine that I cast on for a new pair. I always need a little project on the go!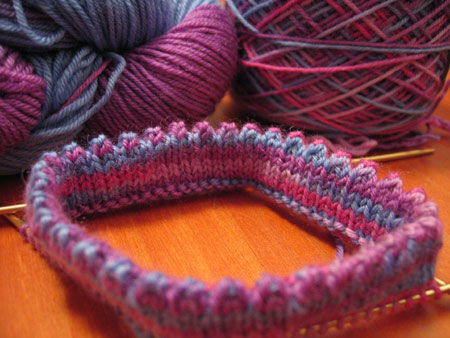 As you know, I'm not into variegated sock yarns. First, I find them painfully limiting - to give you one example, Child's First Sock in Shell Pattern would never in a million years look as good in a variegated yarn as it does in a creamy white. Never.
Second, I have mixed feelings about color pooling. Actually, I lie. My feelings about pooling can be summarized concisely by the following statement:
The best way to avoid pooling is to use solid-colored yarn.
Blunt. Harsh. True? True.
So what the hell am I doing with that yarn you see up there? It sure looks like it will pool something terrible as soon as I knit a few more rows, and that I will have to combat the pooling the only way I know how - use solid-colored yarn.
Sigh... Weakness.
I saw it, and I couldn't resist. It is Lorna's Laces Shepherd Sock in wisteria from Linda's store, and it had my grandma's name all over it.
I swear it spoke to me... Grandma... Roza... Grandma... Roza... credit card... Grandma... enter the expiration date... Roza...
And now I'm limited ("Why I don't use variegated sock yarn, reason #1"). I briefly entertained the handful of variegation-friendly patterns, and decided to go with a simple stockinette sock. Do you know I've never knit a simple stockinette sock??? There's a first for everyone.
As you can see, I started with a simple picot edge. Without a doubt I'm influenced by all the picot-edged socks out there (oh, Claudia and your picot temptress ways). To add insult to injury, I'll have you know that the last time I saw my grandma, in no uncertain terms, she told me she wanted a picot edge on her next pair of socks. She showed me her new machine-knit cardigan set, pointed out the picot-edged cuffs and collar, and said, "I want this."
And so it will be.
Posted by Kathy at 11:06 PM | Comments (44)
August 03, 2006
Somp-thin'
This morning I woke up one hour before my alarm was set to go off. I yawned peacefully, rolled over, and... got out of bed. Even though I worked late yesterday, and face a 12-hour day today, there was a certain somp-thin' somp-thin' sitting on my couch that was even more interesting than an extra hour of sleep. If you know me and my love of sleep, that's saying a whole lot. Seriously!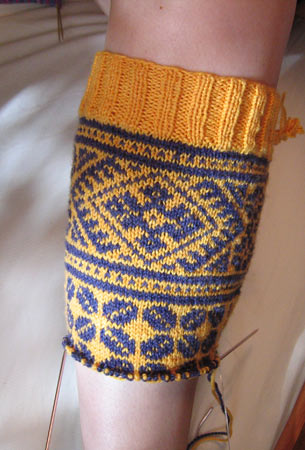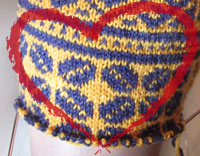 What do we think?
I'm liking it! This motif is basically the same one used in Marko's Mittens (p. 100 of Folk Knitting in Estonia
). I sized it up a bit so it would fit my 108-stitch calf by incorporating the Whorl motif (p. 29).
I have to give a big shout-out to Nona - I'm once again using the theory of yarn dominance, which I think makes a huge difference. Practically speaking, I'm picking the dominant color (blue) with my left hand, and throwing the background color (yellow) with my right. In addition, I'm lessening the stripe jogs by the method she describes here. Nona rocks.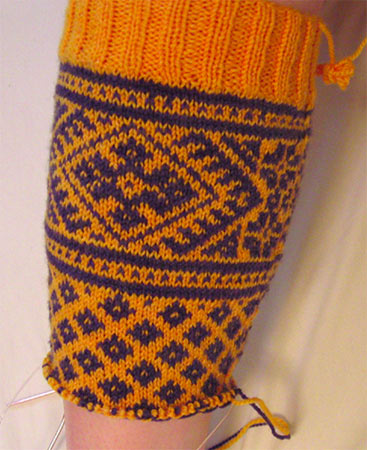 I'm still deciding exactly how the rest of the leg will look. I initially planned to have one back seam where all the decreases would take place, like Eunny's mini-argyle stockings, but now I'm reconsidering. I think two side seams, just like on the Blue and Cream Stocking, or the soon-to-be-released VK sock, will be more practical. Two seams will allow me to decrease 4 stitches per round rather than just two, and considering 108 will need to turn into 54, that's a serious consideration for those of us with shapely (ahem) calves.
So, tell me - are you experiencing serious Fair Isle envy? Yeah, baby! It is a most delicious technique ;).
Speaking of, Miss Knotty asked, "What is a good 'tryout' project for a first-time fair-isle attempt?" Miss Knotty, and anyone else who might be thinking of trying Fair Isle - I think you should look for a small project worked in the round on one circular needle, preferably using thicker (than sock weight) yarn. Of course - a hat! My favorite book for truly drool-worthy FI hats is Charlene Schurch's Hats On!, which features cute designs in a range of sizes.
Now, shoo! Go Fair Isle your heart out!
Posted by Kathy at 10:41 AM | Comments (43)
August 01, 2006
What's that?
Hey! What's that?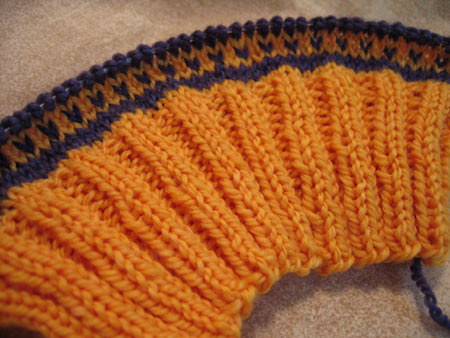 Wait a minute - show me the yarn, it looks familiar...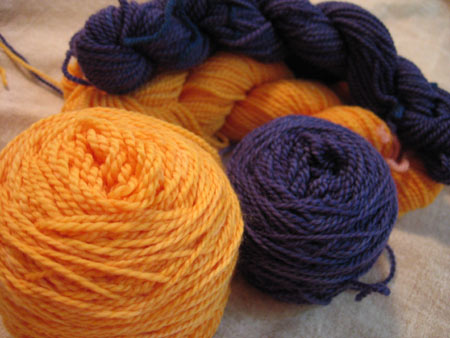 Oh, I remember! It's the yellow and blue sock yarn from Sundara, when she was still "the secret dyer." Didn't you make a sock, like a really big sock, out of that?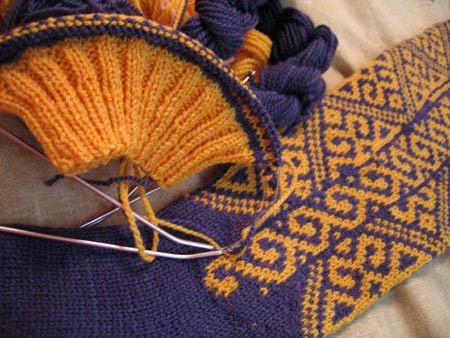 Yes, yes! The Blue and Cream Stocking from Meg Swansen's Knitting!
-----
My friends, it's time to exit my knitting funk.
Mountainash is currently the bane of my existence. I'm not knowledgeable in formal and legal marital terms, but we need that thing where we can see other people. Not quite a divorce, since I do want to come back one day and finish. Maybe a separation? A polygamous arrangement?
Whatever its proper name, I need it. What was joyous and interesting before is only mildly amusing now; what was slightly annoying before is now irritating beyond belief; what was dreadful before is simply unbearable now. The splittiness of the yarn, however slight (Lacey Lamb), the long rows, the uninteresting repeats, it's just never ending funk, that's all it is. Out of sight, out of mind!
-----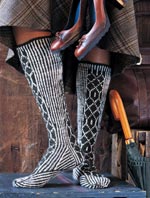 Then there was the trigger: a sock with arch shaping in the upcoming Vogue Knitting... Meg Swansen... un-venting Elizabeth Zimmermann's invention... I remembered! Oh the fun times I had with Meg Swansen's stocking! The yarn, the charts, adjusting the whole thing for my shapely (ahem) calves.

But, alas, there is only one. So beautiful, but, oh, so lonely.
I never had an identical twin in mind, of course. When knitting just for process and show, and not for function, why not amuse myself (and you, my friends) and knit a friend? A perfect companion: so similar at first, but entirely different upon closer examination.
How similar? Enough to fool the unobservant and passersbys :). I'll be using the same yarn - Sundara sock yarn, 006 and 024, and keeping the same basic knee sock shape. In fact, now that I have an actual knitted prototype in my hands, I plan to make slight improvements on the shape to fit my legs even better.
And the differences? First, the background color of this sock will be orange, and blue will be the contrast (reversed on the previous one). Second, the patterns will be completely different (more below). Third, I haven't yet decided on the foot - will I use arch shaping in the background color, just like on the first? Or keep the pattern on the foot? Maybe arch shaping with two colors like the VK sock? I haven't yet decided.
As for the patterns I plan to incorporate, another trigger: I have coveted (coveted, I tell you!) Nancy Bush's Folk Knitting in Estonia ever since I saw Sundara working on Tiit's Socks. For a while it was out of stock everywhere, and I boo-hoo-hooed and moved on to other projects. But I continued to look, setting up "e-mail me when product is available" alerts anywhere that would allow it. Finally, it became available here
, and a virtual swipe of the credit card later, I have it. And I love it.
Oh, what a gorgeous book with such gorgeous patterns. Maybe one day I'll make Laila's socks like Sundara's, but for now I plan to incorporate some of the color patterns into a friend for the first sock. Makes sense, no? The first featured Fair Isle motifs (note: I'm not 100% certain they are actual FI, but text in the book leads me to believe that this is the case), and the second will be all Estonian.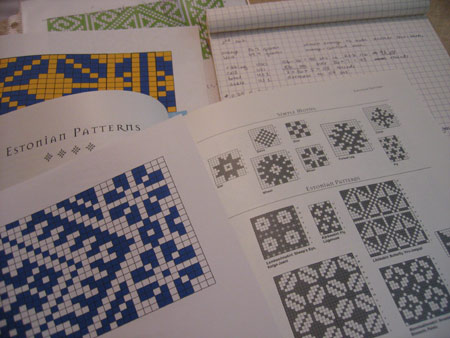 The plan right now is to have a wide band at the top of the sock, and then a smaller repeating pattern down the leg. I've tentatively chosen the patterns - the top will be that dark blue and white chart you see in the lower left corner, and the rest will be the circular (or is it more like diamond?) pattern at the bottom center of the photo. Seems like it will be busy, doesn't it? Good. I'm going for busy. Actually, nothing less than over the top will do for this particular stocking. I want it to be loud and bright and blinding. So you can see it from space ;).
Posted by Kathy at 06:23 PM | Comments (32)