« June 2006 | Main | August 2006 »
July 30, 2006
Follow up(s)
I apologize for the scattered nature of this post, and also for allowing some of your e-mails to ferment in my Inbox to an almost-pickled state.
As much as I try to run this knitting blog independent of my personal life, this is an impossible proposition at its very nature. Lately work and life in general have been frantic. Nothing bad, just everything sped up about fourfold.
I'll be more alert in about a week, and I appreciate your patience until then.
-----
Yesterday I was privileged to witness the knitting wedding of the year! It was beautiful and uniquely special, and no fewer than three people (Omar's mom, Greeley, and Katie) busted out their knitting. I wish Betsy and Omar many happy years together.
-----
There has been some knitting progress! Well, there has been no actual knitting, just progress in locating a cute pattern.
My, oh my! Did you catch that?!?
I found a cute pattern in a new-to-me book while browsing the shelves of Barnes & Noble this weekend. I requested the book from the library (it's just one pattern, after all), and even have a yarn in mind already. I'll report more when I have something substantial to say.
-----
There has been some sewing progress! Well, there has been no actual sewing, just progress in locating a sewing teacher. I don't want to get ahead of myself, so I'll report when I have something more substantial to say.
-----
As for the needles, we've done it, haven't we?!? Hehehe...
Thank you, everyone, for writing to Ms. Skacel Haack. I understand that she has received many e-mails expressing interest in pointier Addis, and that several of you even received a response from her! (I haven't yet, but I'm sure I will).
She writes, "We at Skacel now know there is an interest in pointed needles for lace knitting."
We've been heard!
To all the blunt Addi Turbo addicts, do not worry! "I would like to clarify that Skacel has no intentions of discontinuing the addi Turbo line as it currently is... Now that we are aware that there is a desire and need for quality, pointed, circular, lace knitting needles, we will see what we can do to fill that need."
A full copy of the response is in the comments.
I'm just overwhelmed, in a good way! It was so simple - Sheila sent me an e-mail, I wrote a little blog post, and now this! Could it be? Will it actually be? One day in my lifetime I can knit lace with ultimate pleasure and comfort?!?
We'll just wait and see ;).
And if you haven't sent an e-mail yet, what are you waiting for? Join the crowd! The more, the merrier! Once again, all the details are here.
-----
I realized that I've sort of let the 400th Jaywalker winner to go unnoticed! Oh, the shame! The others and their prizes were announced proudly, so let me continue the tradition.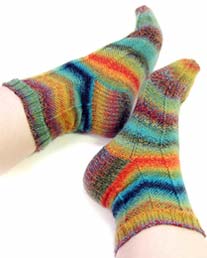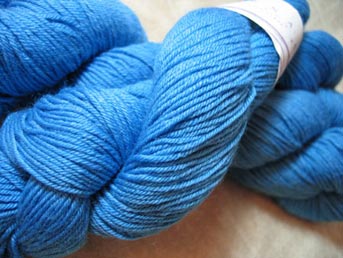 The winner is Not An Artist Michelle! As her prize she received 2 skeins of Lorna's Laces Shepherd Sock in Pond Blue (from Linda's store, of course). Congratulations, Michelle!
That's it for now. It feels like this entry moved fourfold faster than typical, too ;).
Posted by Kathy at 05:45 PM | Comments (12)
July 27, 2006
Little birdie
A little birdie named Sheila (hi, Sheila!) told me that Karin Skacel Haack, Vice President of the Skacel Collection, makers and distributors of the Addi Turbo, is entertaining the notion of making Addis with sharper tips!
Oh boy, I'm hyperventilating!
Specifically, it appears that before the company goes through with any further investigation into Addis with sharper tips, they need to have an idea as to whether this is a worthwhile investment.
Of course it is! But at this very moment Skacel has only one letter on file, Sheila's, stating an interest in sharper-pointed Addis. They don't know that there are hundreds, thousands more of us!
Let's write 'em! What do you say?
Do you see the maniacal glow in my eyes through your monitor?!? Mwahaha!
For reference, Karin Skacel Haack's letter is posted below (with Sheila's permission, but not Ms. Skacel Haack's - I'm hoping it's okay), as well as the letter I personally wrote the company this morning. You have my permission to copy and paste my letter, if you so choose. Or to send it off with whatever personalized adjustments (like, you know, subbing your name instead of mine, hehe). Whatever you need to feel compelled and motivated to write them!
Contact info: Karin Skacel Haack, karin@skacelknitting.com, Vice President, Skacel Collection, Inc., (425) 291-9600.
Spread the word!
---
Hello Sheila,
Thank you for your email regarding the lace needles. I did speak with you briefly at the Seattle Knitting Guild meeting last Wednesday and followed up on your request for sharper tips for lace knitting. It is possible to have a needle manufactured with a sharper tip, however, the message we have received from our customers in general, is that they like the way the addi turbo tips currently are. Offering a needle with a sharper tip would entail manufacturing a vast sum of needles and we are not yet convinced there is a market for. Your request is our first on file, however, lace knitting is making a strong come back and it could be that we get more requests in the future. If that is the case, we will reconsider offering a sharper tipped needle. As our end consumer, your opinion is important to us. If you have knitting buddies who are interested in the same thing - please have them drop us a line as well. Out of curiosity, if we were to produce such a needle, what sizes would recommend we offer?
Once more, thank you for your input!
Karin Skacel Haack
---
July 27, 2006
Subject: Addi Turbos with pointier tips
Dear Ms. Skacel Haack,
My name is Kathy XXXXX, and I'm a passionate knitter in Cambridge, MA, USA. I have used the Addi Turbo as well as other needles distributed by Skacel for several years, often with fantastic results! I find the Addi Turbo circulars speed up my knitting due to their superior sleek finish, light weight, and unrivaled connection between needle and cord. For me, it is the needle of choice for many applications, and I thank you for this product.
I understand that the Skacel Collection is entertaining the notion of manufacturing circular needles like the Addi Turbos, but with pointier tips, specifically with lace knitting in mind. If I may be so bold, I believe that this is a great idea, and that the knitting community would welcome such a needle with open arms (and wallets).
The tips on the Addi Turbos as they're made today are simply too blunt for many applications. Lace knitting often requires precise maneuvering of very thin yarn, and the Addis have a hard time finding the space between stitch and needle. Sharper Addi tips would tremendously improve knitting lace for me.
I also find Addis in larger sizes (US 7 and up) to be too blunt for some projects. Here other factors come into play, specifically yarn choice. Most recently, I unsuccessfully tried to use an Addi Turbo, US 7, to knit a somewhat stiff cotton/silk blend. I had to switch to a needle with pointier tips after just a few stitches.
If Skacel were to offer Addis with pointier tips, primarily I would love to see circulars in sizes US 000-4, 20"-60". For non-lace projects, I think pointier Addis in sizes US 7-10, 16"-40" would satisfy the majority of my needs. Others use larger needles for lace, or perhaps find Addis in different sizes to be an issue - I will let them speak for themselves.
I know that Skacel needs to have a sense of the market before launching a whole new needle line. Not to worry - I will urge all my knitting friends who've dreamed of Addis with pointier tips to write to you. I hope you will see that the demand is high, and invest time into researching this option further.
Thank you again for manufacturing a superior needle, for listening to the needs and desires of knitters, and for your willingness to evolve as needle demands change. I appreciate your consideration. Please feel free to contact me with any further questions, or to request any additional information.
Sincerely yours,
Kathy XXXXX
grumperina@gmail.com
617-XXX-XXXX
Posted by Kathy at 09:07 AM | Comments (78)
July 25, 2006
Marriage counseling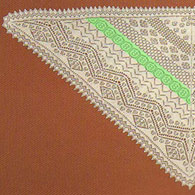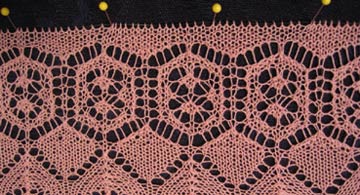 So I finished the next Mountainash pattern repeat (highlighted in green).
Big whoop de do. As Wendy would say, "do not alert the media."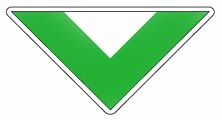 While I'm excited to show you some progress, any progress, I must admit that Mountainash and I are no longer in love.
Part of the problem is pure bitterness. You see, I knit the green section in question twice. After completing it for the first time, I noticed a small mistake about 16 rows down.
This mistake... let me put it to you this way - you wouldn't notice it unless I pointed it out with arrows and circles and a variety of other highlighting mechanisms. I wouldn't have noticed it, I think, if I didn't have a coffee (well, my version of "coffee" - iced decaf latte) that particular Saturday afternoon.
But I saw it, and what is fixable must be fixed. I dropped the yarn 16 rows, and actually picked it up rather successfully. But something was still not quite right. I dropped it again, started picking it up, and at that point it became clear to me that it would be quicker to just reknit the damned thing. So I frogged 16 rows and started over.
What is fixable must be fixed.
Level of bitterness is directly proportional to amount of stupid fixing that must be done.
Another part of falling out of love is that the challenge, the excitement, the thrill are now all gone.
I figured out the Japanese characters (more or less), with some help I figured out the instructions, and I have a pretty good idea now about how the whole thing is constructed. It is no longer this mysterious, exotic pattern, filled with conundrums that keep me up all night.
To add insult to injury, the remaining knitting repeats are very simple - the only thrill is doing a double decrease on stitches which have been previously simply knit. [insert sarcastic voice] Oooooh! [end voice] Come on! Throw a googly moogly my way or something!!!
So. Boring.
We need therapy. Okay, only I need therapy - how do I maintain excitement and motivation about a project which no longer keeps my interest?
On the other hand, while knitting what seems to be the most boring shawl ever I've been doing a lot of thinking. I have compiled in my head three things I find incredibly odd about this pattern.
What do you think about the following? (opinions of experienced lace knitters are particularly appreciated)
The pattern combines both stockinette-stitch and garter-stitch lace sections. The green one above is garter, and the one immediately below is stockinette, for example. Why?
The decreases are not paired. You expect certain motifs to be framed by k2togs on one side, and SSK (or whatever alternatives) on the other. This is not the case. In fact, I do not think I've used a left-leaning decrease of any kind even once. Why?
On the wrong side of garter-stitch lace sections, the decreases are p2tog, while the rest of the stitches are knits (obviously). Wouldn't it make sense for the decreases to be k2tog, to maintain the whole garter stitch nature of thing?
In conclusion, blah and yawn. Someone pass me a new project.
Posted by Kathy at 01:22 AM | Comments (43)
July 23, 2006
Weighing in
So many have reported on the new KnitPicks needles, and I see no reason to board a ship which has, by now, clearly sailed. As I wrote a few days ago, "I agree with everything you've read so far - they are pointier than Addis, the cord is nice and flexible, the joins seems smooth, the needles themselves are smooth, they're as cheap as dirt, the size isn't marked, the packaging is flimsy... But I'm not a convert. For a reason that I have yet to see someone mention!"
Oh, the suspense! What caught my eye now? ;)
My friends, I have a drawer full of scientific instruments, and I'm not afraid to use them. In fact, what I'm about to tell you is not a matter of opinion, it is undeniable scientific evidence.
Needles mentioned here, in order of appearance (so I don't have to continue providing links): KnitPicks dpns, INOX aluminum needles (circs and dpns), Susan Bates Silvalume dpns
, KnitPicks Classic circulars, Hiya Hiya circulars, KnitPicks Options circulars, Addi Turbo circulars, Aluminum Boye circulars
.
Let's start with the KnitPicks dpns: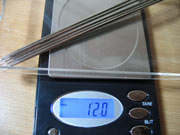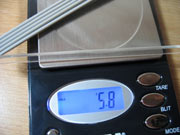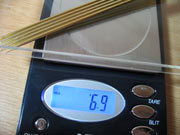 Set of 5 KnitPicks dpns, size 0/2.0 mm, 6" long weigh 12.0 g.
Set of 5 INOX aluminum dpns, size 0/2.00 mm, 6" long weigh 5.8 g.
Set of 5 Susan Bates Silvalume dpns, size 0/2.0 mm, 7" long weigh 6.9 g.
What do you think about that?!?
Let's looks at some chunkier dpns: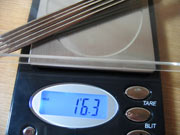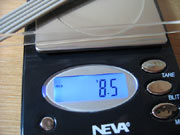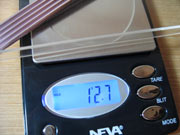 Set of 5 KnitPicks dpns, size 1.5/2.5 mm, 6" long weigh 16.3 g.
Set of 5 INOX aluminum dpns, size 1.5/2.5 mm, 6" long weigh 8.5 g.
Set of 5 Susan Bates Silvalume dpns, size 2/2.75 mm, 7" long (so, a little bigger, and a little longer) weigh 12.7 g.
Okay, how about those Classic KnitPicks circulars?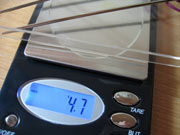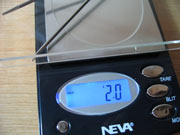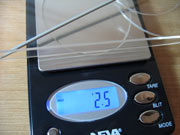 Size 0/2.0 mm, 24" long KnitPicks Classic circular weighs 4.7 g.
Size 0/2.0 mm, 24" long Hiya Hiya circular weighs 2.0 g.
Size 0/2.0 mm, 32" long INOX aluminum circular weighs 2.5 g.
Fine, I get the idea. The Options line must be lighter, right?
Out of curiosity, I did buy one Options needle, even though I said I wouldn't go there because I'm pleased with what's available in sizes US 4 and up. So, we all get the benefit of the weight comparison.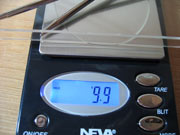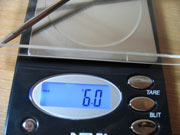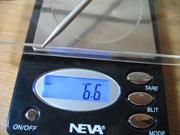 Size 4/3.5 mm, 24" long KnitPicks Options circular weighs 9.9 g.
Size 4/3.5 mm, 24" long (closer to 23", to be honest) Addi Turbo circular weighs 6.0 g.
Size 4/3.5 mm, 29" cheapo aluminum Boye circular weighs 6.6 g.
I'm not sure how to conclude this exposé, other than to tell you that the heaviness of these needles is blatant. It was the very fist thing I noticed about them when I finally got around to opening the package. Purly can vouch for me - she was "there".
But that's just me. I find that heavy needles make my hands very tired, very quickly. If needle weight wasn't so important to me, I'd stop my whining and knit all my lace on straights, trust me.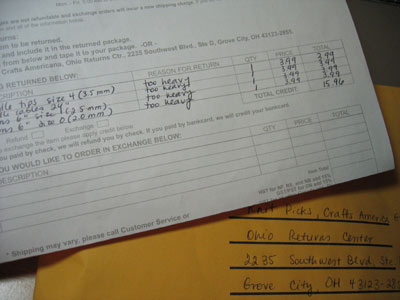 Tomorrow I'll be returning the dpns and Options to KnitPicks. I'm holding on to the Classic Circulars only because I've reached a certain level of desperation when it comes to metal circs in the US 00-3 range. So I'm willing to give anything a try at this point.
I leave you with a question - do you notice how light or heavy your needles are? Does it make a difference to you in terms of speed, hand fatigue, ease of use?
Posted by Kathy at 06:27 PM | Comments (111)
July 20, 2006
Coding, sewing, and knitting
If you're reading the abstract of this entry through Bloglines, NewsGator, etc., today might be a good day to come on over and visit the actual blog - I updated the color scheme! Please hit refresh!
It's all Purly's fault - I was inspired by her own recent color update, then prompted by her to change my own, and last, she helped me with the color selection! Thank you, Purly! Now I think my blog more accurately reflects my color preferences.
I know there are still a few glitches, namely the way some characters (quotes, accented letters, etc.) are displayed, and I'll fix that shortly. Also, I need to update my button to reflect the new colors. But if you see something else wonky, as always, e-mail me (especially since I haven't yet checked the blog on IE).
(knitting content below the sewing content)
I want you to be honest with me. About the sewing content on this here knitting blog: I talk about it a whole lot, and there is nothing to show because I'm at, like, level zero. Are you getting annoyed by this? It's okay if you are - tell me. Perhaps you're just amused...
On the other hand, I definitely know how to make a mitered square now, all thanks to you. Look!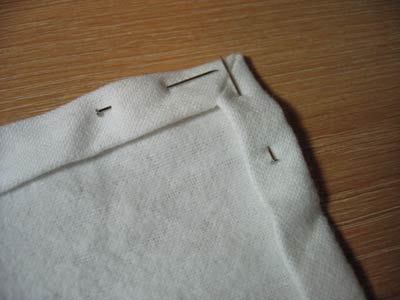 I forget exactly which link I ended up using, but I know I had to snip a corner to lessen the bulk (some of the sites suggested just folding the fabric under).
As for placement of my pins, which so many of you pointed out, I was just demonstrating the way I wanted the hem folded, it's a practice piece of fabric. At one point or another I did figure out that one does not put the pins going into the machine "head first." You should've seen me trying to wrestle the pin out from under the presser foot!
Anyway, I have another sewing question for you. What is this type of fabric called?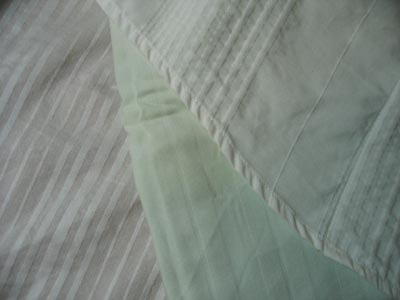 All are 100% cotton, very soft (the white are blouses, the mint is a duvet cover). As you can see, they aren't just a simple weave, they have a little bit of interest. I want to know what to ask for in the store.
Also, I've been reading Singer's The New Sewing Essentials, and am officially declaring it "a favorite." Just thorough (yet dumbed down) enough for me. I was going to ask you about making perfectly even seams, but there it is on page 17! What I need is a seam gauge (and I'm thinking tracing paper and wheel aren't such a bad idea either). Oh! Do you guys use water-soluble glue instead of pinning/basting? Page 20!
Okay, knitting.
Dad's socks. What happened?!?
Well, I was almost done with the second one. I started at the toe, knit to the heel, turned the heel, and then completed another two inches. All along I was noting that it was coming out bigger, both wider and longer than the first one. It was almost as though I had accidentally grabbed larger needles! But I hadn't. What gives? I have no friggin' idea.
Anyway, then I whacked myself across the face with a large sheet of Plexiglas. You see, I was on my way to the library and I was carrying the Plexiglas in a plastic bag in one hand and my purse in the other. I lifted one of my hands to scratch my face, and it was the hand with the Plexiglas, and then it was not good. Not good at all.
So I get to the library and I'm examining the damage in a hand mirror, and it looks okay but hurts like hell. I take out the sock, and instead of thinking (is it really that much wider than the first? do I really care that the second will be 10 rows shorter than the first in order to be the same length?), I just ripped. Every last stitch. Sigh.
Now I'm reknitting that sucker while paying more careful attention to my tension, because the only explanation I could come up with is that I was knitting the second looser than the first, for some unknown reason. Of course the stitches look all ugly and wonky: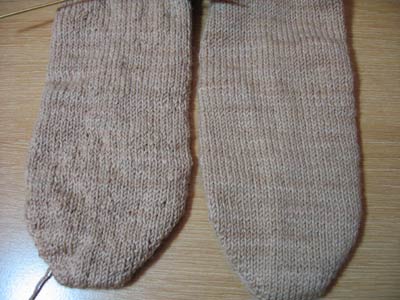 Yuck. I should've refreshed the yarn to un-kink it.
I think it's coming out the same as the first in terms of size. I think. Keep the Plexiglas away from me to avoid another wild frogging session in the library (while muttering every curse in the book under my breath).
Also, I would like to make a public plea to Santa: Dear Santa, please send me a dishwasher, a finished dissertation, and 2 extra hours every day, so that I may find the time to write something about the new KnitPicks needles. I know it's not Christmas. Nonetheless, I'm hoping you'll take pity right now. July 20th is as good of a day as any. Amen.
Posted by Kathy at 04:17 AM | Comments (76)
July 17, 2006
A day
Ever have one of those days? Start out with a 10 hour work day and go on from there? I feel like I can't even think straight anymore. The heat isn't helping.
Anyway... lots of little bits today.
I updated the gallery today and there are 399 Jaywalkers as of this very moment. Get out your camera and take a picture already, then e-mail me!

ETA: We have a winner! The 400th submitted Jaywalker is Michelle's! Congratulations!

I'm glad you guys are looking forward to what I have to say about the KnitPicks needles. I'm having some technical difficulties with the necessary gadgetry, so bear with me a few more days. I'm hoping Wednesday night or Friday morning I'll be able to do the necessary tests.
I need a little bit of help with sewing. I know what I want to accomplish, but I have no idea how to say it in English, so Googling has been frustrating. This is another one of my sewing class frustrations - sometimes I know how to do stuff and I don't even know what it's called.



Instead of that folded up bunch of fabric, I want to make a mitered corner. The fabric is folded twice. I'm not attaching a binding or another piece of fabric, it's just folded on itself (in fact, if you remember, I'm quite good at mitering binding tape).

What is this called? Mind you, no binding tape involved ('cause that's all I'm getting right now with Google). Know of a simple tutorial with pictures somewhere? Let me know. Know the appropriate page in Reader's Digest New Complete Guide to Sewing? Even better (I'm having a day and can't for the life of me navigate the index, apparently).

Annie received the Egyptian dress and I'm thrilled that my work was up to par. For a picture of the dress on a mannequin (as opposed to draped against me), look here.
I'm happy to see that another knitter is investigating the pleasures of Classic Silk. I agree with everything Lauren writes - that it's a much lighter yarn than you imagine, and that it has a quality similar to Felted Tweed.
I'm pooped. Good night.
Posted by Kathy at 11:12 PM | Comments (38)
Fixing
As I was selecting an outfit for the wedding of the year, I went through my collection of dressier clothes to evaluate the candidates. While none fit the bill for this particular occasion (don't worry - I found something new this weekend), it became apparent to me that many of the pieces have been patiently waiting some basic repairs and alterations. I don't know why I've been so negligent and slow... I guess I haven't needed to wear them recently and other things have always gotten in the way.
Anyway, they were all out of the closet and ready to be fixed.
Item #1 A stretchy black cocktail dress. Every girl needs one - the little black dress that flatters what she chooses to reveal ;). Unfortunately, this perfect dress had one huge flaw - the straps tied at the shoulders! This was fine when I was 18, but now I just look silly with those funny bows. Like a little girl! The dress still fits and is still in great condition, so it was worth the effort to convert the bows to real straps.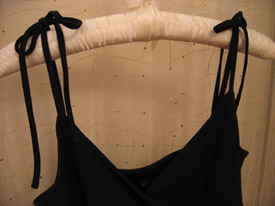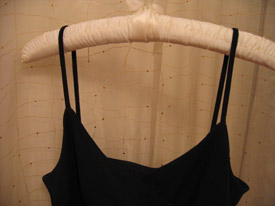 Item #2 A stretchy black cocktail dress. One? Just one?!? Every girl needs at least two little black dresses! The straps were the issue here, too - a man must've invented those true spaghetti straps. Forget about zero support, those suckers dig into the shoulders like it's the last thing to hold on to before being tossed into the donations pile! But where would I get replacement straps? Simple - from the other half of the ties of cocktail dress #1!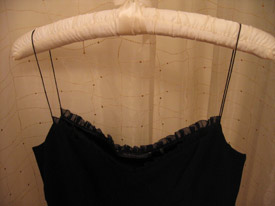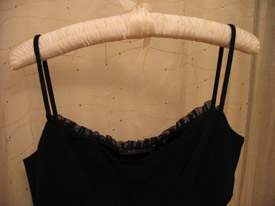 Item #3 A lovely skirt, nude base with black sheer lace overlay. Unfortunately this skirt got intimately acquainted with my high-heeled shoes as I stepped on it and ripped it while getting out of the car. I patched it up, quick and dirty, with a sewing kit at the hotel, but a neater operation has been necessary for some time.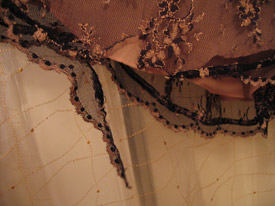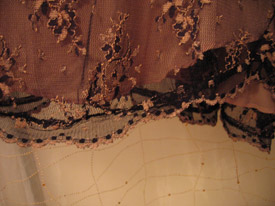 All this took just a few hours. Done and done.
Next: I finally opened my KnitPicks package, which contains a sampling of their new needle line. I agree with everything you've read so far - they are pointier than Addis, the cord is nice and flexible, the joins seems smooth, the needles themselves are smooth, they're as cheap as dirt, the size isn't marked, the packaging is flimsy, blah blah blah. I'm late to the party, obviously. But I'm not a convert. For a reason that I have yet to see someone mention! Stay tuned.
Posted by Kathy at 12:17 PM | Comments (15)
July 16, 2006
Prizes? I've got your stinkin' prizes!
I wasn't entirely sure how to state the following point diplomatically, or rather how to state it without appearing to be totally loony and hyped up on uppers. I guess I'll just come out and say it:
The winners of the gallery contest have the best tastes ever! I had so much fun raiding my stash and yarn shops near and far for their fantabulous prizes. No drudgery, no annoyance, no headaches, no turmoil. Pure shopping bliss ;).
Let me tell you how the whole prize thing works, because I think it will encourage you to keep submitting your FOs ;).
To be honest, I was open to getting the winners whatever their little knittery hearts desired. However, I decided that this was an overwhelming prospect and I e-mailed the winners a short but varied list of possible prizes, including all kinds of yarn, books, and needles. If none of my suggestions appealed, no problem - we would continue having a discussion until the perfect prize was chosen.
My yarn suggestions included my personal favorites - Greenwood Fiberworks and Lorna's Laces. I have a nice stash of both, and if the colors I have on hand wouldn't do, I could quickly and easily obtain more. Carolyn Greenwood ships as soon as you think about purchasing her yarn (how else could it arrive the next day, halfway across the country?). As for Lorna's Laces, I'm fortunate to have discovered Linda's store for all my LL needs - fantastic prices (even when shipping costs are considered), accurate color in photographs, fabulous selection, very quick and friendly service... there's a reason a link to Linda's store has been on my sidebar for months now ;).
After all was said and done, winners sampled from each of the prize pots - books, needles, and yarn. Through our discussions, some prizes were determined precisely and the winner knew exactly what she was getting, but in most cases at least some element of surprise remained. The bottom line is that there was a good amount of input from each knitter, in line with my firm anti-crap policy, and I believe everyone was satisfied.
In addition to a knitting prize, each winner received a bar of generic Whole Foods dark chocolate with almonds. You may be thinking this is a weird choice, but to my highly selective and experienced palate, this is one of the best dark chocolates out there. And at under $2/bar, well, it's a winner!
Okay, let me shut up and show you the stuff: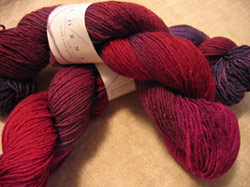 50th Jaywalker winner Jeanne received 2 skeins of Lorna's Laces Shepherd Sock in Valentine!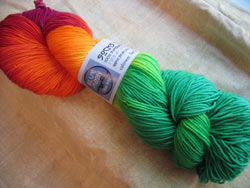 100th Jaywalker winner Ute received a skein of Blue Moon Fiber Arts Socks That Rock (lightweight) in Two Can Rock!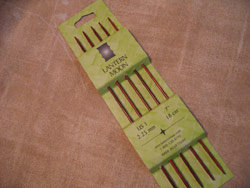 150th Jaywalker winner Sandra received Lantern Moon rosewood dpns with sock-friendly parameters - US 1 (2.25 mm), 7" long!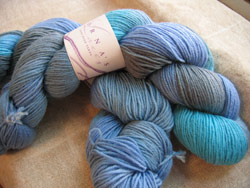 200th Jaywalker winner Liz received 2 skeins of Lorna's Laces Shepherd Sock in Cool!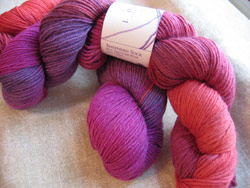 250th Jaywalker winner Dove received 2 skeins of Lorna's Laces Shepherd Sock in Irving Park!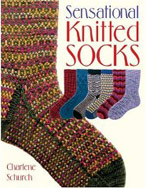 300th Jaywalker winner Bettina received Sensational Knitted Socks!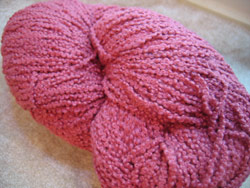 350th Jaywalker winner Silja received a skein of Greenwood Fiberworks in raspberry!
Did it pain me to part with this precious yarn? Yes. It hurt so. much. I took 4 Excedrin. Then my fabulous sock pal mailed me a skein of Denim and Khaki, and I felt supremely better.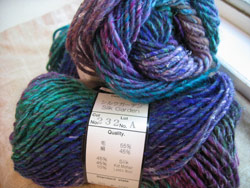 Non-Jaywalker gallery winner Ronda received 2 skeins of Noro Silk Garden in 232!

I know you're concerned - I'm getting all these prizes for everyone else, but what about some stuff for me? Please don't worry - I got some Lorna's for myself while I was at it (Denim and Wisteria, if you're curious, from Linda, of course). Were you really concerned? ;)
So, the current Jaywalker gallery total stands at 376, with a handful already in line to be added. So close to 400! What are you waiting for?!?
Posted by Kathy at 04:59 PM | Comments (17)
July 14, 2006
Making my day, again
You may remember that at one point I was assigned a Sockapaloooza sock savior. My sock savior immediately proved to be an interesting gal, sending me humorous and intriguing e-mails as "Mystery Sockatista." I knew I'd be in good hands with this one ;).
But then my day was made when I received a gorgeous pair of socks from my original Sock Pal. I wasn't sure whether I would still receive anything from my Mystery Sockatista, or whether her efforts would be better utilized in another sock savior case.
After seeing that I wasn't abandoned after all, the Mystery Sockatista sent me another e-mail saying that she had already completed the first sock of the pair. It'd be a waste to just let it go, considering she put time and effort into choosing the yarn and pattern, and knitting it. At the same time, my feet were already socked by my original pal. So, she proposed to mail me the yarn and pattern specs for the second sock, so then I could complete the pair on my own. I agreed - okay!
And here it is! My day is made once again!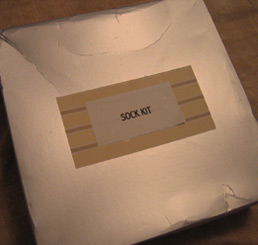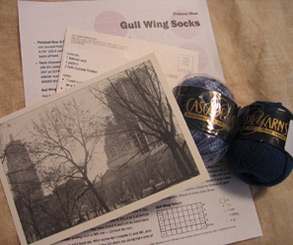 The "Sock Kit" included a lovely note with Fort Wayne, IN, on the cover, a postcard of the Fort Wayne Children's Zoo (The World's Finest Children's Zoo, it says), a sock pattern, 2 skeins of Cascade Fixation, and 1 beautiful sock! Complete with awesome colors, excellent fit, lovely pattern, and Fixation stretchy goodness!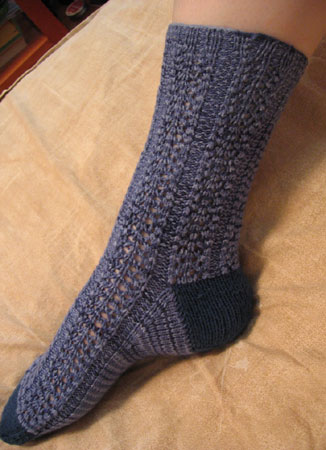 Details: Cascade Fixation denim (9030) for the main color and blueberry (2625) for contrast. Gull Wing Socks pattern by Vivienne Shen from Socks Socks Socks, with some modifications.
So, who is the Mystery Sockatista? She's Lynn from Stuff and Things and Whatnot! Thank you so much, Lynn, for this great sock kit! With one sock already knit, my motivation to finish the pair is that much higher.
Posted by Kathy at 02:46 PM | Comments (29)
July 13, 2006
Bust, part II
I was going to add some thoughts about your comments right in my previous post, but considering how helpful I'm finding your guidance in my sewing class dilemma, I decided to make a new post entirely. This way everyone will see it, and perhaps suggest more/different alternatives.
Actually, reading through what you're about to read below, this post accurately portrays exactly how insane I am. Feel free to be amused.
First, let me tell you a small story. I have a rotation student right now in lab - a first-year graduate student who follows me around every day, watches me do experiments and mimics my methods when she tries things out for herself, with the eventual goal of deciding whether our lab is for her or not. The other day she told me, "you are a good teacher. You mention the tiniest of details for all procedures, never leaving it up to me to figure anything out."
Similarly, let's say I'm explaining to someone how to do a slipped-stitch selvedge (the fabric is stockinette or mainly stockinette). Do you think I mention that on the right side, the first stitch is slipped k-wise, and on the wrong side the first stitch is slipped p-wise? Feel free to roll your eyes at my crazy meticulousness.
So, thank you all for your words of encouragement and your suggestions! I agree with those of you who recommended I inquire about classes at a sewing machine store, preferably an upper-end one like Bernina. That'd be awesome! I haven't seen a store like that in my area, though (please keep in mind I'm car-less).
As for being able to teach myself to sew from a book, just like I did for knitting - I've tried with absolutely zero success. I've had the easiest time with Sewing 101, but not enough to buy my own copy (just keep borrowing it from the library). I do have my own copy of Reader's Digest New Complete Guide to Sewing, and I love that book! I leaf through in amazement because it's so detailed and doesn't depend on patterns to teach technique. But, wow, it's over my head right now... one day, one day.
I also have a habit of borrowing Singer's The New Sewing Essentials, and have just requested a copy of Sew Basic: 34 Essential Skills for Sewing with Confidence on Angela's recommendation. They know me well at the library ;).
I'm usually quite good at learning from pictures and verbal descriptions, but... Here's the thing - you know I'm a lab bench scientist, right? Well, learning lab techniques from a book (like this one) is frustrating, confusing, and probably useless in most cases. For whatever reason, sewing is the same way for me. I just need to see someone else do it, once, and I'll be all set.
I've found it crucial to have someone on hand to guide me through the little details, like how to pin two fabrics together when sewing (how frequently, which way the pins face, the edge which should go into the sewing machine first, etc.). This is equivalent to being in the lab and having someone show you exactly how cool the media has to be before antibiotics are added. Sure, both things are explained in books, but it makes so much more sense to just see someone else do it, once.
I know it probably doesn't matter to the final outcome, but to me, it really does. I can't emphasize it enough - it may not matter to someone else, it may not matter to most people, but I need rigid instruction about the tiniest of details. And books/internet don't cut it for me.
So, yeah, that's that. I'm going to keep my eyes peeled for sewing machine stores, retired seamstresses and home ec. teachers, affordable (both in terms of time and money) high-caliber sewing classes, and new medications to ease my sewing uptightness. At least I don't deny it ;).
Posted by Kathy at 08:51 AM | Comments (80)
July 12, 2006
Bust
I know you'll ask about the sewing class, so I might as well answer before you do ;).
I don't want to get into the gory details, but the sewing class was a total bust.
Not what I expected and definitely not what I was looking for. Even taking it for what it was I found myself hugely disappointed. So, being the Grumperina that I am, and following the refund guidelines of the Boston Center for Adult Education, I wrote a letter this morning explaining why I was dissatisfied and why I felt I deserved a refund. They were very understanding, and a credit for the full amount, every last penny, was issued within a few hours of the letter's receipt.
I'm thrilled. I have my money back, and now it's just a matter of finding a class which will work.
What am I looking for? Well, when I was learning to knit, I was attracted to Pam Allen's Knitting for Dummies because I was able to learn knitting technique without committing to a project. I made dozens of little swatches, simple and complicated, practicing every stitch, every maneuver, before I ever launched into something more significant.
In my ideal world, I would learn sewing in the same way. I don't see a reason to make an entire blouse in order to learn how to fashion a button band or a collar. Furthermore, I'm not interested in wishy-washy, fly by the seat of your pants sewing. No, that will never work for me. I want rigid rules. I want to know the right way to execute complicated sewing techniques.
Very picky, I know. But I won't be satisfied with anything else.
Tonight: Mountainash and I cuddle up on the couch while watching the premier of Project Runway! Oh my God, I'm so excited! I've been watching DVDs of Seasons 1 and 2 over the past month or so (over and over and over again), and I can't wait for some fresh designer meat!
Posted by Kathy at 04:18 PM | Comments (56)
July 11, 2006
Missing you
I've missed you.
I've missed you so much.
I missed "talking" to you, and taking pictures for you, and reading about your adventures, and leaving my poor approximation of witty comments.
My own knitting life has been on hold. Poor Mountainash has been neglected and is probably filing for divorce as I type this. Where is he, anyway? I don't even remember where I tucked him away. The second one of my dad's socks was nearly done, but then I had to frog it. I want to tell you why and show you pictures! Whacking myself across the face with a piece of Plexiglas was involved! My KnitPicks needles arrived the other day, I tossed the box in the kitchen and haven't had a chance to open it. My first sewing class is today (!), my skirt patterns arrived yesterday, and I haven't opened the envelope yet to make sure the right thing was enclosed! And, oh, there is so much new stuff I want to start...
Sigh.
NO MORE!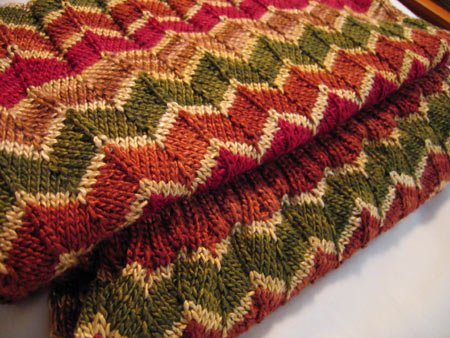 IT IS DONE.
Pattern: Egyptian style dress for Annie Modesitt's new book, Romantic Hand Knits
.
Yarn: Tilli Tomas Pure and Simple, 100% silk, 3 skeins of Burnt Orange, and 1 skein each of Glazed Ginger, Ruby Wine, Moss, and Rattan.
Needles and gauge: US 4 secondhand needles from eBay (Boye?), 6 stitches and 6 rows per inch in pattern.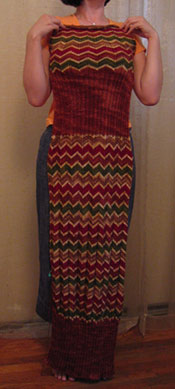 Dimensions:
This gives you some sense of the scale of the dress. I think it won't be quite to the floor when worn because it will stretch horizontally on the model, and she'll probably be taller than I am. Of course I can't model the dress for you - it's not my size. Plus Annie will be doing the finishing herself (closing the top of the slit, attaching the straps, etc.).

Knitting for Annie is always more of a luxury than a job. It's like, are you sure I should be getting paid to do this? I get to play with this luscious yarn, and you pay me??? At least that's what runs through my head, being very much a process knitter.
The pattern is fraught with thoughtful details, little things that make the whole thing come together perfectly. For example, remember Nona's quest for identical left- and right-slanting decreases? She came up with a brilliant solution herself, but here's something else to chew on: what about making left-slanting decreases on the right side (SSK), and right-slanting ones on the wrong (p2tog)? That's the way we're instructed to decrease in Annie's pattern, and although this method offsets the decreases one row, I felt the result is worth a look: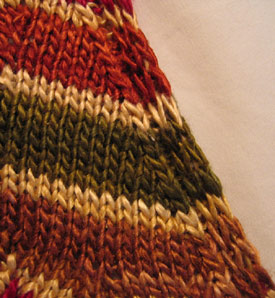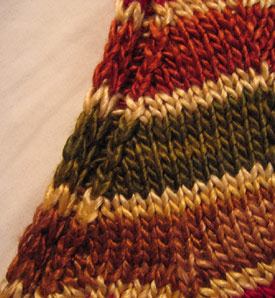 Please keep in mind that this fabric has not yet been blocked. Left picture: left-slanting decreases are made by SSK on the right side. Right: right-slanting decreases are accomplished by p2tog on the wrong side.
I enjoyed this project very much. In my honest and critical opinion, this dress is stunning. The yarn is amazing, and the resulting fabric is very deliberate - just the right union of stitch pattern and yarn, overlaid with the right color combinations and silhouette; not haphazard at all.
There were only a few moments when the skies were cloudy: first, and this is my own fault and was totally within my control, I was a bit rushed at the end. In the last 6 weeks or so, I've been working on this dress any spare moment I had, at the expense of other projects and sometimes showers :). Second, switching colors while in pattern was very tricky, specifically a stitch pattern which incorporates yarn overs and slipped stitches and intarsia and all that. Is it impossible? Obviously not. Third, the dress got a little unwieldy towards the end (it weighs about 1.3 lbs). But it's a big project, that's all there is to it! Maybe I should've rigged up a Lazy Susan or something to keep it turning while I knit in the round ;).
So, the question you all want answered: would I wear it myself? No. Knitted dresses are not for me. But do I appreciate the beautiful design? YES.
Posted by Kathy at 01:29 PM | Comments (60)
July 05, 2006
Plan B
For all intents and purposes, I should be on my way to becoming a master seamstress by now. I mean, at this point I should have attended three sewing classes, and at least learned some nifty things about patterns, cutting fabric, fit, and so on.
Alas, it was not meant to be. My excitement about the sewing class was curtailed roughly and abruptly - first the class was postponed for one week, and then cancelled all together. I was pretty pissed off, no doubt about that.
On to Plan B - yet another sewing class! This time through the Boston Center for Adult Ed, rather than the Cambridge one.
Be the first on your block to sport the latest fashions or create unique pieces of your own! Cover reading and using garment patterns, sewing terms, cutting, assembling, and fitting. Most class time is spent altering patterns, sewing, and discussing individual sewing problems. Supply costs are additional and will vary depending on your project and fabric selection. Please bring a pattern of your choice by "Very Easy Vogue," "Burda," or "New Look" to the first class. When choosing a pattern prior to class, please consider a pattern that has three sizes in one, for easier adjustments. Access to a sewing machine outside of class is necessary to complete your project.
I signed up this morning ;).
This class specifically requires using a Very Easy Vogue, Burda, or New Look pattern, and the Simplicity pattern I originally chose won't fly. I bet the instructor is thinking ahead, shielding the students from a lot of heartache - I haven't heard the best things about Simplicity patterns.
No problem! I briefly considered making this Burda top (hahaha! hahaha!), but then came to my senses, and picked a nice gored skirt (Burda 8213), very similar to the Simplicity one I chose earlier: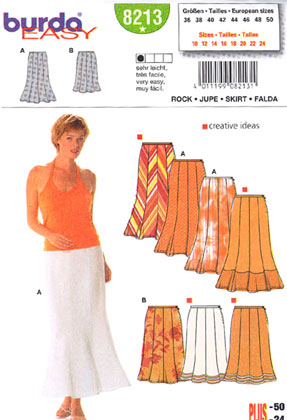 It's a no brainer - the style flatters me and I already have the fabric. The pattern calls for a lining, and if it looks like I can't omit it, I'll have to get some this weekend, too. The thing is rated "very easy," so how complicated can it be?!? (famous last words)
While shopping around, I also noticed (and bought) Burda 8973, a more fancy variation of the same gored skirt: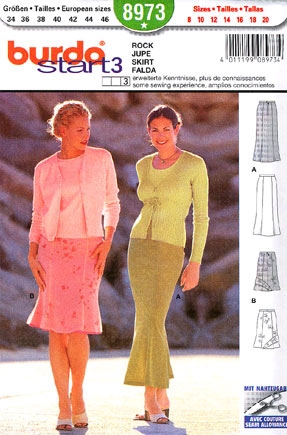 I like the shorter skirt with the sheer overlayer. I like really girly crap, what can I say?!? It's rated "some sewing experience," so I'm saving this one for when my sewing anxiety is under control.
Well, I don't have much time to mull over the upcoming sewing class.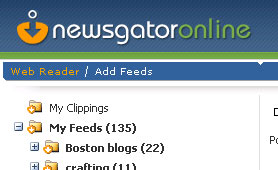 Excuse me while I catch up (not just on blogs, on life in general).
Posted by Kathy at 02:21 PM | Comments (50)
July 01, 2006
More ribbing = progress
Just when I thought there was no end in sight in knitting the Egyptian dress, I measured and (mama mia!) I was done with the chevron-patterned skirt portion: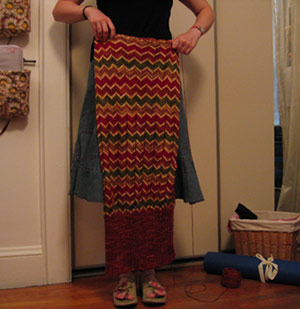 Yes!
I was starting to get that sinking feeling, that feeling that I won't make the deadline without drastic measures like staying up all night (several nights in a row). But now I feel better. The next element of the pattern is the ribbing around the waist, which is identical to the ribbing at the bottom of the dress, just half as much of it. That should go by quickly, since there are no colors to change, no ends to weave in, etc.
And what's this?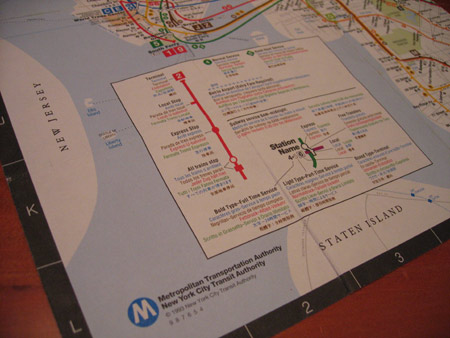 That, my friends, is a true vintage New York City subway map, from the time I actually lived in the City, ©1993. Oh yes, worn through and through. Digging it out means a little trip! See you all when I come back, hope you have a good one!
Posted by Kathy at 05:48 PM | Comments (23)