« Bad blogging material | Main | Flipping sweaters! »
June 04, 2006
Team Lunacy
Welcome to the Amazing Lace. Knitting IS sport, and this cross-country, cross-project journey will push the limits of mundane, everyday projects and progress reports. Hundreds of teams, exotic adventures, demanding challenges, only one winner. Who will it be? Let's meet one of the contenders, Team Lunacy.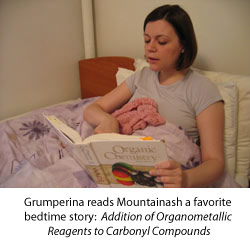 Grumperina and Mountainash met 7 weeks ago. They were introduced by a mutual friend, and there was an immediate spark.
"I like my men kind of lacey, so when I saw Mountainash, and I thought, wow, his lace is gorgeous! Seriously. I had to stop myself from grabbing his butt. I knew I wanted him on my needles immediately," says Grumperina.
Grumperina is a graduate student in Cambridge, MA, who has been knitting for almost two years. She's feisty, opinionated, and a little "off her rocker," either as a result of over-medication or pure insanity.
"Often I look at would-be projects and dismiss them without even checking the pattern - boring, too simple, too ugly... too brown - I've used every excuse in the book to reject potential partners. I don't like my time wasted, and if I can see right away that our relationship will be void of excitement, I pass. Because a girl needs a little drama, you know what I mean?!?"
"What attracted me to Mountainash is his exoticism. He's Japanese! I knew this relationship would not be stale. I mean, we don't even understand each other!"
Indeed, other teams have cited the language barrier between Grumperina and Mountainash as a major hurdle.
"Let me tell you something," Grumperina responds to this criticism, "Mountainash is written in a different language, but the language of lace is universal. Universal," she reiterates meaningfully. "The chart may use different symbols, but once I figured out what most of them meant, following it became no more difficult than following a chart in English. I'm about halfway done with the main triangle, so we really aren't going to take other teams' badmouthing to heart. Besides, have they considered that knowing two languages might be an advantage?!? What if the Race takes us to Japan? We won't even need a translator: Mountainash will do all the talking."
But early on in the relationship the language barrier proved to be an issue. Grumperina received a tip from an agent named "Noriko" that she was constructing Mountainash in a manner different than the pattern specified.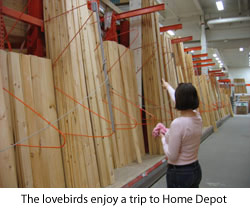 "You see!" says Grumperina, "that just goes to show that Mountainash and I can overcome anything. It was a bit intense to receive the news, that's true, but I was able to assess the situation with a clear mind and come up with a rationalization, and an equally functional solution. Mountainash and I are the strongest team here, no doubt about it."
Grumperina's overconfidence has been causing smirks among other teams. Lack of Japanese language aside, this is not the first time that's she taken on a very difficult project. Is it too difficult to complete? Some say that anyone who's had Misty Morning as a teammate and walked away alive can do anything. Others speculate that the relationship between Mountainash and Grumperina will end like some of her other, less succesful partnerships - abandonment.
"He can be difficult, it's true. Sometimes he gets really tense... he sits all googly-moogly, with his arms and legs folded in, a firm grimace on his face. I feel like I can't approach him. I come at him from this direction and that, but he won't budge, he won't cooperate. He throws tantrums and drops stitches and drives me insane! Fortunately, early on in our relationship I obtained very pointy metal needles, INOX Express, and this has forced Mountainash into submission... I mean, helped our relationship progress. So, for those who question whether I can deal with such a difficult teammate, don't. Don't you worry about it. M'okay?"
Shortly Grumperina will need to relinquish her beloved INOX Express - the inner portion of the shawl is worked at a different tension, and requires a smaller-sized needle; INOX Express does not come in a smaller size than what she's currently using. At this moment, it's not clear how Team Lunacy will overcome this upcoming hurdle.
"Whatever, I'll worry about it when I get to it. Uhm. At least I've got good yarn on my side! Some of the other teams are fumbling around with laceweight mohair! Mohair! Have you knit with mohair during the hot, steamy summer?!? I didn't think so, otherwise you wouldn't have chosen it. Talk about shooting yourself in the foot! My Mountainash is being knit out of cobweight Lacey Lamb, 100% wool, mmm hmm. It can be a little splitty, but the softness is incredible, and it should wear well for many years. Sure, Mountainash gets a little embarrassed being so pink, but real men can pull off pink, we all know that. And if anyone is a real man, it's my Mountainash."
Curiously, Mountainash remained silent during our interview, unprovoked by even the most boastful comments from his teammate. He just sat there, all bunched up, while Grumperina did all the talking. Only when interviewed alone did Mountainash have something to say:
村上ファンドのニッポン放送株売買をめぐるインサイダー取引疑惑で、村上世彰氏(46)側はライブドア前社長堀江貴文被告(33=証券取引法違反罪で起訴)が04年から同放送株を少しずつ買っていることを知り、大量取得を提案した疑いの強いことが4日、関係者の話で分かった。東京地検特捜部もこうした経緯を把握。ライブドアの大量取得による値上がりを見込んで同放送株を買い増したとして、証券取引法違反容疑で村上氏と同ファンド幹部計4人を5日にも逮捕する方針とみられる。
ただ逮捕には、最高検と東京高検の了承が必要で、最高検などから詰めの捜査を続けるよう求められる可能性もある。関係者によると、村上氏はニッポン放送の大株主だった03~04年ごろ「ニッポン放送はフジテレビの筆頭株主(当時)で、ニッポン放送を掌握することはフジテレビの経営権を手に入れることを意味する」などと周囲に同放送株の価値を説明していた。
村上氏の友人の堀江被告は04年秋ごろから同放送株を徐々に購入。村上氏は堀江被告側から小口取引を伝えられたとされ、堀江被告が同放送株に関心を持っていることを把握したとみられる。その後、村上氏は堀江被告に「(同放送株買収を)一緒にやろう」と提案。ライブドアによる昨年2月8日の同放送株大量買い付けを決定的にした疑いが強いという。
村上ファンド側は昨年1月初めまでに、同放送株を約600万株(発行株式の18%超)買い集めたが、ライブドアの大量取得で高騰した同放送株を翌月末までに約500万株売却し、巨額の利益を得たとされる。
Translated, "She's psychotic. Help me."
It's hard to assess how this team will fare in the Amazing Lace. On the one hand, Grumperina is a go-getter, with a history of dissecting very complex patterns. On the other hand, she has clearly chosen a complicated teammate for this challenge. Will Mountainash's captivating grace blind her into sustaining an otherwise impossible relationship? Will Grumperina's overconfidence prove to be Team Lunacy's downfall, or a clever ploy to intimidate all the other teams? Next time on the Amazing Lace!
Posted by Kathy on June 4, 2006 09:20 AM
Comments
To cut down on spam, comments are moderated. You may not see your comment right away, but rest assured that it's been received and will appear shortly. Comments are closed a few days after posting.