June 05, 2006
Flipping sweaters!
I know there has been some talk around these parts that I'm nothing but a big tease. No more! I flip the sweaters: pink on top, white on the bottom!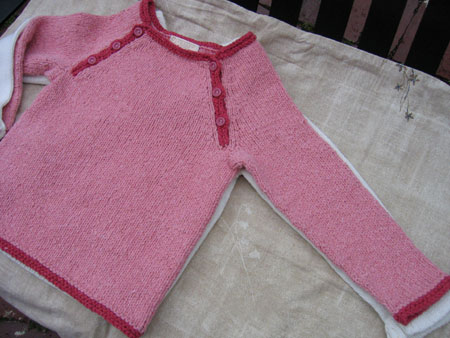 Pattern: a collaborative effort. I made the sweater look like the embroidered raglan sweater (do click on that link: the baby in the photo could be wearing a potato sack and I'd still knit it!) from Knitting for Two
. I saw a completed pair of these sweaters on a blog recently. They were green, I think, and super cute, but for the life of me, I cannot remember which blog! I used a Baby Gap sweater as the sizing template, and I knit it from the top-down, seamlessly, just like the Pico.
Yarn: Classic Silk by Classic Elite, 3 skeins of primrose, and just a bit of tomato. This yarn has un-freakin'-believable yardage.
Needles and gauge: US 6 Blunti Stumpos, which actually worked well for this project, at a tension of 20.3 sts and 32 rows per 4" square.
Finished size: 22" across the chest, and 9.25" from hem to armpit. For all the measurements (at least those important for top-down raglans) click here.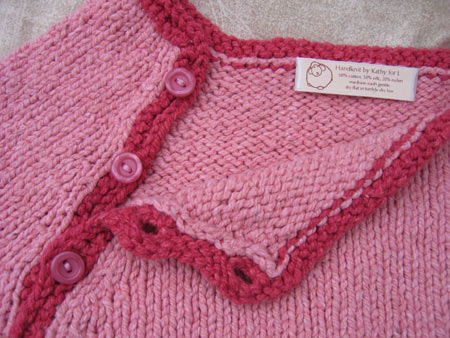 Details: I loved working with this yarn, but more importantly I loved its tweediness and terrycloth-like softness after machine-washing and drying (yes, I blatantly disregarded the care instructions on the label, it seems to wash just fine). I made one-row buttonholes from Montse Stanley
(p. 196-7, my source for most knitting techniques), and affixed a customized ribbon label (tutorial here, close-up here).
I'm happy to report that Little Miss Bestitched and her Mom liked the sweater, and even happier to tell you that the sweater was just a bit roomy – good, will be perfect for the fall ;).
Posted by Kathy on June 5, 2006 12:02 PM
Comments
Aww, the sweater looks so sweet on. I love the color combination. It'll be perfect for fall. :)
Posted by: rene at June 5, 2006 12:08 PM
So adorable! And that fabric looks so soft and comfy. Wish I could pick it up and rub it against my cheek!
Posted by: Sarah at June 5, 2006 12:33 PM
Kathy, if I doubted your inventiveness before, your iron-on label/ribbon trick would have convinced me. Wish I'd thought of it but I'm glad you've done it, tested it, and made it easy to follow.
Posted by: Natalie at June 5, 2006 12:39 PM
I am so going to get that yarn now.
Posted by: Lauren at June 5, 2006 01:06 PM
Posted by: Cara at June 5, 2006 01:11 PM
Little Miss Bestitched loves it and can't wait to wear it in the fall :)
Posted by: diana at June 5, 2006 01:40 PM
Super cute. I love the colors and those buttons totally make the sweater.
Posted by: Stephanie at June 5, 2006 01:44 PM
Posted by: Christie at June 5, 2006 01:44 PM
I saw the pics of Little Miss wearing the sweater and it turned out just wonderfully. Totally great.
Posted by: Marianne at June 5, 2006 02:00 PM
I'm ganking that sweater idea and making a full-sized-human one for me!
Posted by: Nadia at June 5, 2006 02:13 PM
That looks great! What a thoughtful gift.
Btw... that kimono sweater is on sale at anthropologie.com.... just in case you have to have it after all.
Posted by: Ann at June 5, 2006 02:25 PM
LOVE CLassic Silk as well. I work in a yarn shop and it's by far the yarn I recommend the most! That sweater is too cute for babies...hmmmmm!
Posted by: Deb at June 5, 2006 02:49 PM
Posted by: silverarrowknits at June 5, 2006 03:07 PM
Oh, that is adorable! Buttons on the raglans are such a good idea. Love the color too.
Posted by: Bliss at June 5, 2006 03:16 PM
Thanks for the tutorial! I will use that one soon!
Posted by: Sarah at June 5, 2006 03:21 PM
The sweater came out great! I own Knitting For Two and they do have such great projects.
Posted by: Jennifer at June 5, 2006 03:27 PM
LOVE the label tutorial! You're just way too crafty :) I love it!!!! And the sweater is totally adorable.
Posted by: Melissa at June 5, 2006 03:31 PM
LOVE IT! Great to know about the yarn, I think I will get some for my gift to my new niece, due to arrive on september 26!
Posted by: Carolyn at June 5, 2006 04:17 PM
adorable. how did you do the button openings on the top dow raglan? steeking?
Posted by: vanessa at June 5, 2006 08:55 PM
Posted by: Teresa C at June 5, 2006 09:31 PM
Posted by: marie in florida at June 5, 2006 09:47 PM
Okay, I get there's no seams, but Pico. doesn't have button openings... so how'd you do it? Separate balls? Back and forth?
I saw a rack of ladies' sweaters recently that had a diagonal buttonband like that. Cute, but made me think of baby sweaters!
Posted by: TracyKM at June 5, 2006 09:48 PM
love it! tweedy pink silky yarn...it doesn't get much better than that. good to start 'er young ;)
Posted by: jody at June 5, 2006 10:44 PM
Cute baby, cute sweater. Great job! And that neck/collar makes dressing a squirmy little kidlet very much easier! Well done, you!
Posted by: miss ewe at June 5, 2006 11:44 PM
I knit a couple of those Knitting for Two raglans earlier this year in green and turquoise Cotton Ease... LL is much more lux in her Classic Silk. Even though the pattern pretty wisely has buttons along the raglan to fit baby's head through, I think you were genius to put buttons along both raglan seams. Some of those kids have enormous heads! :) So pretty.
Posted by: Karma at June 5, 2006 11:46 PM
Post a comment