« May 2006 | Main | July 2006 »
June 28, 2006
Needle whore
My friends, you all know that I'm simply a needle whore. I consider choosing the right set of needles an integral part of swatching, and for that reason have such a massive collection of them, it's nearly embarrassing.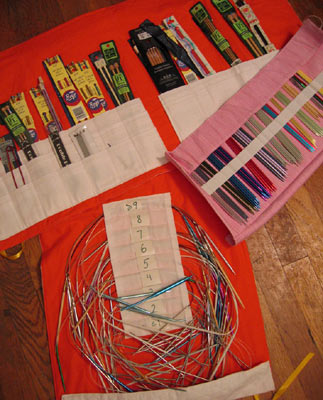 Okay, it's totally embarrassing ;). Especially considering I have at least 6 circulars currently tied up in this project. (my needlecases are homemade: here and here)
Yes, the fate of some of my projects has been decided by the choice of needles alone. I suspect, for example, that I wouldn't be a sock knitter if I only had bamboo dpns at my disposal.
Considering that you all know this, and that you are a generous and attentive crowd, it's no surprise that over the last week I've received no fewer than six individual e-mails letting me know about the new KnitPicks Options needle line. Thank you for e-mailing me, and, yes, I know ;).
But to be honest, I'm not dropping everything and getting all excited about this set, and I do not foresee purchasing it. Why? Simply, I'm very satisfied with what's currently available out there in sizes US 4 and up. All my favorites come in US 4 and up! - Bryspuns, Bluti Stumpos*, INOX Express, INOX Aluminum... even the cheapo Boye
and Susan Bates
are tolerable in the bigger sizes.
For me, the small needles are the issue, especially when it comes to working lace. I need needles in US 00-2 which are like Addis, but with pointier tips. The KnitPicks Options isn't going to help me there. However, I am optimistic about the new KnitPicks Classic Circular Needles, and placed an order for US 0, 1, and 2. While I was at it, I also got some of the dpns. My order won't arrive for a little while, but I'll let you know what I think once it gets here.
While we're at it, let me tell you about HiyaHiya needles. A few months ago these were mentioned on the KBTH list, and (you guessed it!) I received six e-mails, even though I read about them in the e-mail digest myself**.
So, I ordered two needles: 2 mm (US 0) and 2.75 mm (US 2), from The Stainless Line, in a 24" length. I received the needles, inspected them, and without much hesitation, put them away in the miscellaneous drawer.
My initial impression is unquestionably "blah," although I'm having a hard time explaining exactly why this is so.
Actually, no: I know the main reason for the blahs. My friends, what is my number one concern when it comes to needles? The point, that's right. The point of these HiyaHiya needles is identical to INOX Aluminum, which I've been using all along. So, when I received the needles and didn't feel a prick-like point, I got the blahs instantly. I don't hate them, I just fail to see what's so special about them.
But to be fair, I like the long taper of the HiyaHiya (have always liked that aspect of the INOX Aluminum, too). I like what appears to be a smooth join. I like that HiyaHiya come in 1.5 mm (US 000), 2.5 mm (US 1.5), and 3.0 mm (US 2.5) sizes (INOX Aluminum don't).
On the other hand, I don't like the Boye-like stiff cords. I'm also not a fan of the long, straight needle portion (5 1/8" for each end). Admittedly, 24" Addis and INOX Express are also guilty of long straight needles. In contrast, the INOX Aluminums have a bend, which I like. No, I don't know what the 20" HiyaHiya are like, because I don't think needles shorter than 24" are practical for lace. Also, although the needles are silvery, they don't strike me to be as smooth as Addis.
I guess compared to my current small-size favorite, INOX Aluminum, I don't see a huge advantage: INOX has the needle bend which I find is easier on my hands, HiyaHiya has a smoother connection between needle and cord. Maybe if I decide to actually knit with them, I'll be convinced otherwise.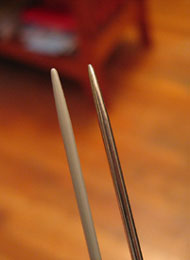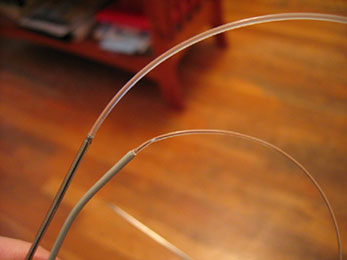 Comparison of INOX Aluminum and HiyaHiya 2.0 mm circs. Left: don't let the glare fool you - those HiyaHiya tips are identical to INOX. Right: notice that although the HiyaHiya joint is smoother, the cord is much stiffer. In that photo, I'm holding the needles in the lower left of the photgraph, and the cord makes that arch on its own.
* How the hell did Addi Turbos sneak onto my favorites list? Simple - I like Addis in US 4, 5, and 6 only, 20" length only, non-lace work only. Otherwise, I hate the Stumpos!!!
** It's not that I know everything, or even pretend to know everything... It's just that when it comes to needles, my obsession is incredibly deep and rampant. I read all the lists, all the forums, never place an online order without first checking the shop's needle offerings. As a result, I've yet to be told about a needle brand which I haven't encountered before. In my posts about needles, I aim to inform rather than to solicit suggestions... or if I am soliciting, my requirements are very, very, very specific. I appreciate your understanding.
Posted by Kathy at 06:17 PM | Comments (52)
June 26, 2006
Once again, it's that time of year!
Happy knitaversary to me,
Happy knitaversary to me,
Happy knitaversary, dear Grumpy,
Happy knitaversary to me!
And many more!
Yes, my friends, it's been two years since I learned to knit, and it's once again time for a celebration! Last year I entertained you with some truly hideous beginner swatches, and this year will be no different. I've got a shopping bag full of them, each one more "precious" than the next.
Here we have a marvel of artwork, complete with a huge hole, a very long float, and the use of two colors. What was I learning - intarsia, stranding, short rows? Who the hell knows! Do you spot the twisted stitches? Every freakin' wrong-side row.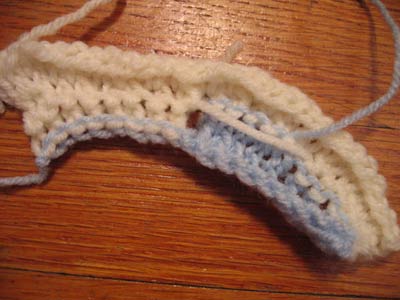 Here I practice the delicate balance of twisting stitches while making gigantic holes. Also, casting on too tightly. Everyone needs to know how to cast on too tightly. I'm so gifted.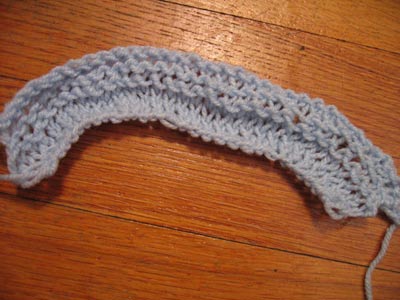 Check it out - stranding! But, oh, the floats are all wrong and the stitches, twisted. However, I remember being pretty darn pleased with myself after making that swatch. I figured, start with little white triangles, move to Starmore designs next.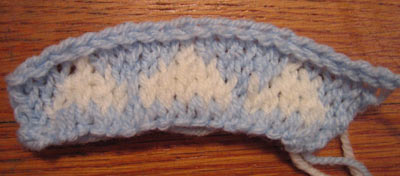 One of my first cabling attempts: so pretty, yet so... immature. And twisted.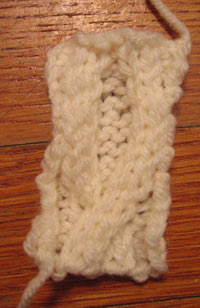 And just to demonstrate that I'm not a one-trick monkey, here is another attempt at crochet. Just look at that and try to tell me that it's not marvelous. Just try! I'm Queen of the Hook!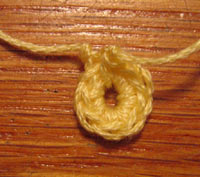 I'm pretty pleased with the way my second year of knitting has turned out. I feel I've learned so much, refined my technique, got to a point where the physical stitchery was no longer the limiting factor. Rather, the fit, the fabric, the line, the design keep my mind buzzing now.
I designed a few things, re-designed many others, learned to spot and correct pattern mistakes, acknowledged myself as a process knitter through and through, firmly formulated my ideas about sweater fit (negative ease, anyone?). I dared myself to undertake more and more challenges with each project, created a satisfactory amount of havoc and trouble, even knit a few hats!
I became more engrossed in the knitblogging community, participated in many exchanges, made new friends around the world. It's all been very good. I see no limit, I do not feel like I know it all, I keep pushing and pulling and biting my pencils and marking up charts, and writing and knitting and frogging, then knitting some more, and reading and being affected, influenced, inspired... and thinking. Always thinking, always up to something, at least in my head. So, cheers, everyone! Here's to another year of happy knitting!
Posted by Kathy at 10:59 PM | Comments (133)
June 22, 2006
Must. knit. faster!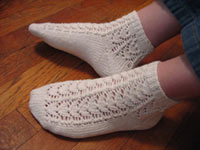 I had a nice e-mail exchange with my pal last night, and she gave me some information about the socks: she confirmed that the socks are knit out of Cascade Fixation (love it!), and that she used the Knitting at KNoon Garden Partie pattern (again, love it!). Thanks again, pal!

Today will be a quick post - let me show you the progress I've made on the Egyptian dress, which has been consuming 95% of my knitting time (due July 7th, yikes!).
I completed the slit, and am now working in the round. Have I made it abundantly clear that I think Annie's designs are the most clever ones out there right now?!? I thought so. Observe how seamless the pattern appears in the round. No jog, the eyelets appear as elsewhere, it's just amazing!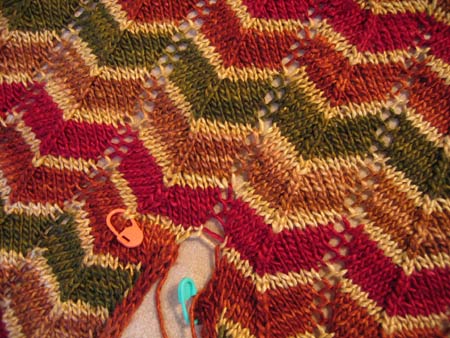 Ignore the mess at the top of the slit - it isn't finished yet.
I'm once again carrying the light yellow in the back while working with other colros. I've found that it's now more invisible and easier to execute than before, I think because there isn't an intarsia-ed (making up words) border to worry about anymore.
Somewhere around mid-thigh, the stitch pattern is modified for modesty - the eyelets are closed in the most clever fashion, with no immediate and obvious interruption.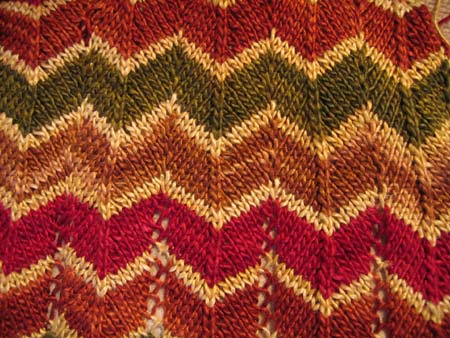 Love it!
To give you an idea of how far along I am, here I hold up the work up to my body: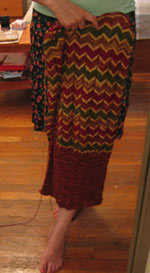 So much completed, but so much more to go! All other projects on hold, except when I need something portable. Better get moving!
Posted by Kathy at 05:36 PM | Comments (41)
June 21, 2006
Who the hell made my day?!?
Hey, look what I have and you don't!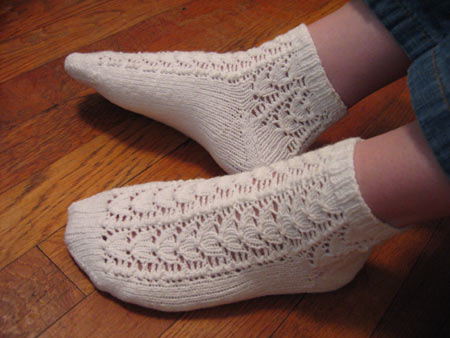 I'm sorry, but I have to gloat. I have the most perfect little socks on my hot little feet, and you... not so much. Well, maybe you do, but not like these ;).
That's right - my Sockapaloooza socks are finally here!
They are amazing. As you can plainly see, they are gorgeous, perfect ankle length, and fit just right. I love the lacey pattern, I love the perfect little stitches (I can tell these were knit with much care), I love the pure white color (shocking, but true), and I love the way they smell.
And there's more! My thoughtful pal included a skein of sock yarn which I instantly recognized as my favorite - Greenwood Fiberworks Denim and Khaki (it's no secret I stalk Carolyn's Etsy shop and know all the colors by heart).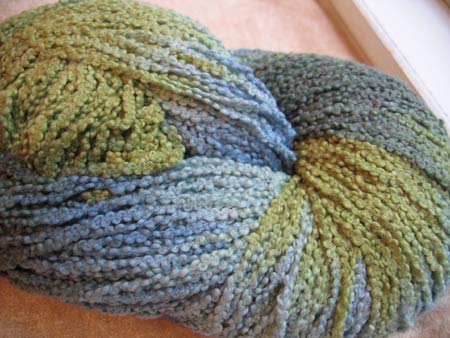 Oh, the fun I'll have with this yarn!
Dear Pal, thank you so much for knitting me this wonderful pair of socks. I waited, it's true, but, boy, you delivered!!! I'll go ahead and say I'm 2 for 2, a fantastic pair last time and this time, too. I'm so happy.
One lil' issue - my pal didn't sign the cute card she enclosed with the package, and her name doesn't appear in the return address. So I don't know who to thank! Along the same lines, I don't know the name of the pattern or what yarn these are made out of, although I strongly suspect Cascade Fixation or its elann equivalent. If you're reading this, my Pal, let me know who you are!
Sigh of relief - aaahhh!
Oh, another lil' issue - my sock savior. Maybe I'll be getting a second pair? I don't know!
Alison hasn't mentioned a word about another Sockapalooza, but if it happens, I'm not sure I'll be participating. Here's the thing - I would love, love, love to participate, but some of the comments you guys have been leaving (here, here)... they just make me sad and ashamed. And they make me think that I'm not welcome to be someone's pal. Maybe I'll do it anyway, despite all the alienating comments. And that's all I have to say about that.
Now, if you'll excuse me, I'm going to go and sniff my new socks.
Posted by Kathy at 03:30 PM | Comments (96)
June 20, 2006
So I knit him a sock!
It's been a while since I discussed knitting technique stuff, hasn't it? Well, let's talk just a little bit about short-row heels and toes, interesting bind-offs, and why faking is such a good thing ;).
Remember the little sneak preview of secret projects I showed you here? Many of you correctly identified the picture below as the humble beginnings of a sock: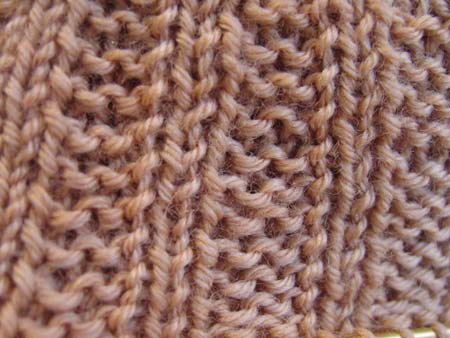 These are very special socks because they are for my dad. Of course! Dad socks are always special ;). Now, before you go thinking that this is some kind of belated Father's Day gift, let me correct you - I promised these to him during a phone conversation on February 11th. So, they are technically a belated gift for Valentine's Day, St. Patrick's Day, April Fool's Day, Daylight Savings Time Day, Passover, Easter Sunday, Earth Day... you get the idea.
Another special thing about these socks is that they are extremely well-planned. Zero element of surprise. My dad, in so many words, told me that he wants light-colored socks, and that the black pair I knit for him out of Lorna's Laces Shepherd Sock is the softest. Naturally, I went with LL SSock again, in the chino colorway. This is a very tasty color, like coffee with a lot of cream in it. Knowing that I hate brown and anything that even remotely resembles it, this is saying a lot.
Last time I visited my parents, I showed my dad several sock pattern books, and while he could care less whether his socks are 3 x 1 ribbing or moss stitch, he kept remarking on ones with calf shaping, that it seemed like they wouldn't bind at the calf. It quickly became apparent to me that calf shaping was the most important pattern element in his new pair of socks, and everything else was rather arbitrary.
So, I went with something simple (and I hope manly enough) - the Garter Rib pattern from Sensational Knitted Socks.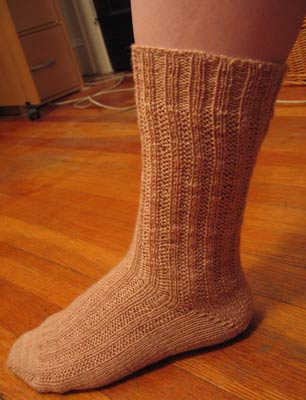 I knit this sock from the toe to the cuff, using a short-row heel and toe (I use Wendy's method). The majority of the sock is worked over 60 sts on US 0 needles, but then generously increases to 68 sts for the calf.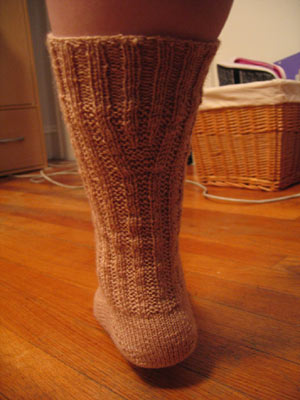 Sorry for the poor light, and also... damn, that thing needs blocking!
Every 6 rows, I increased 1 stitch in pattern on either side of the 2 sts that make up the center back. To finish, there is about 1.5" of simple 2 x 2 ribbing to help them stay up, and a fancy lil' bind-off.
Work 2 sts in pattern (either knit or purl). Move yarn to back (if the last worked st was a knit, this is already the case). * Transfer the 2 worked sts to the LH needle, and k2togTBL. Work 1 st in pattern (move yarn to back if it was a purl), * repeat between *.
Important note: I use a larger needle to do the bind-off. Here the sock is knit on a US 0, and I used a US 1.5 to do bind off.
I learned this bind-off when knitting my mom's Leaf Lace Shawl and have since used it on all socks I've knit toe-up. It's very functional, I think. Definitely more stretchy than a standard bind-off, a lot easier to execute and frog than EZ's sewn bind-off (aka, backstitch bind-off or cast-on bind-off), actually understandable (in contrast to the "modified conventional bind-off" in Lucy Neatby's book, which always baffles me). The only competitors are the tubular bind-offs, which are quite neat and pretty, but for me not worth the trouble (see EZ's sewn bind-off), and not stretchy enough (see standard bind-off).
I want to share one more "tip," if you will, with you. It applies only to patterned socks, not to stockinette ones (although perhaps you'll find the information useful anyway).
Two inches is the magic number. When working from the cuff down, you know how when you knit a heel flap, you work back and forth for 2", then turn the heel, pick up stitches for the gussets, etc.? And when you reach the toes, you start shaping the toe 2" before the desired sock length? Okay, sometimes it's 2.25" or 2.5", but follow my argument for a moment. That number isn't arbitrary. Two inches is the height of an average heel, and the length of an average set of toes. Give or take, of course - I have stunted 1.5" long toes, for example. It is pleasing to see a distinct design element, like a heel flap or the little bit of fabric that covers the toes, which matches in size and shape the actual part of the body it covers... Like making sure that the empire waist of a women's blouse actually lands where it's supposed to be. If it's not quite in the right place, it looks rather disturbing even if it functions fine.
When working short-row heels and toes, or at least when I work short-row heels and toes, I find that they come out to be about 1.5" deep. If I made them more pointy, as some people like to do, they'd probably be a little deeper, but I don't think they'll ever make it to 2". And I've realized that although patterned knitted fabric functions just as well as its simpler stockinette cousin, it looks kind of awkward when the knitted heel element worked using short rows doesn't cover the whole heel, anatomically-speaking.
So, I've recently gotten into the habit of making my short-row heels and toes appear longer. When working from the toe-up, after completing the short-row toe, I work another 6-8 rows (1 cm) of stockinette in the round, and only then start the pattern. As a result, the little stockinette toe cap fully covers the little toes! Similarly, after turning the heel, I will work 1 cm of stockinette above it before starting the pattern. It's just a visual trick, but I think it works!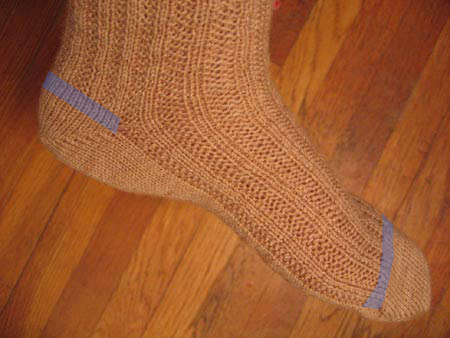 Blue showcases the "fake" bits.
Posted by Kathy at 11:37 AM | Comments (37)
June 19, 2006
The beauty of plumbing emergencies
Updated death toll since June 15th:

new Jaywalkers added to gallery: 162

total Jaywalkers in gallery: 354

new non-JW projects added to gallery: 48

prizes to hand out: 8

knitters who can identify a 72 x 80 pixel rectangle in their sleep: 1
I never thought a plumbing emergency could be so useful. If I wasn't stuck at home today to let in the plumber (more like a series of plumbers, because my landlord... he likes to shop around, especially when it comes to emergency situations), I wouldn't be able to just sit at my computer and update, and update, and update :).
As it ends up, I made a little faux pas. My admittedly over-aggressive spam filter trapped a few dozen comments which had links to beautiful Jaywalkers and Odessas galore! The filter has a particular affection for comments with multiple links, in other words, knitters who knit multiples! Oh, I'm so shamed! Once I realized my mistake, the death toll rose very quickly to simply astronomical proportions. I mean, who ever thought there would be more than 350 (three hundred and fifty, people!) Jaywalkers in the gallery?!?
By the way, I've updated the layout of the gallery, getting rid of that seamless frame that wouldn't display right in some browser settings. I think it should be all set now, no matter how and where you're viewing (make sure to hit the refresh button to see the latest layout). Of course e-mail me if there's any issue, if your FO is missing, if it's not linked correctly, etc.
I'm still loving this whole thing. I love all the pictures, and all the stories, and all the colors, and especially multiple submissions - nothing is more complimentary than knitters who choose to knit my stuff more than once ;).
Along those lines, let us congratulate the 350th Jaywalker!

350th Jaywalker - Silja! Silja submitted 3 Jaywalkers and 4 Odessas into the gallery. Good girl ;). I'll be contacting you shortly to talk about your prize.

Speaking of the prizes, my winners have simply fantastic tastes. I cannot wait to raid my stash and do a little shopping for your guys because our tastes match so well. Oooo, all the yummies!
Okay, I think this will end all the frantic updating. Meaning, I'll still be updating as the submissions come in, but not like hundreds in a span of a few days. And that's a good thing, because I have a sock to show you, and a bind-off to discuss.
Posted by Kathy at 02:50 PM | Comments (15)
June 18, 2006
Death toll
Death toll since June 15th:

new Jaywalkers added to gallery: 128

total Jaywalkers in gallery: 320

new non-JW projects added to gallery: 32

prizes to hand out: 7

knitters who spent their weekend cropping pictures and writing html: 1
Dang. I certainly asked for it, didn't I? Hehe! Entice with the promise of yummy sock yarn, and, well, there you have it: more than a hundred comments, dozens of e-mails, and an updated gallery busting at the seams! Cara, I understand.
I love it. Thank you so much for your responses, for your pictures, for your stories. It is only fair that I do my share (and, ahem, hopefully destash at least a little bit) and give back.
Since my post, I've modified the rules just a little bit. Don't worry! All in your favor, my friends ;).
First, I will continue to keep track of the Jaywalkers submitted into the gallery, and every 50th one will receive a prize from here on out. No deadline for submissions, just keep 'em coming, and I'll keep track of the numbers! I don't think calculating your submissions so they coincide with these round numbers will be particularly fruitful because I update the gallery maybe once a week, and you simply have no idea how many FOs I have sitting in my Inbox at that time ;).
Second, I decided to give prizes retroactively to the 50th, 100th, and 150th Jaywalker knitters! No reason for these gals to miss out simply because they were one of the first.
Without further ado, it is time to announce the winners! In a parallel universe I'd tell you that you're all winners, but here in Grumperinia we do not sugarcoat things. I laugh my evil knitting laugh - bwahahaha! If you didn't win, I suggest playing again ;).

50th Jaywalker - Four Chickens Jeanne! Jeanne, you're a winner!



100th Jaywalker - Immer Wieder Socken Ute! I have no freakin' idea what Ute writes about on her blog, but she's got at least three Jaywalkers in the gallery. Smart gal, Ute, increasing your chances of winning by submitting multiples. Ute, you're a winner!



150th Jaywalker - I May Be Knitting a Ranch House Sandra! Sandra's got two in the gallery (learning from Ute, I see), and for that reason, Sandra, you're a winner!



200th Jaywalker - Crossroad Knits Liz! Liz also knit a Picovoli, and promptly submitted it into the gallery. There's only one word for people like that - winner!



250th Jaywalker - Dove Knits! Dove knits many socks and cute baby things - winner!



300th Jaywalker - Bettina! Bettina says that the JWs are one of her favorite socks (and good thing she told me that, since I do not know what she's writing over there on her blog) - winner!

And last, the non-Jaywalker prize. Although I said I'd draw a non-JW prize only if 40-50 new items were added (but only 32 were submitted), I decided to just do it ;). I'm typically a tease, so this is an indication that my good mood has yet to be melted away by our steamy weather ;).

I randomly drew a name, and the winner is Ronda! Ronda wrote me the sweetest e-mail back in February about knitting a bead-less Odessa as a chemo cap for a friend, and I'm so glad that she has now submitted photos of her FOs! That's right, photos - she's got two of 'em in the gallery. Seeing a trend, my friends?

(The non-Jaywalker prize is a one time thing, just to reward all those Odessa and Picovoli knitters who kindly submitted their projects in response to my plea.)
The winners will be receiving an e-mail from me shortly so that I am able to tailor each prize to the winner's unique preferences and knittery desires. I'll show you what I got each of them eventually, maybe in a few weeks or even a bit longer, depending how exotic they want their gifts to be :).
Now I'm going to go and ice my hand from doing this massive (massively fabulous, that is) update.
Posted by Kathy at 09:36 PM | Comments (22)
June 16, 2006
Karma?
As soon as I reach out into the knitting blogosphere, with the promise of some prizes to boot, all kinds of good things start to happen.
For instance, I've been assigned a Sockapaloooza sock savior, who e-mailed me right away! Oh, happy day! He or she sounds quite mischievous, and you know I'm all over that, "Never fear: your sock savior is here!" Oh. Yes. Can't wait! Thank you for being in touch with me right away, sock savior!
So, with respect to this fun that I claim is to be had... ;) I think I will update the galleries Sunday night and announce the winners of the 200th entry, 250th entry (oh yes! It's true!), and if you keep e-mailing me at your current speed, the 300th entry (swoon!). After that, in my typical fashion, I'll continue to update the galleries as the FOs come in, not making a huge deal.
Edited to add: No, there's no deadline. Keep 'em coming! If you're the 350th, 400th, etc. knitter, you will get a prize! You probably won't make the update on Sunday, but nothing wrong with receiving a prize a bit later on, right ;)?
Aren't you dying to know who knit the 200th Jaywalker in the gallery? Obviously one of the first respondents, since I already had 193, but who could it be? Oh, the anticipation!
Posted by Kathy at 02:40 AM | Comments (38)
June 15, 2006
Alright, people, time for some fun!
Is it just me, or is the knitblogging world currently moving in slooooow motion? Fewer posts, fewer comments, much less motivation to write entries or comment or think or create or... even knit! Frankly, I'm tired of it! Let us motivate each other to leave comments, to knit quicker, to think outside the box, to set up fans aimed directly at our hands so we do finish that mohair scarf over the summer!
Let's have some fun! I've got a drawer full of sock yarn, and I'm feeling unseasonably generous.
Here's how we'll play. Have you finished a pair of Jaywalkers, but have not submitted them for the gallery? I'm going to give you all the reasons in the world (well, two of them) to contact me right now and submit a picture of your FO for the gallery:
At least once a week someone writes to me saying that they love the gallery, love looking through all the different colors and styles, and find it inspirational in their own knitting process. Really, this should be reason enough to want your own JWs to be in the gallery, right?
Currently I have 192 finished Jaywalkers in the gallery, and one more that I need to add, for a total of 193. That is such an odd number, and I don't like it.
So, I'm soliciting Jaywalkers for the gallery!
E-mail me or leave me a comment to submit your pair of socks.
Please include a link to your blog entry where the JWs are featured, or a photo of your finished socks if you're blog-less.
Please state specifically that your submission is for the gallery. Copyright laws protect your photos - I cannot assume that I have license to reproduce them on my website without your explicit permission and agreement. As simple as that.
Appearance of your Jaywalkers in the gallery isn't a matter of opinion - if you contact me, state that they're for the gallery, they will be included. I really don't care about the quality of the photograph, or if Sissy the Cat is modeling them, or the angle at which the camera is focused.
I will keep track between my e-mail and my comments, and knitters of the 200th, 250th, 300th (dare I dream it will go that high?) Jaywalkers in the gallery will receive some sock yarn from me! I'm anti-crap, so the yarn will be tailored to your knitting preferences.
Submissions to other Grumpy Knits Galleries are also encouraged - Picovoli, Odessa, Sharfik, bring it on! If (combined) I get more than 40-50 submissions for these other patterns, perhaps I'll draw names from a hat for another sock yarn prize ;).
Now, shoo! Leave me a comment!
Posted by Kathy at 02:24 PM | Comments (141)
June 11, 2006
Hello, old friend. I've missed you.
Guess who's back?!?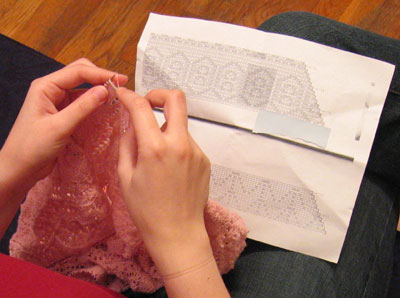 (I'm a low-tech knitter - a crumpled up pattern photocopy and post-it remnant is all I need)
Wow, I haven't touched this project in more than a month! And you've noticed ;) - I'd say at least once a week someone would mention Mr. MA in a comment or e-mail. He appreciates your concern for his apparent disappearance :).
Reasons? There are two. First, other projects just took precedence, I guess - during my Mountainash hiatus, I started and finished the Pentagon Sweater, and the little raglan for LL. I'm also knitting away on the Egyptian dress for Annie, with a goal of finishing it by the end of the month! I just need to get some of those needles with the motors, you know? So I can knit 500 stitches a minute... from the In Your Dreams store :).
The second reason has to do with Mountainash himself. I got totally trapped in the section highlighted pink below: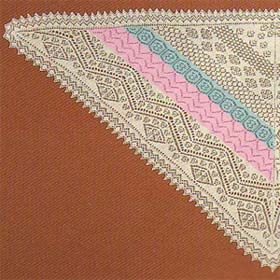 It is, without a doubt, the easiest section of the entire pattern. The right-side rows have a few yarnovers and decreases, the wrong-side rows are all purl. And I simply got bored out of my mind! I could hardly convince myself to complete one row in one sitting. Knit 10 stitches, yawn... knit 10 more, yawn... knit 10 more, alright, I've had enough!
But I had to take a break from the Egyptian dress over the last few days, and I pushed myself to get past it. It took me a few seconds to find my place in the pattern, but the general flow of the thing has been ingrained in my head, so I was back on track in no time. I'm poised to begin the next section (highlighted blue above), and you can see it's a little tricky.
It's showtime!!! (rubs hands in anticipation, smacks lips with delight, laughs maniacally!) Who's ready for some Mountainash action?!?
Oh, the progress schematic. I haven't forgotten ;)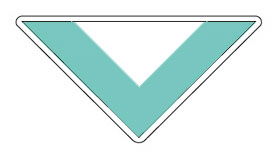 Slowly, but surely, I'm closing in on the center.
Posted by Kathy at 10:18 PM | Comments (23)
June 08, 2006
As promised: much more interesting
It feels great to be past the ribbing on the bottom of the dress I'm knitting for Annie's book. I'm rather excited to show you the lovely eyelet and chevron stitch pattern that makes up the rest of the garment. I'm guessing this is a much better sensory experience ;).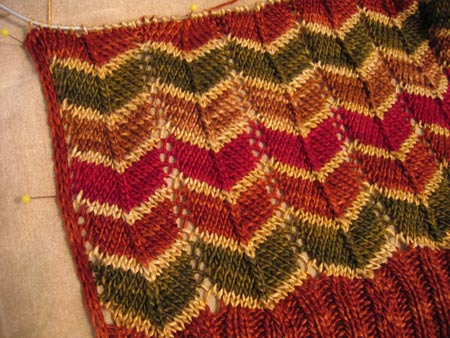 The colors in these photographs are simply craptastic, but since there will be no sunshine until Monday, this is the best I can do for now. I'm most upset about not being able to capture the red – it looks very raspberry in the photo (taken in artificial light), but is more of a lip-puckering merlot in real life, a Grumperina kind of color ;).
It is always the case that at least one element in Annie's designs (and often more) causes me to exclaim, "clever!" Look – notice how seamlessly the brown edging frames the slit of the dress, and how well proportioned it is when compared to the rest of the fabric. Brilliant. The edging also looks neat and professional on the wrong side.
The edging is Annie's signature modified i-cord. In the stripey chevron section it is attached by intarsia, but in the ribbing below, where no color change is required, it is worked at the same time as the rest of the fabric.
Many have noted the cleverness of this here edging. Off the top of my head (and this is just off the top of my head, people), you have seen this edging on the Backyard Leaves and Alison's scarves designed by Annie (a link to Alison's scarf pattern is available on Annie's blog), a wrap sweater I knit last summer, Ms. Amelia Raitte tells us all about it here, Kenny is knitting a scarf for the same book, and his project also incorporates the edging, and Colleen calls it "my finishing discovery of the year" here. Everyone has noticed!
The other slit, or rather, the other side of the same slit, has been a little more tricky for me because it has many things happening at once: the intarsia for the edging, changing colors for the stripes, yarn overs, and I've chosen to carry the light yellow yarn up the edge because it's needed fairly frequently. Still okay, I think.
In any case, I'm now precisely at the point where the slit is closed up and the rest of the dress is worked in the round. Goodbye, edging, it's been great working with you ;). Although I won't be able to properly model the dress for you (the sample is sized for a model, and I'm… not), for now I can still show you how far I've knit: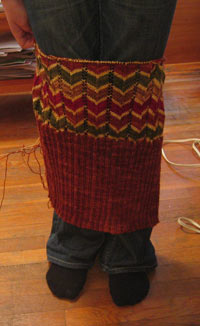 Much more to go, and I'm still looking forward to every stitch ;).
Posted by Kathy at 03:03 PM | Comments (31)
June 07, 2006
Screaming summer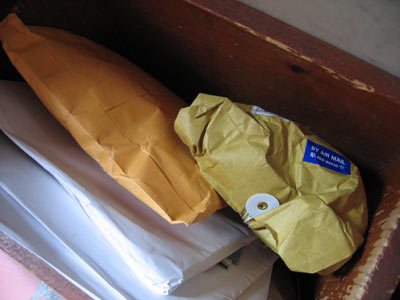 Could it be?!? Could it possibly be? Is it for me? Is that my... Sockapalooooza socks? Ooo, ooo! Look at the one on the right - "By Air Mail" - an international pal!
The international package is for my neighbor, Ms. J., and we all know I simply love her and all her little packages. The package on the left is for me, but it's not my socks (no further progress in that department since this post. I remain patient and optimistic :).).
What's in the package on the left? Simple: an instant mood-lifter! You know what I'm talking about - open it up, and a big smile sneaks up on you :).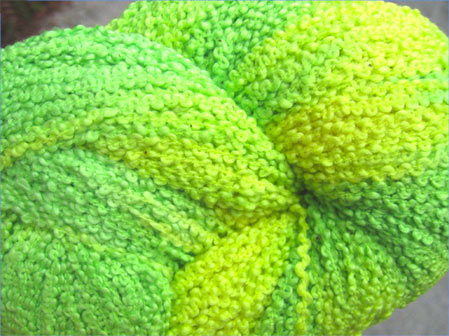 I needed to adjust the colors of the photograph because I'm not used to photographing, uhm, neon stuff. I think what you see is pretty accurate, believe it or not :).
I've been so into combos of yellow and green lately, so I jumped on this yarn when Carolyn put a skein up for sale. I think a simple stockinette pair of anklets for me will do the trick, and there will be enough left over for some baby socks, I'm guessing. The bright and happy colors combined with cottony goodness scream summer to me.
In any case, now I feel better. Carolyn, once again, thanks for making my day :).
Posted by Kathy at 09:50 AM | Comments (28)
June 06, 2006
Astute readers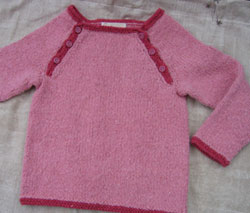 I love observant and astute readers! I was actually thinking to myself, how many of my readers will question my claim of a top-down seamless raglan that, well, has a detachable front flap? Call my bluff and incompleteness? :) (the sweater in question is this one, of course)
A few picked up on the unusual construction. TracyKM (who knew me through the about.com forum back when I didn't even know how to purl) commented, "Okay, I get there's no seams, but Pico. doesn't have button openings... so how'd you do it? Separate balls? Back and forth?" and Vanessa wrote, "how did you do the button openings on the top dow raglan? steeking?"
Very observant, you two ;).

I want to share the construction of this sweater with you because raglans are so easy to knit seamlessly, no matter the variation on the traditional theme. I actually don't particularly love knitting adult sweaters in the round/seamlessly (my reasons are not arbitrary and possibly deserve their own post), but baby sweaters are a different story. When you've got just a handful of stitches, and two get eaten up by seams, there's bulk and unsightliness and general cringing on my part.
I'm writing this explanation for knitters who are experienced in top-down raglan construction, just to show how a variation can be accomplished. For basic instruction, you may wish to consult Knitting from the Top
.
Typically I would sketch these in Illustrator and edit/color them in Photoshop, but I've had such an itching for my Prismacolor pencils lately, and you suffer as a consequence ;).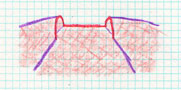 You start out by casting on the stitches for the back and the tops of the sleeves only (deep pink), plus a few stitches on either side of the (yet to be knit) front, so you aren't increasing right on the edge. Knitting from the top down, and working back and forth, you increase along the raglan seams to create the yoke.
I don't limit myself to increasing the same number of stitches for the front/back as for the sleeves - sometimes the desired finished dimensions cannot be accomplished by such simple mathematics. In the case of LL's sweater, for example, the back was increased from 23 to 47 sts (a total of 24 sts) but the sleeves started with 19 and ended with 35 sts (a total of 16 sts increased). Treat each section as its own entity, increasing evenly no matter what's happening in the neighboring one, and it will look just fine at the end. Keep in mind the total desired raglan length to determine the frequency of increasing.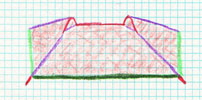 Once the yoke is completed, place the sleeve sts on a length of yarn (light green). A few stitches get cast on in the armpit (deep pink). This is the raglan equivalent of binding off about an inch at the start of sleeve cap and armhole shaping, and is partially responsible for eliminating batwings, my pet peeve of all pet peeves. I know the little deep pink dash looks all weird sticking out in mid-air, but that's actually where the stitches end up.
Now, for the fun part: provisionally cast-on (forest green) the stitches which will form the front. The number is equal to the stitches you have in the back section, minus the few stitches you've already got framing the sleeves. Join the whole thing in the round. It will look like a full back, two little cap sleeves, and a very risqué front.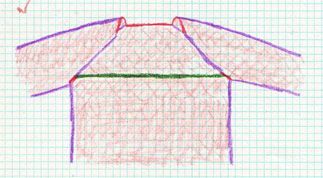 Knit in the round to the hem to complete the body. Come back to the held sleeve sts, and when joining in the round, pick up a few stitches right on top of the armpit stitches (deep pink). Knit to the cuffs.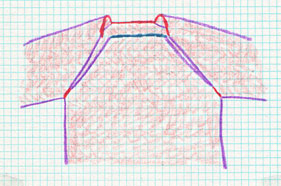 To complete the front, undo the provisional cast-on, and working back and forth, mimic the back shaping by working at the same rate, but making decreases instead of increases. Bind off (blue) when the front is completed. I placed the buttonholes in the trim, so you don't even have to think about that at this point ;).
Simple, isn't it?
Karma correctly identified that it was her blog where I originally saw this cute design. She also pointed out that I placed buttons on both raglan seams, while the designer intended them only along one (click on the link to her blog to see what I mean).
Oops! I admit I didn't read the instructions, and obviously didn't look at the photo too closely. However, seeing the sweater as it was intended, I shook my head in agreement - it, too, can be accomplished seamlessly from the top-down! Think about it for a second... simple, isn't it? Cast on for the entire neckline, but don't join in the round, work back and forth creating the yoke, then join in the round while casting on a few armpit stitches, and that's that!
P.S. Of course you can also knit the yoke as I described, then separately knit the front from the top down to the point where I had the provisional cast on, and then join the whole thing in the round to complete the body. Why not?!?
Posted by Kathy at 01:58 AM | Comments (24)
June 05, 2006
Flipping sweaters!
I know there has been some talk around these parts that I'm nothing but a big tease. No more! I flip the sweaters: pink on top, white on the bottom!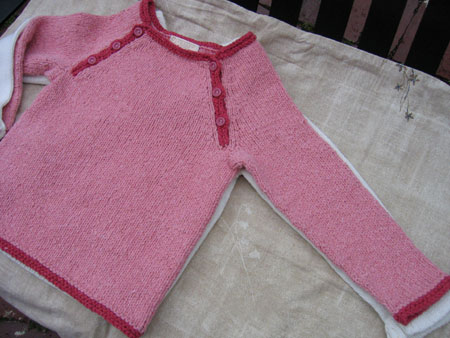 Pattern: a collaborative effort. I made the sweater look like the embroidered raglan sweater (do click on that link: the baby in the photo could be wearing a potato sack and I'd still knit it!) from Knitting for Two
. I saw a completed pair of these sweaters on a blog recently. They were green, I think, and super cute, but for the life of me, I cannot remember which blog! I used a Baby Gap sweater as the sizing template, and I knit it from the top-down, seamlessly, just like the Pico.
ETA: It was Karma's blog! Yes, they are super cute now that I see them again ;).
Yarn: Classic Silk by Classic Elite, 3 skeins of primrose, and just a bit of tomato. This yarn has un-freakin'-believable yardage.
Needles and gauge: US 6 Blunti Stumpos, which actually worked well for this project, at a tension of 20.3 sts and 32 rows per 4" square.
Finished size: 22" across the chest, and 9.25" from hem to armpit. For all the measurements (at least those important for top-down raglans) click here.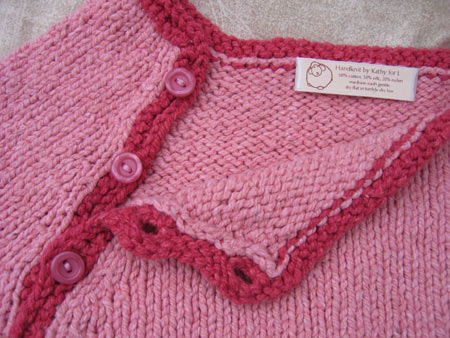 Details: I loved working with this yarn, but more importantly I loved its tweediness and terrycloth-like softness after machine-washing and drying (yes, I blatantly disregarded the care instructions on the label, it seems to wash just fine). I made one-row buttonholes from Montse Stanley
(p. 196-7, my source for most knitting techniques), and affixed a customized ribbon label (tutorial here, close-up here).
I'm happy to report that Little Miss Bestitched and her Mom liked the sweater, and even happier to tell you that the sweater was just a bit roomy - good, will be perfect for the fall ;).
Posted by Kathy at 12:02 PM | Comments (32)
June 04, 2006
Team Lunacy
Welcome to the Amazing Lace. Knitting IS sport, and this cross-country, cross-project journey will push the limits of mundane, everyday projects and progress reports. Hundreds of teams, exotic adventures, demanding challenges, only one winner. Who will it be? Let's meet one of the contenders, Team Lunacy.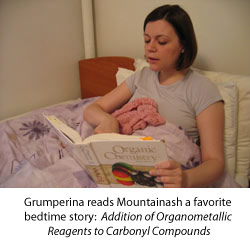 Grumperina and Mountainash met 7 weeks ago. They were introduced by a mutual friend, and there was an immediate spark.
"I like my men kind of lacey, so when I saw Mountainash, and I thought, wow, his lace is gorgeous! Seriously. I had to stop myself from grabbing his butt. I knew I wanted him on my needles immediately," says Grumperina.
Grumperina is a graduate student in Cambridge, MA, who has been knitting for almost two years. She's feisty, opinionated, and a little "off her rocker," either as a result of over-medication or pure insanity.
"Often I look at would-be projects and dismiss them without even checking the pattern - boring, too simple, too ugly... too brown - I've used every excuse in the book to reject potential partners. I don't like my time wasted, and if I can see right away that our relationship will be void of excitement, I pass. Because a girl needs a little drama, you know what I mean?!?"
"What attracted me to Mountainash is his exoticism. He's Japanese! I knew this relationship would not be stale. I mean, we don't even understand each other!"
Indeed, other teams have cited the language barrier between Grumperina and Mountainash as a major hurdle.
"Let me tell you something," Grumperina responds to this criticism, "Mountainash is written in a different language, but the language of lace is universal. Universal," she reiterates meaningfully. "The chart may use different symbols, but once I figured out what most of them meant, following it became no more difficult than following a chart in English. I'm about halfway done with the main triangle, so we really aren't going to take other teams' badmouthing to heart. Besides, have they considered that knowing two languages might be an advantage?!? What if the Race takes us to Japan? We won't even need a translator: Mountainash will do all the talking."
But early on in the relationship the language barrier proved to be an issue. Grumperina received a tip from an agent named "Noriko" that she was constructing Mountainash in a manner different than the pattern specified.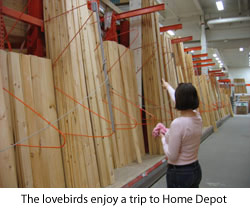 "You see!" says Grumperina, "that just goes to show that Mountainash and I can overcome anything. It was a bit intense to receive the news, that's true, but I was able to assess the situation with a clear mind and come up with a rationalization, and an equally functional solution. Mountainash and I are the strongest team here, no doubt about it."
Grumperina's overconfidence has been causing smirks among other teams. Lack of Japanese language aside, this is not the first time that's she taken on a very difficult project. Is it too difficult to complete? Some say that anyone who's had Misty Morning as a teammate and walked away alive can do anything. Others speculate that the relationship between Mountainash and Grumperina will end like some of her other, less succesful partnerships - abandonment.
"He can be difficult, it's true. Sometimes he gets really tense... he sits all googly-moogly, with his arms and legs folded in, a firm grimace on his face. I feel like I can't approach him. I come at him from this direction and that, but he won't budge, he won't cooperate. He throws tantrums and drops stitches and drives me insane! Fortunately, early on in our relationship I obtained very pointy metal needles, INOX Express, and this has forced Mountainash into submission... I mean, helped our relationship progress. So, for those who question whether I can deal with such a difficult teammate, don't. Don't you worry about it. M'okay?"
Shortly Grumperina will need to relinquish her beloved INOX Express - the inner portion of the shawl is worked at a different tension, and requires a smaller-sized needle; INOX Express does not come in a smaller size than what she's currently using. At this moment, it's not clear how Team Lunacy will overcome this upcoming hurdle.
"Whatever, I'll worry about it when I get to it. Uhm. At least I've got good yarn on my side! Some of the other teams are fumbling around with laceweight mohair! Mohair! Have you knit with mohair during the hot, steamy summer?!? I didn't think so, otherwise you wouldn't have chosen it. Talk about shooting yourself in the foot! My Mountainash is being knit out of cobweight Lacey Lamb, 100% wool, mmm hmm. It can be a little splitty, but the softness is incredible, and it should wear well for many years. Sure, Mountainash gets a little embarrassed being so pink, but real men can pull off pink, we all know that. And if anyone is a real man, it's my Mountainash."
Curiously, Mountainash remained silent during our interview, unprovoked by even the most boastful comments from his teammate. He just sat there, all bunched up, while Grumperina did all the talking. Only when interviewed alone did Mountainash have something to say:
村上ファンドのニッポン放送株売買をめぐるインサイダー取引疑惑で、村上世彰氏(46)側はライブドア前社長堀江貴文被告(33=証券取引法違反罪で起訴)が04年から同放送株を少しずつ買っていることを知り、大量取得を提案した疑いの強いことが4日、関係者の話で分かった。東京地検特捜部もこうした経緯を把握。ライブドアの大量取得による値上がりを見込んで同放送株を買い増したとして、証券取引法違反容疑で村上氏と同ファンド幹部計4人を5日にも逮捕する方針とみられる。
ただ逮捕には、最高検と東京高検の了承が必要で、最高検などから詰めの捜査を続けるよう求められる可能性もある。関係者によると、村上氏はニッポン放送の大株主だった03~04年ごろ「ニッポン放送はフジテレビの筆頭株主(当時)で、ニッポン放送を掌握することはフジテレビの経営権を手に入れることを意味する」などと周囲に同放送株の価値を説明していた。
村上氏の友人の堀江被告は04年秋ごろから同放送株を徐々に購入。村上氏は堀江被告側から小口取引を伝えられたとされ、堀江被告が同放送株に関心を持っていることを把握したとみられる。その後、村上氏は堀江被告に「(同放送株買収を)一緒にやろう」と提案。ライブドアによる昨年2月8日の同放送株大量買い付けを決定的にした疑いが強いという。
村上ファンド側は昨年1月初めまでに、同放送株を約600万株(発行株式の18%超)買い集めたが、ライブドアの大量取得で高騰した同放送株を翌月末までに約500万株売却し、巨額の利益を得たとされる。
Translated, "She's psychotic. Help me."
It's hard to assess how this team will fare in the Amazing Lace. On the one hand, Grumperina is a go-getter, with a history of dissecting very complex patterns. On the other hand, she has clearly chosen a complicated teammate for this challenge. Will Mountainash's captivating grace blind her into sustaining an otherwise impossible relationship? Will Grumperina's overconfidence prove to be Team Lunacy's downfall, or a clever ploy to intimidate all the other teams? Next time on the Amazing Lace!
Posted by Kathy at 09:20 AM | Comments (47)
June 01, 2006
Bad blogging material
What is bad blogging material? This right here: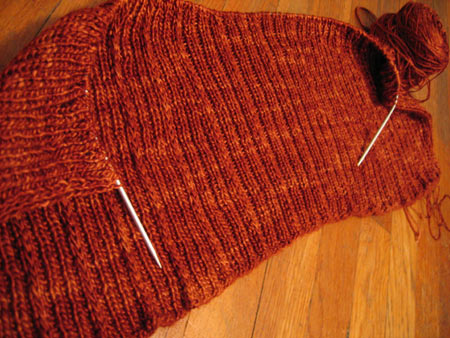 The dress I'm knitting for Annie Modesitt's book starts out with 8 inches of (more or less) 2x2 ribbing, worked over the entire dress circumference, 36", 240 stitches.
This is no joke. The amount of work, the number of hours that's encapsulated in that little photograph is enormous. Of course knitting with this luscious silk that smells like green tea made each stitch entirely pleasurable, but, boy oh boy, I'd rather sit on a sharp dpn than give you an inch-by-inch report, you know what I mean? Your eyes would glaze over in a second! Mine too! Therefore, bad blogging material.
The ribbing is now done, and the good blogging material begins. First, I will be starting the chevron and eyelet pattern, finally! Second, I'm going to start making stripes! And last, very soon (relatively speaking: in another 8 inches or so) I'll be joining the whole thing in the round, making a slit in the process. Oh yeah!
Stay tuned ;).
But before I show you more silk dress progress, I will be participating in the first challenge of the Amazing Lace. I have until midnight on Sunday to post my entry, which should give me plenty of time to finish writing the... ahem... saga. Again, you'll have to stay tuned ;).
Posted by Kathy at 10:21 PM | Comments (18)