« Why I hate my neighbor | Main | New »
May 15, 2006
Clever
I'm such a sucker when it comes to clever things - clever experiments (if you only knew how giddy I get about a cleverly-designed experiment), clever jokes, clever men, clever travel routes (the kind that are equally speedy, but somehow manage to be more scenic)... Not surprisingly, clever garment construction makes me weak in the knees, and Ms. Norah of the Knitting Nature
fame has been throwing cleverness at me every which way with this Pentagon Sweater. My God, woman, is there any end to this?!?
After completing the six pentagons that make up the yoke, look how another half of a pentagon raises the back of the sweater: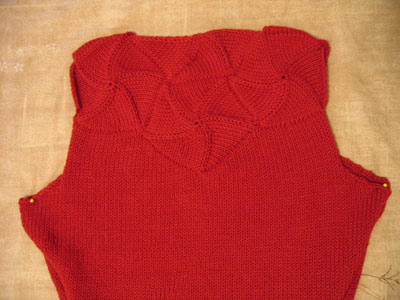 And the best part? The whole yoke, front and raised back, are identical in size to my template sweater. Identical! I did nothing special, mind you: I'm knitting the smallest pattern size, simply adjusting for my different gauge. UNbelievable.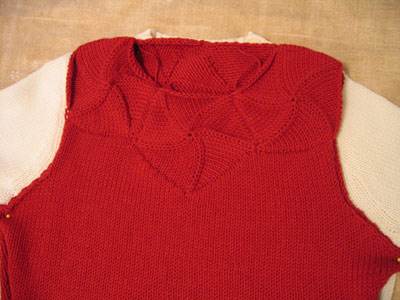 You know what I did next? That's right! I was so confident that this yoke was the final iteration, that I wove in any ends which can't be used in seaming (there were so many!), snipped the hanging yarns, and blocked (along with washing the remainder of my anti-dry cleaning menagerie). This is final, you know what I mean? Only a few things in knitting are final - cutting cotton yarn is one of them (felting is another).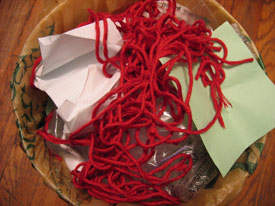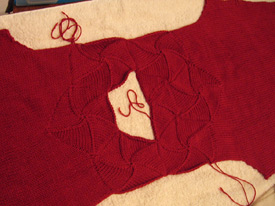 And now? Now the fun part! I have to knit the second sleeve, block both of them, seam, blah, blah, blah... that's not the fun part ;). The fun part is going nutty with the iron! If you've been reading long enough, you know I iron all my handknits. Ironing makes the fabric and seams flat and streamlined, and instantly takes off 10 pounds, I'm serious! These pentagons definitely needed some pressing, since blocking didn't get them as flat as I would have liked.
In no way, shape or form do I recommend that you do what I do... but what I do is set the iron to med/high setting, steam on highest, and then use all of my 100+ pounds to press. that. sucker. flat, on the right side. (for wool, I'd put a thin pillowcase between handknit and iron)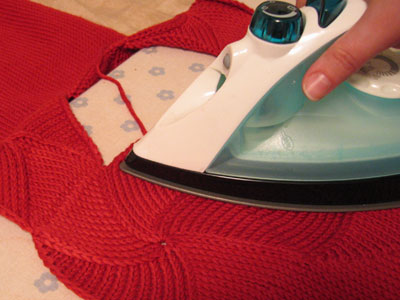 Oh yes. One of these days I'll ruin something, and cry, cry, cry... but until then, bwahahaha!!!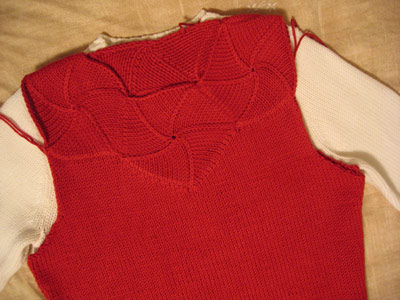 Does that look freaking fabulous, or what?!?
P.S. Look who got another small package today. Bitch!
Posted by Kathy on May 15, 2006 09:25 PM
Comments
To cut down on spam, comments are moderated. You may not see your comment right away, but rest assured that it's been received and will appear shortly. Comments are closed a few days after posting.