« The most beautiful color in the world… | Main | Starting new projects »
April 04, 2006
The sniffles
Yeah, I really do sniff yarn, and apparently many of you do, too.
Which yarns do I like to sniff? Well, I'll take a whiff of pretty much anything once. Unfortunately, most yarns don't smell like anything at all. I just smelled my Lorna's Laces, for example, and it doesn't smell like much.
But some yarns I sniff, and sniff, and sniff. Anything that smells like vinegar is fair game, because I love the smell and taste of vinegar. The stronger, the better! Well, one time I took a deep whiff of acetic acid (concentrated vinegar) in lab, thinking it was water, and it knocked my socks off, so not that strong :).
Then there are yarns which smell sweet, like Greenwood Fibers. Sniffidy sniff sniff!
And last there are yarns which smell like chemicals. I find that many cottons smell a little weird, and then one sniff is enough :).
Are you a sniffer and proud of it! Proud enough to put a button on your blog? Here ya go :).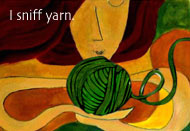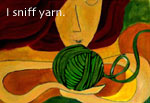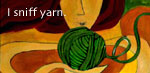 Please save to your own server. Hotlinking makes me very grumpy. If you hotlink, you will get a cold, I promise.
P.S. There will be no t-shirt. Whoever gave you that idea? Making money off of someone else's artwork (did you really think I painted that?) is incredibly uncool.
Posted by Kathy on April 4, 2006 09:21 PM
Comments
To cut down on spam, comments are moderated. You may not see your comment right away, but rest assured that it's been received and will appear shortly. Comments are closed a few days after posting.