« Starting new projects | Main | Sweater frustration »
April 09, 2006
Stuffing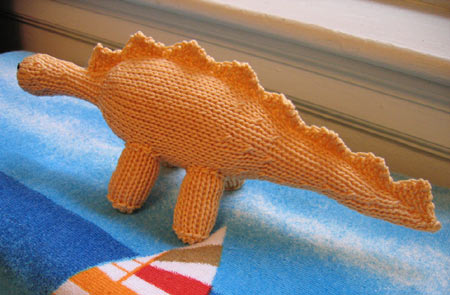 Hello, I'm Mr. Stegs, and I'm the most unevenly stuffed dinosaur ever!
Seriously. Seaming wasn't so bad, but why did I feel like a complete idiot when it came to stuffing the dino evenly? I'm not sure if you can tell, but he's all lumpy and bumpy, overstretched in some areas and under-stuffed in others. Filling and shaping the neck properly was the trickiest part because the head kept drooping until I freakin' shoved another pound of fiber fill in there.
However, I LOVE him. What a great project!
Pattern: Dinosaurs by Jennifer Thurston of Xtreme Knitting. I knit Mr. Stegs, but there's also Bronty and Trice, which I rejected because, come on, no spiny back!
Yarn and needles: Tahki Cotton Classic, less than 1 skein, knit on Bryspun straights, US 5. As far as straight needles are concerned, Bryspuns are my faves.
Finished size: Big enough to rule the world! Rrarrrr! (i.e., 12" long, 5" high).
Mods: The pattern is very well thought out - I felt that it minimized seaming, and that the dinosaur's shape was right on. So, I didn't change a thing other than to substitute a different yarn! Oh, I didn't attach the tail spikes - they just didn't do it for me after the spiny back was attached in all its glory.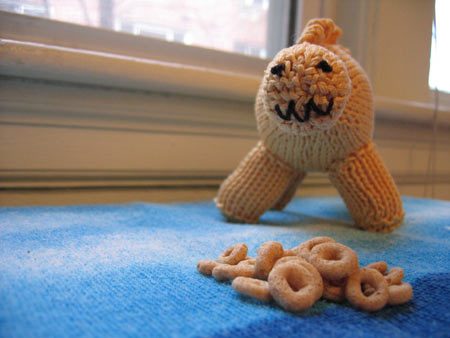 And now I will have a tasty Cheerios breakfast! How many Cheerios will I eat? All of them! Rrarrrr!
As you can see, I gave Mr. Stegs three teeth, and not a hint of a smile. I felt that was more appropriate to the recipient ;). I mean, VVV.
Posted by Kathy on April 9, 2006 09:45 AM
Comments
To cut down on spam, comments are moderated. You may not see your comment right away, but rest assured that it's been received and will appear shortly. Comments are closed a few days after posting.