« Victory lap | Main | Mistakes »
March 07, 2006
The 360º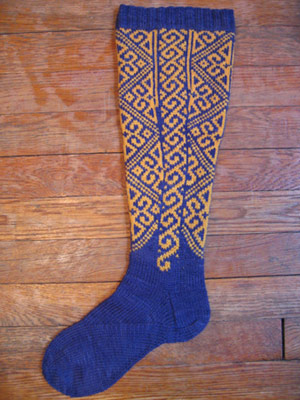 And now, the 360º view: (click for bigger)
Pattern: Blue and Cream Stocking from Meg Swansen's Knitting
. As I described earlier, this isn't so much a pattern as basic guidelines - something I personally welcome wholeheartedly, but not something I would recommend to just anyone.
Needles: size US 1 Susan Bates, two circulars
and 5 dpns
(yay!).
Yarn: Sundara Yarn sock yarn, in 006 and 024. I used a good portion of 1 orange skein, and just a bit more than 1 skein of the blue.
Gauge and size: gauge in stranded section: 8.5 spi, 9.5 rpi (more for my own personal records than anything). The stocking is 12.25" in circumference at the calf, 6.25" in circumference at the ankle, and 18" long from cuff to bottom of heel. Yeah, this thing is huge!!!
Let's cut to the chase - I love it! I LOVE it! I. LOVE. IT! I put some more pictures, the modifications and my thoughts about this project in the extended entry, so click on the link below if you want to read more!
Modifications: many ;). I adjusted the guidelines to accommodate the shape of my leg - I started with 106 stitches, and decreased them to a measly 54 by the time the ankle was reached. That's right, shapely ;). In order to have 106 stitches at the top, I swapped in a different side motif, which I found in the Ram's Horn Cardigan pattern in the same book. I took many liberties with the decreases (I had to! That's a lot of decreases!) - I write some thoughts below.
Along the lines of calling this pattern "guidelines," I'd like to point out that the Heel saddle instructions in the book are wrong, and I had to turn the heel the best way I know how - the Nancy Bush way ;). I am not as confident in saying this, but I also believe the Loving swath/arch shaping instructions have a mistake, and I knit the arch to be symmetric rather than follow the words, which would lead to an asymmetric one. We do what we have to do ;).
I chose the French Toe from Nancy Bush's Knitting Vintage Socks
(p. 21) because it looks exactly like the arch shaping, creating a wonderful symmetry and flow - do you see what I mean?
Thoughts:
Knitting with two hands: Although it takes practice, this is an awesome technique that is intuitive and elegant in its simplicity. I just wish it was more portable, because, damn, I could impress so many people if I could knit this way in public ;). Just imagine me at the Post Office standing in line, knitting with two colors!
Knitting by throwing the yarn with my right hand (English-style) and knitting on two circular needles: only when I have to ;).
Calf shaping: Let me boast for a second - the sock fits absolutely phenomenally. There is definite benefit at noting the actual shape of the leg, and placing the bulk of the decreases right where the calf tapers into the ankle. However, I don't think it mattered that I made the back decreases at a different rate than the front ones. On the other hand, I can see the benefit of having only back decreases for a very shapely leg such as mine. They would still have to be placed at the narrowing of the calf.
Arch shaping: Easily the cleverest thing I've encountered this year! The reason it works is because it places the stitches at the bottom of the foot on a bias, which snugs up the fabric nice and tight right into the arch. And we all know about the snugness of stitches placed on a bias, right? ;) The only downside is that the arch shaping is limited by whatever pattern happens to be on the instep, and one may not be able to easily incorporate it into a sock that already has a lot happening at the top of the foot. However, it's not impossible ;).
Why? Why would I knit socks that I wouldn't ever wear? That I couldn't ever wear? That I won't even use as a Christmas stocking, being not Christian? First, it's singular - just a sock. No sense to knit two of the same exact thing if there's no function for even one. Second, I enjoyed every single little bit of this project - selecting the pattern, choosing the yarn colors, learning to knit right-handed, learning to knit two-handed, figuring out the calf shaping, being captivated by the arch shaping - and that's more than enough reason to knit, don't you think?
(click for bigger)
Posted by Kathy on March 7, 2006 05:25 PM
Comments
To cut down on spam, comments are moderated. You may not see your comment right away, but rest assured that it's been received and will appear shortly. Comments are closed a few days after posting.