« Mistakes | Main | Emergency post »
March 12, 2006
Resistance is futile!
Who can resist a little girl, three and a half years old, crying over the phone about her lost hat?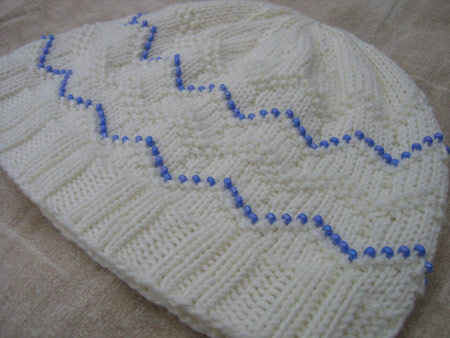 Not I!
My little cousin Sarit, for whom I knit the original lilac Odessa, has lost her hat. Devastation ensued, followed by a meek request for another hat from her older cousin.
I briefly contemplated knitting another Odessa, but considering that I've already knit two, I decided to go with something else. There were only two requirements – it had to come out as special as her older sister's hat, and it had to have beads, which apparently Sarit and her mom both loved.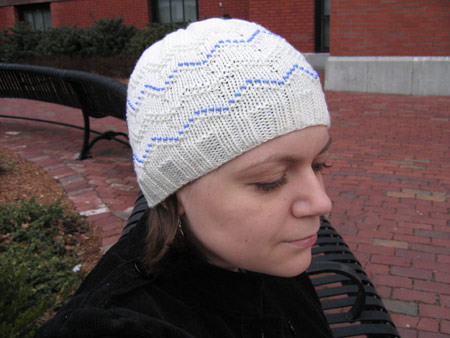 Pattern: my own (I haven't yet decided whether I'll write it up – it's terribly out of season). This is a simple stockinette hat accented with a bead and purl motif. I improvised a new-to-me shaping at the top: gathered and ruched. I really like it!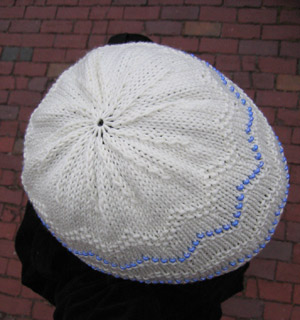 Yarn: Debbie Bliss Baby Cashmerino, color 101, off white, 1 skein.
Beads: 208 size 6/0 beads.
Needles: US 4 circulars and dpns, US 3 circulars for the ribbing.
Gauge and finished size: 17" in circumference and 6.75" in depth unstretched (for myself, I'd make the hat slightly wider and deeper). Gauge: in pattern, 24 sts and 34 rounds per 4" square.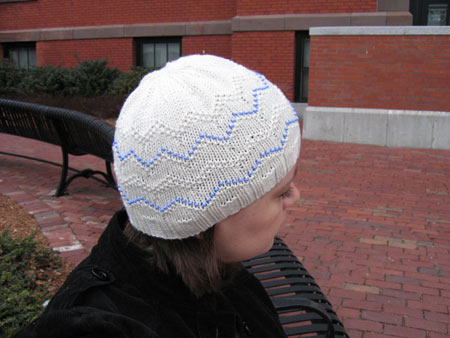 I'll mail it tomorrow, and hope the little cutiepie likes it!
Posted by Kathy on March 12, 2006 12:57 PM
Comments
To cut down on spam, comments are moderated. You may not see your comment right away, but rest assured that it's been received and will appear shortly. Comments are closed a few days after posting.