« Sew? I'm clueless! | Main | A good friend, and a good yarn »
February 28, 2006
Shaping = heaven
Thank you so much for your generous advice on my sewing naïveté. I feel so much better, and totally armed to hit the fabric store. Stage 2 may even happen before March 20th ;).
I have to update you on both Azalea, and Meg Swansen's socks, but Azalea will wait for another day because no matter how much I knit, it still looks the same ;).
The socks, on the other hand, have seen an incredible growth spurt: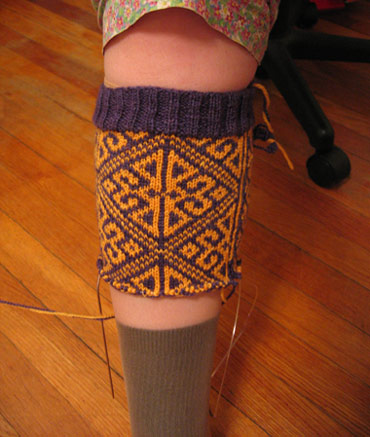 My skin was very dry and sensitive today, so I modeled the socks over a nylon knee-high. Which, naturally, I pulled on top of my regular sock. Let us not worry about the details, okay?
The more I knit two-handed, the more intuitive it becomes. Just like all aspects of knitting, right? I find myself glancing at the chart, and instinctively, without looking at my work, throwing with the blue if that's what's required. Or picking the orange. Or scrunching my forehead when realizing I've done something wrong ;).
When I started this project, I remembered this post from Nona's blog about yarn dominance, and made orange the dominant color - I think it really pops, especially against the dark blue, don't you think? And what about my stranding tension? I'm quite pleased ;).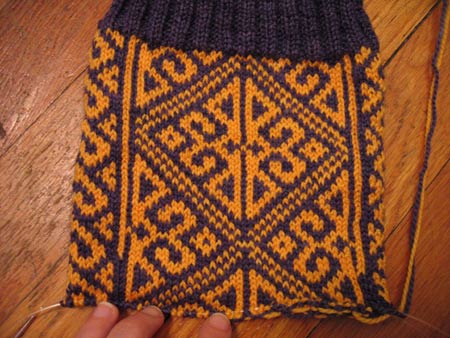 By the way, and I speak from experience, what Nona writes in that post is absolutely, unquestionably true - for a few rounds I switched the dominant yarn, just to see what the effect would be, and the difference was as obvious as night and day (at least to me). So obvious, that I frogged the errant rounds and reestablished orange as the dominant color once again.
In an absolutely unprecedented event, I am knitting this sock on two circular needles.
Should I get the smelling salts, or are you okay?
And it has nothing to do with the fact that it's stranded knitting. Well, sort of. As you know, this is the first time I'm throwing with my right hand, and for whatever reason, the dpns just got in the way of my right hand so much. I found that two circs, as much as I hate their clinking, dangling ends, allowed me to throw without looking like an acrobat.
At the end of the first pattern repeat I started the calf decreases. I'm completely winging them, but so far they are coming out just perfect, all snug against my calf, not too loose and not too tight. Heaven! I am planning to decrease from 106 stitches to 66 stitches, and I'm decreasing the ones in the back at a different rate than the ones in the front - the back decreases are every 4th round, and the front decreases are every 12th round. This is, again, just winging it, based on the fact that my calf doesn't taper down symmetrically at all.
You can see the asymmetry from the side: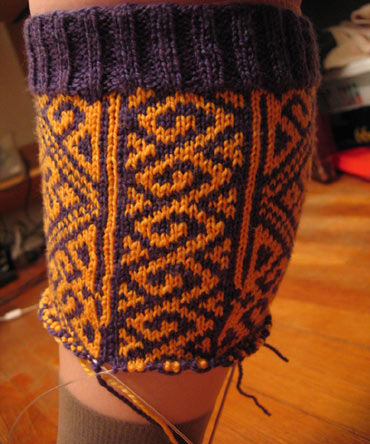 Also noteworthy: unlike the original chart, I'm not only reducing the size of the front/back repeat, but of the side repeat as well. It naturally lends itself to be reduced, actually, since I initially beefed it up to make up a wider sock. Now I'll be tapering it down to the original motif presented in the Ram's Horn Cardigan.
Posted by Kathy on February 28, 2006 02:03 AM
Comments
To cut down on spam, comments are moderated. You may not see your comment right away, but rest assured that it's been received and will appear shortly. Comments are closed a few days after posting.