« Believe it or not | Main | Q & A, part II »
February 09, 2006
Q & A
Question: How many pins does it take to block a huge-ass shawl with a fancy scalloped edge?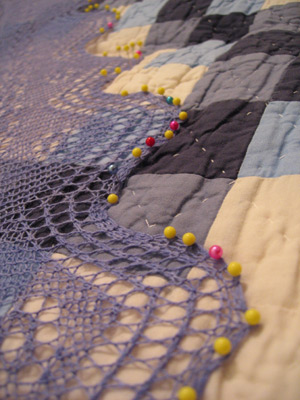 Answer: ALL OF THEM.
Quesion: How big is "huge-ass"?
Answer: 54" across the top, and 34.5" deep.
Question: What about the complete set of corrections - when is that coming?
Answer: All done!
I cannot wait to show you the finished thing. It's like I've died and gone to heaven. I'm SO knitting lace again.
Posted by Kathy on February 9, 2006 12:17 AM
Comments
To cut down on spam, comments are moderated. You may not see your comment right away, but rest assured that it's been received and will appear shortly. Comments are closed a few days after posting.