« Acrobatics | Main | Holy crochet, Batman! »
January 28, 2006
Too dense? Who, me? (edited)
There's a huge "edited to add" portion at the bottom of the entry, in case you didn't see it yet.
I'm feeling much better - thank you all for your 'get well' wishes. I'm happy that all of you liked the Spider Web border, it reassures me that my grandma will like it, too. In my opinion, even though it was murder to knit because every stitch looked like a googly-moogly, it was well worth it - very unique and quite breathtaking.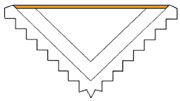 And now, the next part - the skinny border highlighted in orange. This one is knit perpendicularly to the main triangle of the shawl, and simultaneously attached by knitting a stitch of the border with a stitch of the main triangle every right-side row. Very cool technique, and things are moving along very quickly because the repeat is only 16 stitches and 10 rows big. Yeehaw!

However, as I predicted some time ago, this is proving to be the most challenging part of the shawl. I have changed the shape of the original shawl drastically, and this border takes the bulk of the burden of the redesign.
I need help, and a bit of advice. Where are my expert lace knitters? Emily, Claudia, Carrie, Eunny, June, others? As of right now, I'm knitting 2 rows of border per 1 stitch of main triangle. In addition, the border is knit on US 2s, and the main triangle on US 1s.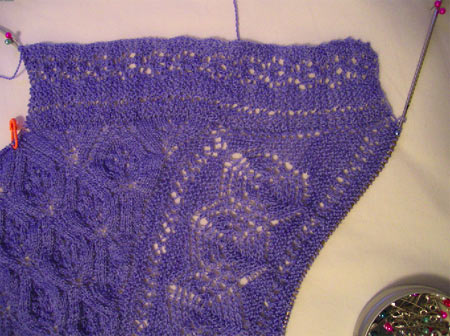 Click for a close-up. Shawl completely relaxed/unstretched in the photograph.
My concern is that the border is too dense, that perhaps I should knit 1 row of border per 1 stitch of main triangle. The pattern doesn't offer any insight because in the original, this border is not really attached to the main triangle in this fashion. I want to be able to block the border nicely, in a way that really exposes the pretty mini-spider web pattern, and I'm just not sure what to do.
Thank you in advance!
Edited to add:
The reason I voiced my concern... or better, the reason I know there's a concern to be had is because dry-blocking looks like this: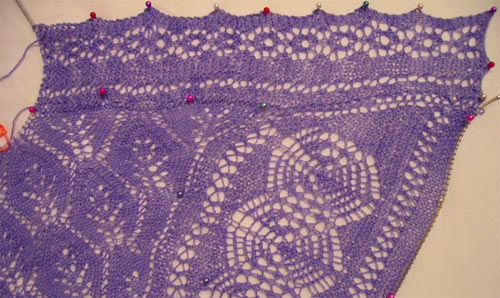 On the right, above the spider web border, I picked up the stitches with no rhyme or reason, and the density of the border looks "right on" when dry-blocked. However, above the main triangle the stitches are already there, and I was knitting them at a ratio of 2 border rows to 1 body stitch. As you can see, and I say this in my best Zoolander voice while puckering my lips, it's not good-looking.
Resolution: I'm still mulling over the needle size; the spider web border was knit on 2s, the final border is also set to be knit on 2s, and the portion above the spider web border looks fine - any thoughts? But, the stitch density has to change, and according to my calculations, if I want things to look just as they do above the spider web border, I should knit at a density of 1 rows of border per 1 (!) st of body... pretty much exactly!
And no fear or dread of frogging, people - this stuff is a piece of cake to knit, especially after the googly mooglies :) :) :).
Posted by Kathy on January 28, 2006 02:43 PM
Comments
To cut down on spam, comments are moderated. You may not see your comment right away, but rest assured that it's been received and will appear shortly. Comments are closed a few days after posting.