« New year, new insanity | Main | Not so fast, mister! »
January 04, 2006
There's a first for everything
My friends, you know there are some things the Grumperina does not do. Or does in an extremely selective fashion. Memes, for one. Knitalongs. Exchanges. Secret Pals. Stitch marker anything (Susan Bates is my girl, thank you very much).
But there's a first for everything. And now, the first ever Grumperina contest.
Let me come clean – I started grandma's shawl on January 1st, but didn't get around to posting the background of the project until a few days later.
Which means that I already have some progress to show!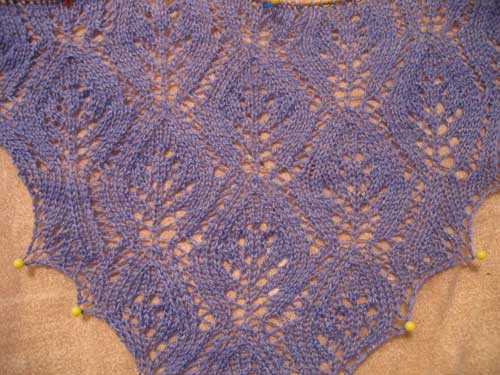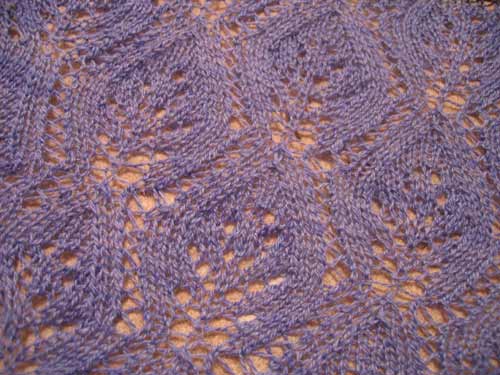 I'm enjoying this pattern very much so far. It is challenging – there's a whole lot of counting, and k2tog with the freaking dowels (aka, Addi Turbos) is a nightmare. But look how pretty! Grandma will really like this, I'm positive.
The question: How long will it take me to finish this? The actual knitting is a challenge, and I will need to learn some new techniques down the road, specifically, knitting a border while simultaneously attaching it to live stitches in a perpendicular fashion. If that makes any sense. Eeek!
The contest: Guess when I will finish knitting this shawl (exclusive of blocking and photography and all that, just the actual knitting).
You are more than welcome (perhaps even advised) to guess, "you will never finish it for no particular reason," or "you won't be able to finish it because of technical difficulties." I won't be offended.
The prize: To be determined. That's what makes this contest different from many others ;). I really don't like purposeless stuff (crap) of the knitting variety or otherwise, so I'll decide what the winner gets once the shawl is completed (or abandoned) and the winner(s) is determined. I will do my best to tailor the prize to the winner and his/her tastes.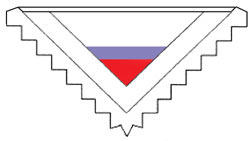 The hint: I started the main triangle of the shawl on January 1st in the evening, and completed 64 rows. On January 2nd, I knit another 36 rows. There was no knitting on January 3rd – I was busy with other stuff. Although I don't think the schematic is to scale, I highlighted the extent of my progress for those three days if it were – red for the first day, and purple for the second. I hope this gives you some idea of how much I am able to knit during a typical day (but not all days are typical… on some, I will be traveling 4 hours, but on others, there will be skiing to do, and papers to grade!).

Oh how I love schematics and marking off my progress. I really, really do. It's the mathematician in me.
Leave me a comment, and let the knitting continue!
Edited to add: I've closed the comments to this entry - thanks for all your submissions :).
Posted by Kathy on January 4, 2006 12:15 AM
Comments
To cut down on spam, comments are moderated. You may not see your comment right away, but rest assured that it's been received and will appear shortly. Comments are closed a few days after posting.